Royals fans show appreciation for Butler in Kauffman finale
Kansas City leader's contract expires at end of season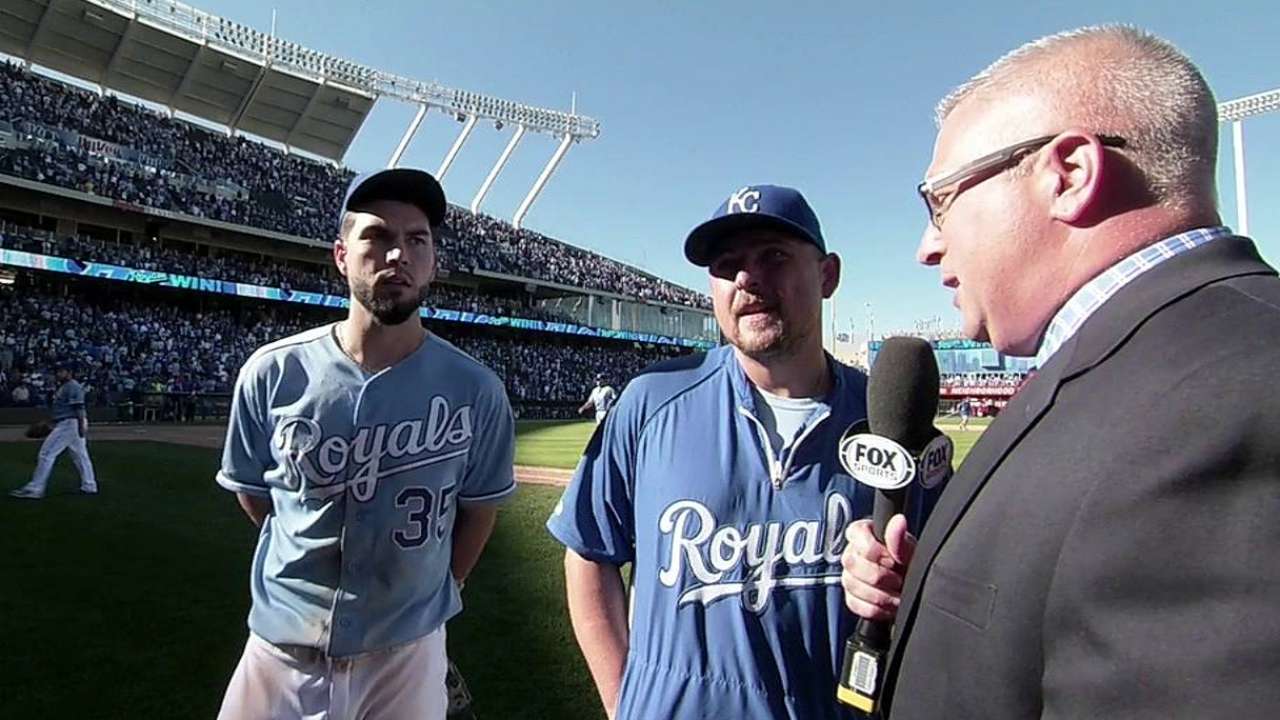 KANSAS CITY -- Billy Butler strolled to the plate four times in the Royals' 5-2 win over the Tigers on Sunday, and he received a similar reception from the Kauffman Stadium crowd each trip.
The designated hitter provoked multiple rounds of applause from the fans, who sensed the possibility that Butler, a free agent after this season, could be playing his last home regular-season game at The K.
Butler finished 2-for-4 with an RBI, matching his hit total for September before Sunday and leading Royals manager Ned Yost to assign regular playing time for the DH in the last six regular-season games and potentially further.
"It was a good day for Billy, and I plan on using him just about every game from here on out," Yost said.
Butler has struggled in his contract year with the Royals, posting career-lows in average (.266) on-base percentage (.318) and slugging percentage (.373). His two hits Sunday inched his September average to .138.
"Billy's a guy that really knows his swing: he knows his body, he can feel his hands, he can feel his feet, he knows what his head's doing," Yost said. "And when he gets in trouble, or when he's got in trouble this year, he's kind of lost that feeling. He doesn't know where his hands are, he doesn't know where his feet are, which maybe results in a little loss of confidence."
The cheers were never louder than in the fourth, when an intentional walk to Eric Hosmer loaded the bases for Butler with one out. However, Butler could not deliver, as reliever Jim Johnson got him to chase a slider in the dirt for a strikeout.
"His second and third at-bats, you could see where Billy had been struggling a little bit. They weren't Billy Butler-esque at-bats," Yost said.
Despite the season-long slump, Butler appreciated the push from fans.
"They're very supportive of me and I appreciate that, it helps me," Butler said. "The season hasn't been the way I wanted it to be, but I've got a chance to help this team down the stretch to do something special."
Butler clubbed an RBI single off Tigers starter Rick Porcello in the first inning, then looped a base hit into right in his final at-bat.
"It was huge for Bill," said third baseman Mike Moustakas. "That guy gets going and he can carry this ballclub to wherever we want to be at. Once he gets going, it's almost unstoppable."
Yost acknowledged the difference a rejuvenated Butler could make in the middle of Kansas City's order.
"We need him producing, absolutely," Yost said. "We need Hoz producing, we need [Alex] Gordon producing, we need [Salvador Perez] producing, because if those guys are producing, they can't beat us."
Jackson Alexander is an associate reporter for MLB.com. This story was not subject to the approval of Major League Baseball or its clubs.