Late homer by Rangers sinks Angels in home finale
Street allows go-ahead solo shot to Rua in ninth inning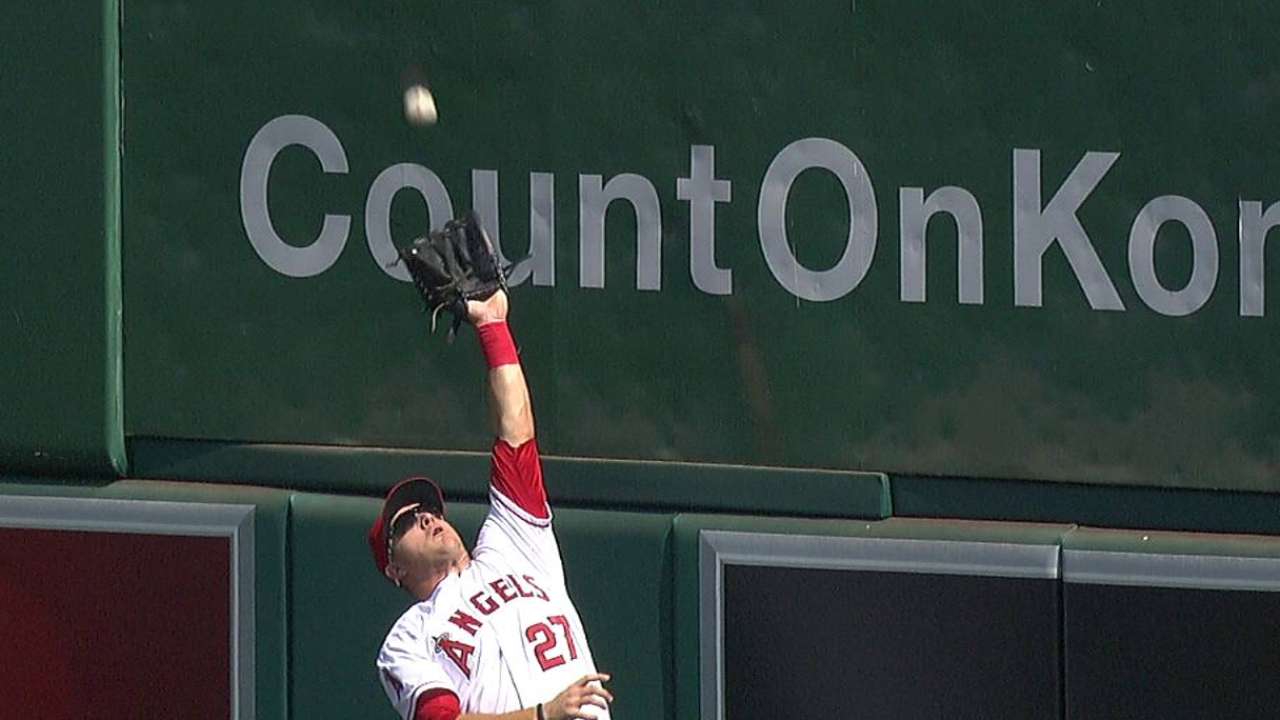 ANAHEIM -- Results matter for Huston Street and the Angels -- just not as much this time of the season.
Street gave up Ryan Rua's one-out solo home run in the top of the ninth on Sunday, handing the Angels a 2-1 loss at Angel Stadium. It was Rua's first career home run.
Despite the loss -- one that kept the Angels 2 1/2 games ahead of Baltimore for the American League's best record -- Street said Sunday was the best he'd felt on the mound in about a month, and that he executed all of his pitches on Sunday except for the 1-2, 90-mph inside fastball to Rua.
"I know when I execute my pitches the way I want to, the results are going to take care of themselves over the long haul," Street said. "Rua's pitch was not an executed pitch, and that's the big leagues. That's sometimes what happens."
Street has allowed runs in two of his last six outings after beginning his Angels career with two runs in his first 20 games. Both of his losses this season have been to Texas.
But Street and the Angels, who clinched the AL West on Wednesday and are already guaranteed home-field advantage in the AL Division Series, have the next 11 days to work out the kinks before the ALDS begins.
"You have to get it done more times than not, 95 percent of the time," Street said. "Results matter, they absolutely do matter, but I feel like, on an individual day-to-day basis, I try to [judge it on], 'How was I feeling today?'
"You can build off of outings like today because you felt good. You felt like, 'If I could do that, more times than not, I'm going to get outs.'"
During his nearly week-long absence with an injured hamstring, Street said he worked on his throwing motion, knowing he wouldn't be needed in the game. In the first three games after returning, Street needed to face just 10 batters to record nine outs as he picked up two more saves.
"I took that week to lock in all my mechanics, all my everything," Street said. "Today was the best I've felt in a while. I threw the ball way better today than I did [Saturday], just baseball sometimes happens."
For the first time in his career, Angels starter Cory Rasmus -- who's mostly been used as a reliever -- dipped into the fifth inning and gave up a double and a walk before exiting after throwing a career-high 59 pitches.
Since replacing Garrett Richards in the rotation on Aug. 30, Rasmus has a 1.69 ERA and 0.75 WHIP in five starts. The Angels have gone 3-2 in Rasmus' starts, but he hasn't been eligible for a win.
"I think Cory has really settled into some consistency," Angels manager Mike Scioscia said. "You can't ask for more than what Cory's done as just a guy kicking off a game for us and going as far as he can. It seems like every start, he gets a little better, finishes a little stronger."
Rasmus said he left Sunday's game without feeling sore or tired, which was "a step in the right direction."
Howie Kendrick, though, left the game with a tight hamstring before the top of the eighth. Scioscia said Kendrick would sit out Monday if necessary.
"It's better to come out now than to mess something up," Kendrick said.
In the sixth, Fernando Salas loaded the bases with two outs before Tomas Telis lined a hot shot to Erick Aybar, who couldn't handle the ball at short and allowed Leonys Martin to race home, breaking the scoreless tie.
In the bottom of the inning, the Angels answered with a run of their own with Albert Pujols driving in his 101st run of the season with a single to left. The Angels left the bases loaded, however, when David Freese lined out to right to end the inning.
Nick Tepesch stifled the Angels for most of the afternoon, throwing seven innings of one-run ball and giving up four hits. He has allowed three earned runs or fewer in all five of his starts against the Angels.
Matthew DeFranks is an associate reporter for MLB.com. Follow him on Twitter @MDeFranks. This story was not subject to the approval of Major League Baseball or its clubs.