Gomez's baserunning mistake proves costly in ninth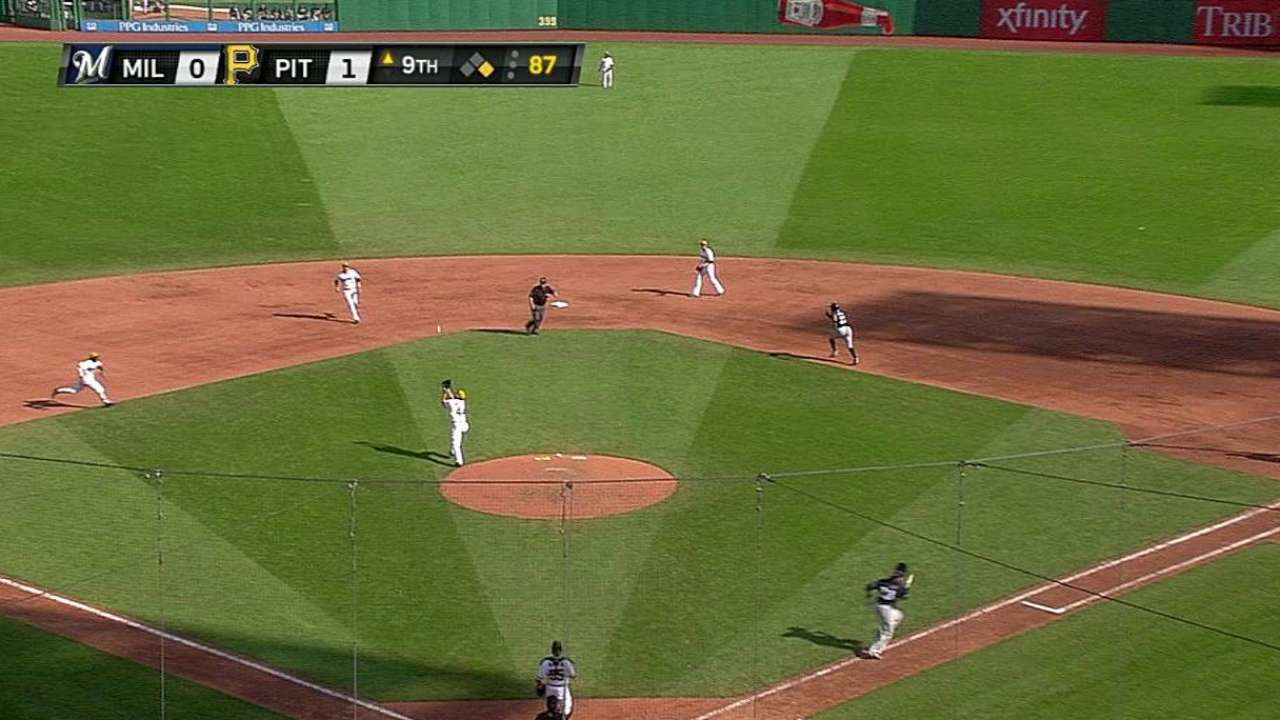 PITTSBURGH -- The mistake, Carlos Gomez said after a loss that severely hampered the Brewers' bid for the postseason, was not leaving second base. It was stopping on the way to third.
With the Pirates ahead, 1-0, and closer Mark Melancon unavailable after pitching three straight days, the Brewers had some chances in the ninth against left-hander Tony Watson. Gomez led off with a single -- giving Milwaukee its first baserunner since the fourth inning -- and took second when pinch-hitter Rickie Weeks hit a chopper over the mound, with Watson's throw popping out of the first baseman's glove.
The super-aggressive Gomez, seeing Josh Harrison wander off third base on the play, broke off second. But then he stopped and was retired in a rundown.
"I think I have a chance to make it to third if I didn't stop," Gomez said. "If I continue to run, it's really easy to make it to third because everybody broke to that ball. Nobody was on third. I don't know why I stopped."
He added: "A baseball player, an athlete, sometimes you 'want,' and your body doesn't react. It's a mistake, and hopefully I learn from it."
Jonathan Lucroy followed with a popup to shortstop for the second out of the inning, but Watson gave the Brewers one last gasp when he hit Aramis Ramirez with a pitch. With the tying runner in scoring position, Ryan Braun flew the first pitch to center field, ending the game and dropping the Brewers 4 1/2 games behind the Pirates with six to play.
Said Brewers manager Ron Roenicke of the critical baserunning mistake: "In a one-run game -- every out is important, every run is important."
Adam McCalvy is a reporter for MLB.com. Read his blog, Brew Beat, and follow him on Twitter at @AdamMcCalvy. This story was not subject to the approval of Major League Baseball or its clubs.