Ozuna sprains right ankle; no timetable for return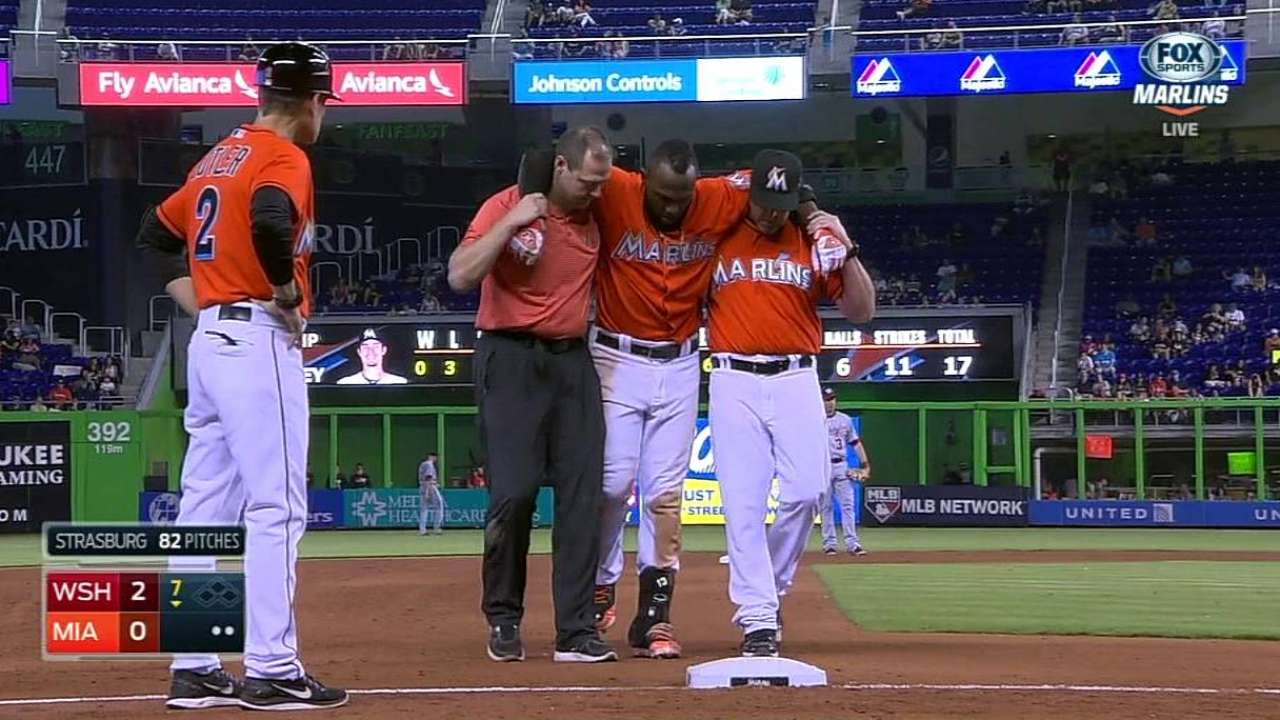 MIAMI -- Making it to the end of the season healthy is becoming a real challenge for the Marlins. The latest major injury occurred in the seventh inning of Sunday afternoon's 2-1 loss to the Nationals when center fielder Marcell Ozuna went down with a right ankle injury.
Ozuna rolled his ankle on second base, and he was assisted off the field by trainer Sean Cunningham and manager Mike Redmond. The 23-year-old is second on the team in home runs (23) and RBIs (85).
The Marlins announced Ozuna has a high right ankle sprain, and an X-ray came back negative.
On crutches and wearing a walking boot, Ozuna said he sprained a ligament and will need a couple of weeks to recover. If possible, he would like to get a chance to pinch-hit at some point in the final seven games, but that may be doubtful.
"We don't really have a timetable for him," Redmond said. "We'll see how he progresses over the next couple of days."
With right fielder Giancarlo Stanton already out with facial fractures, two-thirds of Miami's talented young outfield is now likely lost for the season.
"This is not good for us," Redmond said. "We can't really afford to lose anybody else out of that lineup. We're piecing it together and grinding it out already. I don't really know what to say. That's tough. That's another blow for us."
In 153 games, Ozuna is batting .269 with an on-base percentage of .315 and a .453 slugging percentage.
"The inning before I was saying to God, 'Thanks for giving me a good season. It wasn't done, but it was going to be OK. It was going to be all right.' Then, that happened," Ozuna said. "I was crying, and I said, 'Good season.' "
Ozuna had been batting cleanup since Stanton was struck on the face with a pitch at Milwaukee on Sept. 11.
Enrique Hernandez, who started Sunday in right field, switched to center after Ozuna's injury. Garrett Jones entered to play right.
Ozuna's injury came when he doubled off Stephen Strasburg with one out in the seventh inning. The ball was bobbled momentarily by Kevin Frandsen, and Ozuna raced to second.
Rather than slide, Ozuna slowed as he was reaching the base, and the ball was coming in to second baseman Asdrubal Cabrera.
"I was thinking the throw was going to the right side, and I was thinking, 'I got it,' " Ozuna said. "Let me run to second base to the left."
Ozuna's right foot caught the corner of the base, and the 23-year-old rolled his ankle in the process. He stumbled off the base, and to the ground, where he was tagged out by Cabrera.
Cunningham and Redmond quickly headed to check on the power-hitting center fielder, in pain on the ground.
Flanked by Redmond and Cunningham, Ozuna hobbled to the training room.
Ozuna is completing his first full season in the big leagues. As a rookie in 2013, his season ended in July after he injured his left thumb, requiring surgery, while making a diving catch at Colorado.
"This year I was good, and I wanted to end the season good," Ozuna said. "Now that happened."
Joe Frisaro is a reporter for MLB.com. He writes a blog, called The Fish Pond. Follow him on Twitter @JoeFrisaro. This story was not subject to the approval of Major League Baseball or its clubs.