Angels' postseason roster far from set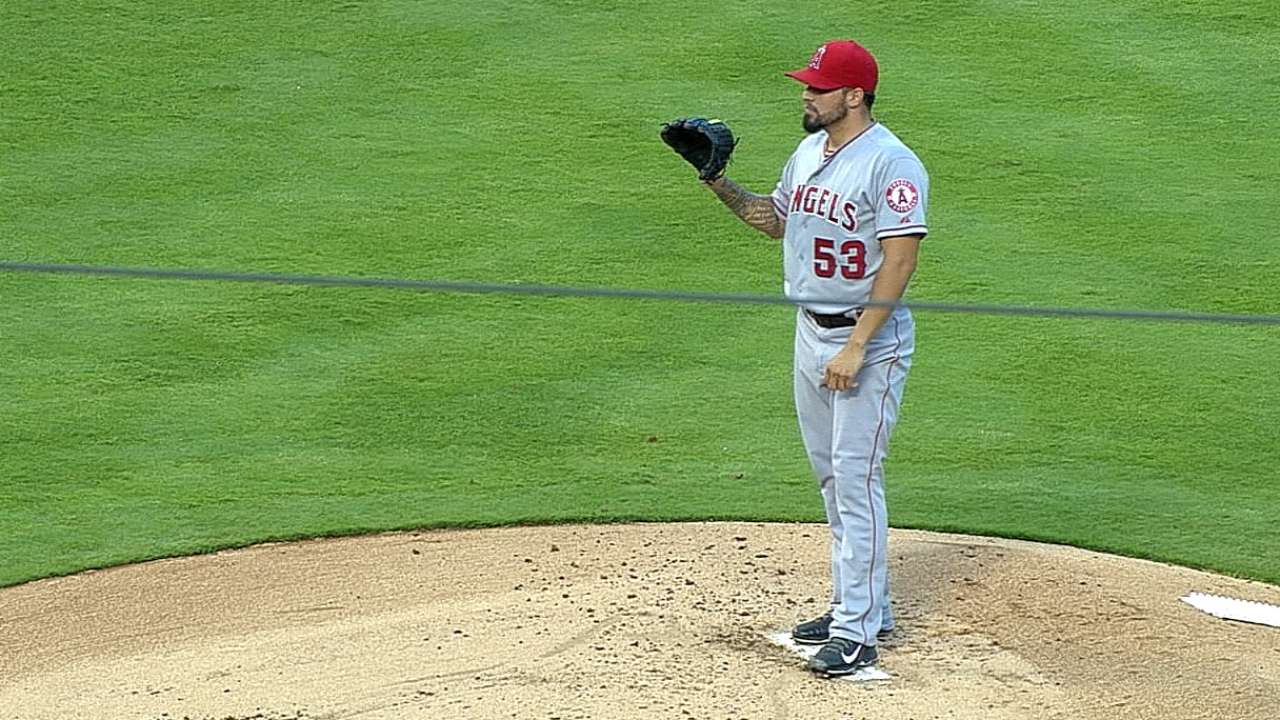 ANAHEIM -- The Angels don't have any high-stress games remaining this season, but that doesn't mean some of the players don't have something to prove.
With the end of the regular season a week away and the start of the American League Division Series on Oct. 2, the Angels' postseason roster is far from set, with several spots on the roster up for grabs.
"There are a lot of variables that are not defined yet," Angels manager Mike Scioscia said. "We're [11] days away and certainly you have different rosters that you're ready to look at and how all the pieces are going to fit, but you can't really get the answers until you have the questions."
Here's what to watch for in the last week as the Angels try to fill out their roster:
The rotation
With Matt Shoemaker's status unknown (left oblique strain) and Hector Santiago struggling in his last two starts, the Angels have floated the idea of using a three-man rotation in the playoffs.
Santiago will get one more regular-season start -- Wednesday in Oakland -- to try to earn a playoff rotation spot after he recorded just nine outs in his last two starts. He has been effective for much of the second half but has stumbled recently (10 runs, 12 hits and five walks in his last two starts) and could end up in the bullpen for the playoffs.
Shoemaker, meanwhile, has reported feeling better nearly every day since he got hurt on Monday, but he hasn't thrown off a mound yet. The Angels will try to give him a start in one of the season's final two games.
The lineup
Even with a healthy Josh Hamilton (rib soreness), the Angels are still searching for a bat to rotate into the lineup, either as the DH or in the field. Without Hamilton, they need a left fielder as well. While Collin Cowgill figures to make the roster, C.J. Cron and lefty-swingers Efren Navarro and Brennan Boesch are battling to make the cut. Since the beginning of September, at least one of that trio has started all but three games.
"All those guys bring a little different look, but I think we're going to be OK," Scioscia said. "It might not be one guy, you might have to mix and match a little bit, but I think we're going to have a pretty good look as we finish this week."
Navarro is a contact hitter who hits to all fields, while Cron and Boesch provide power in the bottom third of the order.
The lefty reliever
Since coming over from Arizona in early July, Joe Thatcher has struggled against left-handed hitters, allowing them to hit .467 against him in 13 games. On the upcoming road trip through Oakland and Seattle, Thatcher will get an opportunity to prove himself against Oakland's array of lefties, plus Seattle's Robinson Cano and Kyle Seager.
"It's nice to have that presence there, but some of our lefties haven't looked really good against lefties recently, so you have to weigh a lot of things," Scioscia said. "It's not just that they're a left-handed pitcher, it's the function of, 'Are guys going to go in there and make pitches and get outs?'"
At times this season, the Angels have gone without a left-hander in the bullpen, instead using righties Fernando Salas (.168 average against), Kevin Jepsen (.209) and Joe Smith (.211) to neutralize lefties.
The utility man
For most of the year, Scioscia has used John McDonald as a late-game defensive replacement for David Freese at third base. But McDonald's defense may not be enough to get him to the playoffs as he sports a .162 average on the season and has three hits since July.
Gordon Beckham has spelled Freese at third in the last month and has received the lion's share of at-bats as the utility infielder since coming over from the White Sox in a late August trade. He has hit .250 in his first 20 games with the Angels.
Both McDonald and Beckham can play second, third and shortstop.
Matthew DeFranks is an associate reporter for MLB.com. Follow him on Twitter @MDeFranks. This story was not subject to the approval of Major League Baseball or its clubs.