Five things that changed Cardinals' season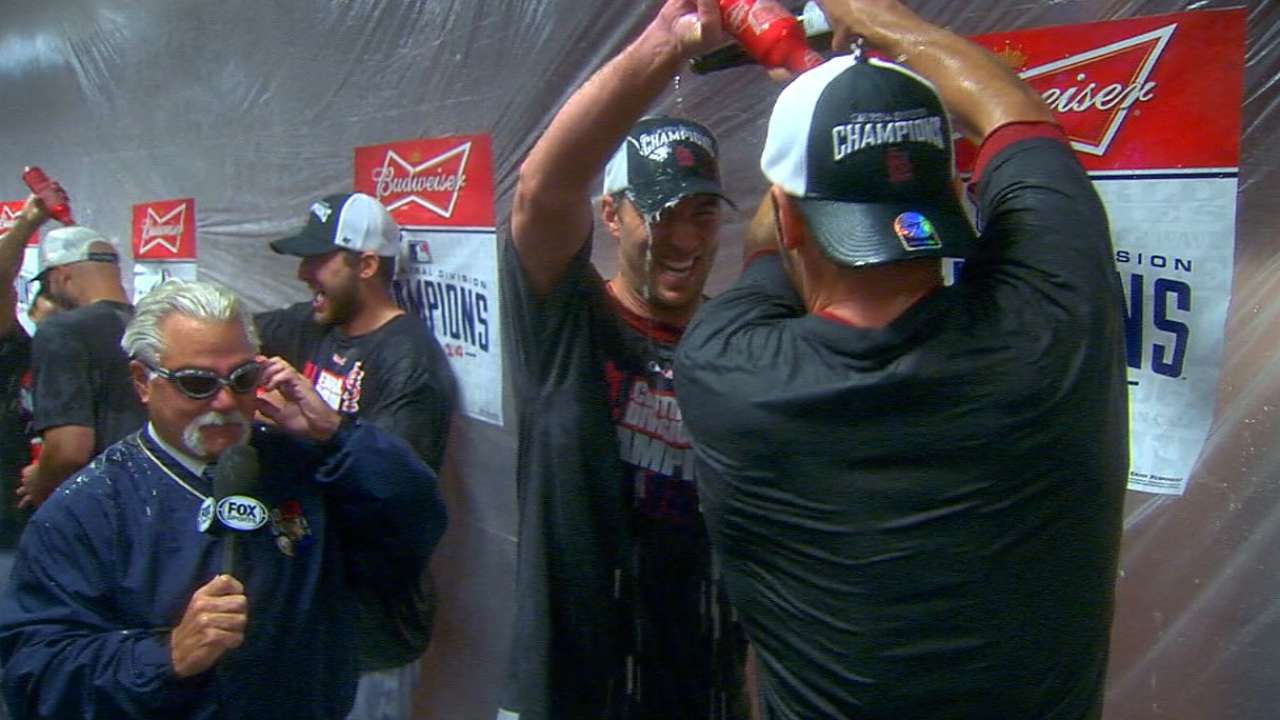 ST. LOUIS -- For the fourth straight season and the 11th time since 2000, the Cardinals earned an invitation to October. They clinched a spot in the postseason with seven games left to play, and then closed out their pursuit of a second straight division title on the final day of the season.
Here is a look back at five things that changed their season:
Success in close games
Manager Mike Matheny believes this club has been defined by its ability to prevail in so many tight games. Rare have been the blowouts this season, as this is a team that had 80 of its games decided by two or fewer runs. The key is that the Cardinals won 47 of those.
Stingy starting pitching and a much-improved defense have been behind this close-game success, as the Cardinals have had to battle with an oft-anemic offense throughout the year. Still, this team had managed to win 10 games on five or fewer hits (the most since 1915), and have gone 24-11 in games determined by one or two runs since the All-Star break.
The Cardinals knew they had an ace in
Adam Wainwright
. What they didn't know is that Lynn would pitch as one, too. Even if the national recognition has been slow to follow, Lynn has emerged as a front-line starter for a team that has been anchored by its pitching staff. He has won at least 15 games in each of the last three seasons, but this season he reached that number in much more dominating fashion.
Lynn threw 24 quality starts while posting a 0.57 home run/nine innings rate, 2.74 ERA, 1.26 WHIP. He also allowed two or fewer earned runs in 24 of his 33 outings. Lynn has elevated himself to another level by learning to better harness his emotions when things go awry behind him, and he did not have the August stumble that he did in each of the past two seasons.
Yadier Molina's return
The Cardinals survived Molina's seven-week absence (they actually gained a half-game in the standings) but thrived after their catcher came back from thumb surgery. The Cardinals went 18-9 with Molina behind the plate after he returned on Aug. 29. He hasn't offered overwhelming offensive production, but his work with the pitching staff has been noticeable. Carlos Martinez and Shelby Miller are among those who have taken off since his return. The staff's ERA since Molina's first day back? It was 2.87.
Back end of the bullpen
The Cardinals have sifted through closers in recent years, and this season the club landed on Trevor Rosenthal after he proved capable of handling the ninth last postseason. Rosenthal made save opportunities interesting, but that can't take away from the fact that he saved 45 games. The Cardinals have built a formidable relief core around him, too.
Pat Neshek turned out to be the best Minor League offseason signing in the game and has handled the eighth-inning role with dominance. Seth Maness has been strong in his second season, and Martinez is finishing at his best. The Cardinals finished the year 77-5 when leading after seven innings and 80-3 when ahead after eight.
The Trade Deadline
The Justin Masterson acquisition may not have panned out, but the Cardinals' deal with the Red Sox has proven to have a payoff. John Lackey has been about as expected -- a durable starter for a team that wanted to acquire a proven workhorse. The Cardinals won six of his 10 starts and seem to have Lackey poised for a strong postseason after building in additional rest for him in September.
But while the Cardinals directed their Trade Deadline movement around improving their rotation, perhaps the biggest game-changer was what happened in right field. After four months of subpar production from the position, the Cardinals booted Allen Craig to open a spot for Oscar Taveras. The results were mixed for Taveras afterward, but the flexibility at the position has also allowed for Randal Grichuk and Peter Bourjos to work their way into the lineup more often. Now with all three outfielders available, Matheny is finding success by mixing and matching based on matchups.
There is probably also something to be said of the shakeup that ensued with these moves. Several players were stunned that the organization would deal away Joe Kelly and Craig, but that served as a wakeup call of sorts that complacency wasn't going to work. The team went 33-22 after the Trade Deadline.
Jenifer Langosch is a reporter for MLB.com. Read her blog, By Gosh, It's Langosch, and follow her on Twitter @LangoschMLB. This story was not subject to the approval of Major League Baseball or its clubs.