Lynn solid, but Cards can't get closer to division title
On day playoff berth secured, magic number at 5 after loss to Reds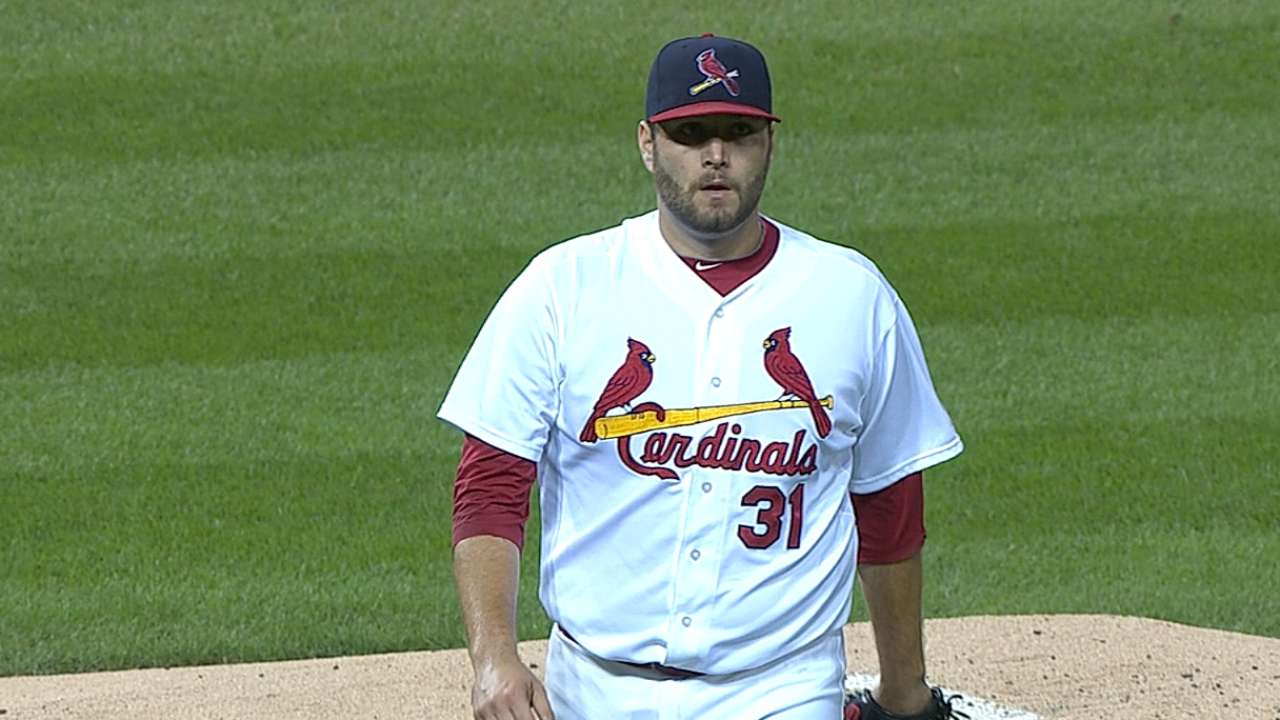 ST. LOUIS -- The Cardinals quietly acknowledged their assurances of participating in the postseason when that became official on Sunday afternoon, but they took the field with their eyes on a bigger prize. What they couldn't do, however, was play their way closer to it.
With a chance to sweep the Reds, the Cardinals were instead blasted about en route to dropping their regular-season home finale, 7-2, in front of the 52nd sellout at Busch Stadium. St. Louis was stung most obviously by Cincinnati's four home runs -- two off starter Lance Lynn and two off rookie reliever Sam Tuivailala -- but also by a stomach virus that had, according to manager Mike Matheny's postgame estimates, more than 10 players unavailable or at less than at full health for the game. The coaching staff was not immune either.
"I've never seen anything like it," one player said of the rapidly spreading illness.
"Bad timing," said another.
The Cardinals, fortunate to have won seven games in a nine-game homestand were they scored 33 runs, will take the field next in Chicago on Monday, where they'll hold a 2 1/2-game lead over the Pirates in the National League Central and a magic number of 5 to win it. The Cardinals are hopeful that quick recoveries and a containment of the virus can give themselves a uninhibited shot at finishing strong.
As players were packing after Sunday's loss, the Cardinals were discussing delaying travel for some who were ill in order to keep them quarantined from the healthy."'Wash Your Hands" signs dotted the clubhouse as reminders.
"Whatever it is, it's hit fast and hard," Matheny said. "It's just something we're going to have to wade through. There were guys we weren't expecting it to hit, and it did. We're just going to have to try and get through it and weather the storm."
Matt Carpenter and Matt Adams missed both weekend games due to sickness, though their replacements (Daniel Descalso and Xavier Scruggs) combined to help the Cardinals tie the game with back-to-back hits in the fourth.
However, the Reds made Busch Stadium seem as small as their home park in becoming the third team to go deep four times in a game against the Cardinals this season. It was especially rare to see Lynn stung by the long ball, as the solo home runs by Jay Bruce (fourth inning) and Todd Frazier (sixth inning) equaled the number of homers Lynn had allowed since the All-Star break (12 starts) and at home all season (17 starts).
Both gave the Reds a one-run lead.
"I made two pitches in the middle of the zone for homers, balls that ran back over the middle that weren't supposed to run back middle," said Lynn, who had held the Reds hitless until Bruce's two-out homer in the fourth. "That's not something that I like to do, give up homers."
The Reds scratched another run off Lynn in the sixth on consecutive two-out hits by Brandon Phillips and Bruce.
"Lance Lynn has done a very nice job all year," Bruce said. "To be able to get to him a little bit and continue to keep our foot on the gas and score some runs to kind of ease into a win there, it's nice."
Lynn has been so dominant as of late that his allowing three runs seemed like a subpar start. In actuality, it was his 23rd quality start of the season, one fewer than ace Adam Wainwright.
A pitch count of 100 forced Lynn out after the sixth, though with the Cardinals only trailing, 3-2. Consecutive doubles by Yadier Molina and Randal Grichuk off Reds starter Alfredo Simon had plated that second run.
But limited in his relief options, Matheny had to look for help beyond his usual core of late-inning regulars. Though he wasn't specific in who had to be held back due to illness or recent usage, Matheny acknowledged that he had "almost as many unavailable as available" in his 13-man 'pen.
Jason Motte fared well with a 1-2-3 seventh in what could have been the pending free agent's final home appearance as a Cardinal.
"I didn't think about it until you just said it," Motte said of that possibility. "We're going to be in the playoffs. We'll see if it is or if it isn't."
Matheny turned to Kevin Siegrist to cover the eighth, though consecutive leadoff walks necessitated another move. Short on right-handed relievers -- Seth Maness, for one, had been up most of the night dealing with stomach issues -- Matheny had Tuivailala make his Busch Stadium debut.
The hard-throwing righty served up homers to Devin Mesoraco (three-run) and Bruce (solo).
"He came in there throwing strikes, but unfortunately it turned into runs," Matheny said of Tuivailala. "He's got great stuff. He's going to be good. We put him in a tough spot trying to get through the tough spot we're in as a club. It didn't work out tonight."
Jenifer Langosch is a reporter for MLB.com. Read her blog, By Gosh, It's Langosch, and follow her on Twitter @LangoschMLB. This story was not subject to the approval of Major League Baseball or its clubs.