Bucs closing in on playoff spot after blanking Crew
Worley deals gem to help reduce club's magic number to three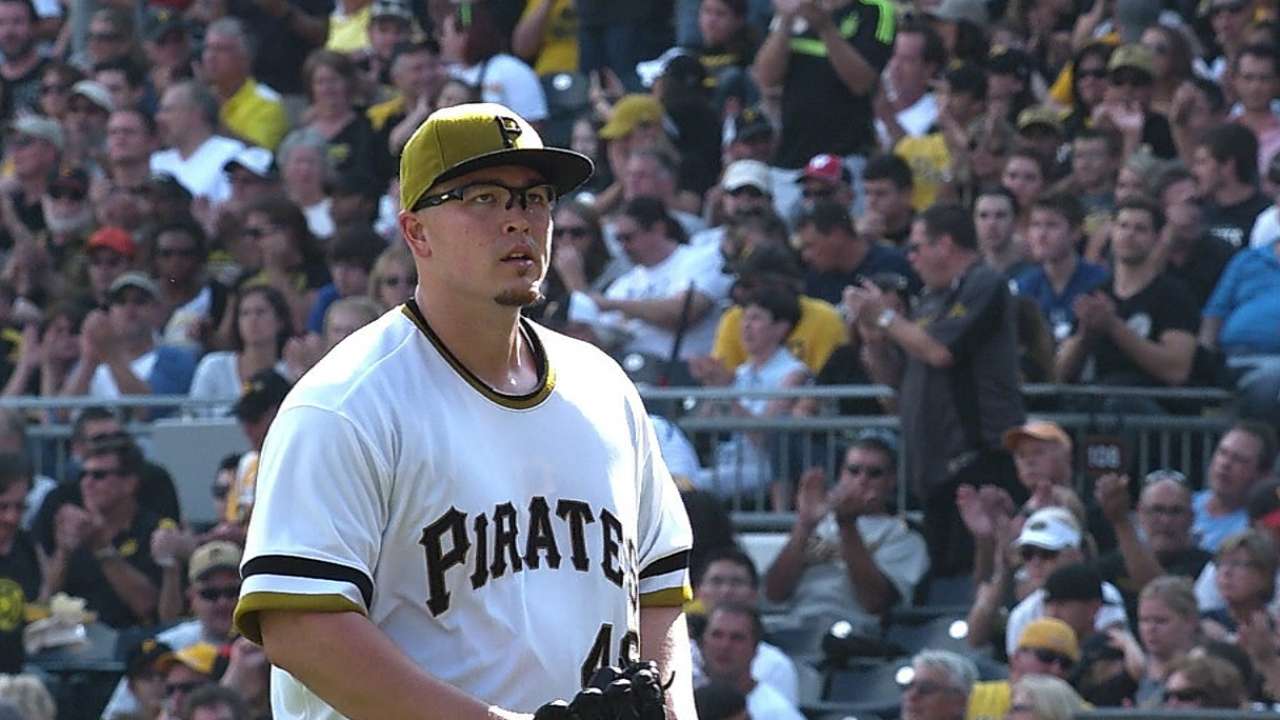 PITTSBURGH -- September is for heroes, tight collars and redemption -- the road taken Sunday by Vance Worley.
Six days after getting bumped from the Pirates' rotation, Worley returned to pitch eight magnificent innings to set up the Bucs' 1-0 victory over the Brewers in the final regular-season game at PNC Park.
The victory reduced Pittsburgh's magic number for clinching a playoff berth to three. The Brewers fell 4 1/2 games back in the race for the second National League Wild Card spot with their second loss in the three-game series.
"It sure doesn't look good," Milwaukee manager Ron Roenicke said. "[The Pirates] are a good team. They're playing well, and you don't expect them to not play well here the last [seven] games. And we've got to basically win it out. That's not easy to do."
Conversely, the series win was the Pirates' 12th in the last 14 at home -- which is where they intend to play the NL Wild Card Game.
So they have some road work remaining, to make sure the last ones to run the PNC Park bases in 2014 won't be the kids who had the run of the place after Sunday's game.
The Bucs have those seven away games remaining on their claustrophobic schedule. Eighty-seven of the first 155 have been decided by one run or two -- including the pair of 1-0 thrillers these two teams split the last two days.
On Fan Appreciation Day, the Bucs got the biggest going-away gift of all: A franchise-record season attendance of 2,442,564, pushed there by Sunday's crowd of 38,650.
"They make a difference," manager Clint Hurdle said of his home crowd, in front of which the Pirates went 101-61 the last two seasons. "They give us energy. You feel it."
Sunday's curtain was dropped by the same guy who two days earlier had gotten a curtain call for his game-winning home run. This time, Russell Martin drove in the decisive run with a seventh-inning single that was the Pirates' first outfield hit off Milwaukee ace Wily Peralta.
The hit to center drove in Andrew McCutchen, who had reached base on the Bucs' third infield hit of the day, and advanced two bases on catcher Jonathan Lucroy's passed ball and a wild pitch, respectively.
Martin was quick to defer to his batterymate, though.
"Today, obviously, was about Vance Worley," the catcher said. "He was outstanding. He was throwing the first punch out there every time."
Worley started off 21 of the 27 batters he faced with strikes on the first pitch. Not that he had to throw that many more: He banked his eight innings on a total of 82 -- only 19 of them out of the strike zone -- and retired the final 13 batters he faced.
"That," Worley said, with a wide grin," was a lot of fun."
Worley was in position to possibly even better his 100-pitch complete game on July 28 in San Francisco, for the Pirates' only individual shutout of the season. However, he departed in favor of a leadoff pinch-hitter in the eighth, and Tony Watson got to post his first save since June 20, 2013.
Pushed aside earlier in the week in favor of a comeback start by Charlie Morton, now again sidelined by his sports hernia, Worley allowed just four hits while striking out five and walking none in his eight innings. He fanned five, and the 19 other outs included only three outfield flies; 14 came on the ground and three on infield popups.
"A little rest was good for me," conceded the Californian, who will turn 27 during the road trip. "This is the deepest I've gone into a season the last couple of years, so it gave me some time to get my feet back under me, to gather up some of the energy I used up early in the season."
"For me," he added, "it was all about strike one and keeping the ball down in the zone."
Following disappointments in past Septembers due either to injuries or the trust not shown in him by other teams, Worley owned this opportunity.
"He had everything working," Hurdle said. "Excellent. He pitched away, he changed speeds."
With Martin's guidance, he also was deceptive.
"He stayed away [early], mixed in the offspeed stuff," the catcher said. "In their second and third at-bats, he started to throw the ball in. [Until then], they hadn't really seen any fastballs in from him, and when he goes in, he's got some good movement. He saved a few pitches for that -- and it showed."
Peralta, however, crowded Worley in the spotlight beaming down on the mound. Through six innings, the Bucs' only two hits were infield jobs by Josh Harrison, including a bunt single in the sixth.
Worley outlasted Peralta. And all of his first punches led to Martin's knockout punch applying the other bookend to the home season.
The Bucs began it on March 31 with a 1-0 win over the Cubs and ended it with their only other 1-0 win of 2014.
Tom Singer is a reporter for MLB.com and writes an MLBlog Change for a Nickel. He can also be found on Twitter @Tom_Singer. This story was not subject to the approval of Major League Baseball or its clubs.