Rox finish final homestand with sweep of D-backs
Ynoa leads potent offense with three RBIs and Cuddyer homers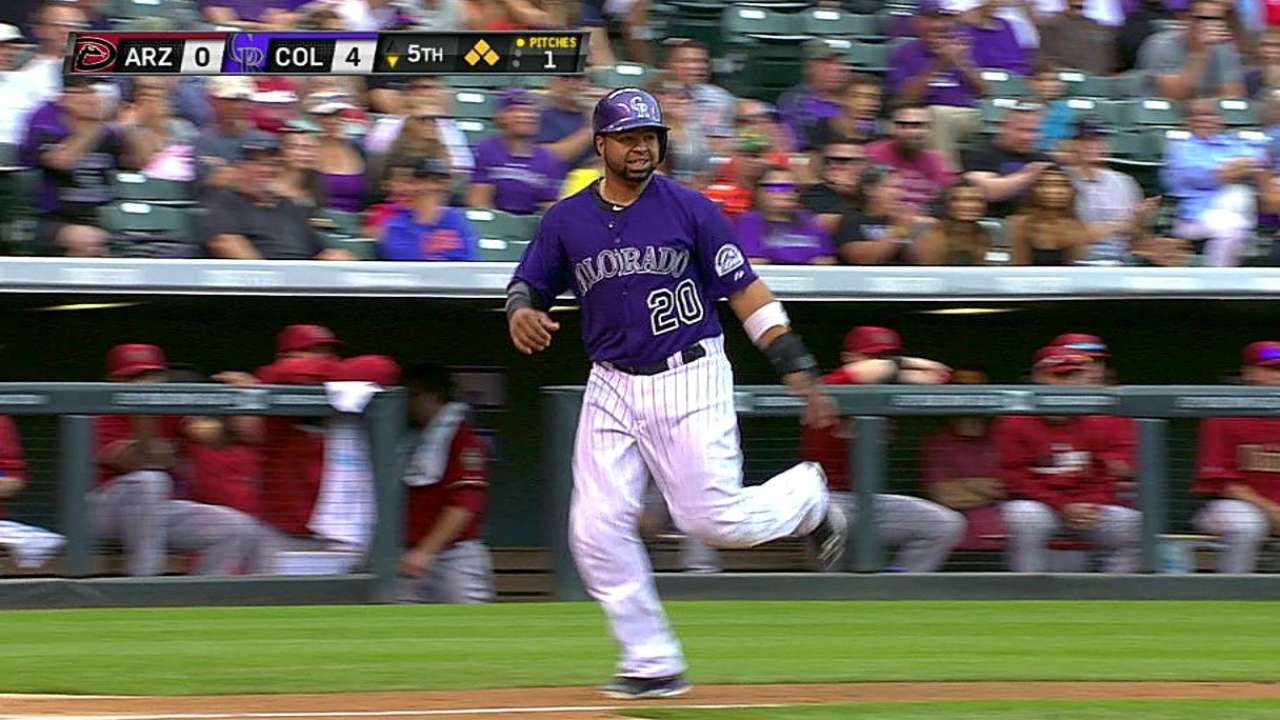 DENVER -- Dominating at home has been manager Walt Weiss' objective since Day 1 on the job. And while it's easy to call it too little too late, the Rockies at least ended their season at Coors Field on the right note Sunday.
The Rockies topped the D-backs, 8-3, on Sunday to complete the four-game sweep of Arizona and extend their winning streak to six games. The win also pushes the Rockies record to 17-5 over their last three homestands of 2014.
The Rockies outscored their opposition 161-109 over that stretch, including a 61-19 margin over their final six games at home.
"I'm glad we finished with a strong homestand as a little token of appreciation to the fans who have been hanging in there with us," Weiss said. "We feel like, soon enough, we're going to give them something to cheer about in September."
Colorado cruised out to a 6-0 lead in the first five innings as four different players logged RBIs. Brandon Barnes and Rafael Ynoa each had two-run doubles in that span with the latter of the two coming in the first at-bat after Randall Delgado took over for Wade Miley.
After the D-backs got two back in the sixth from Mark Trumbo's homer off right-hander Christian Bergman, the Rockies rallied for two more in the seventh.
One of those runs came in form of a home run from Michael Cuddyer to lead off the inning. The blast extended the Rockies streak of homering in home games to 22 straight, the longest such streak by a Major League team since the Phillies homered in 22 consecutive from July 24 to Sept. 3 in 2006.
"We're still playing the games hard and we're still playing good baseball," Cuddyer said. "That's big. It's good to see these guys still trying to play the game right."
Trumbo's first homer produced the only runs Bergman would allow, but it also put an end to his effective outing with two outs in the sixth. He finished his day striking out three without issuing a walk to collect his third career win.
Bergman was only at 67 pitches at the time he was pulled but Weiss didn't want to risk anything with a handful of lefties coming up in Arizona's lineup.
"Obviously I want to stay in the game," Bergman said. "It was still pretty early. But it is what it is."
Miley only lasted 4 1/3 for Arizona, surrendering six runs on eight hits and four walks.
"They came out ready to play," Miley said. "I guess we had a battle in the trenches for the last place team I guess and they really didn't want to be there and they took care of that."
The Rockies finish the season with 500 runs scored at Coors Field, their highest mark since they scored 517 at home in 2003.
Cody Ulm is an associate reporter for MLB.com. This story was not subject to the approval of Major League Baseball or its clubs.