Donaldson's homer in 10th keeps A's in WC lead
Third baseman's two-run walk-off shot maintains half-game cushion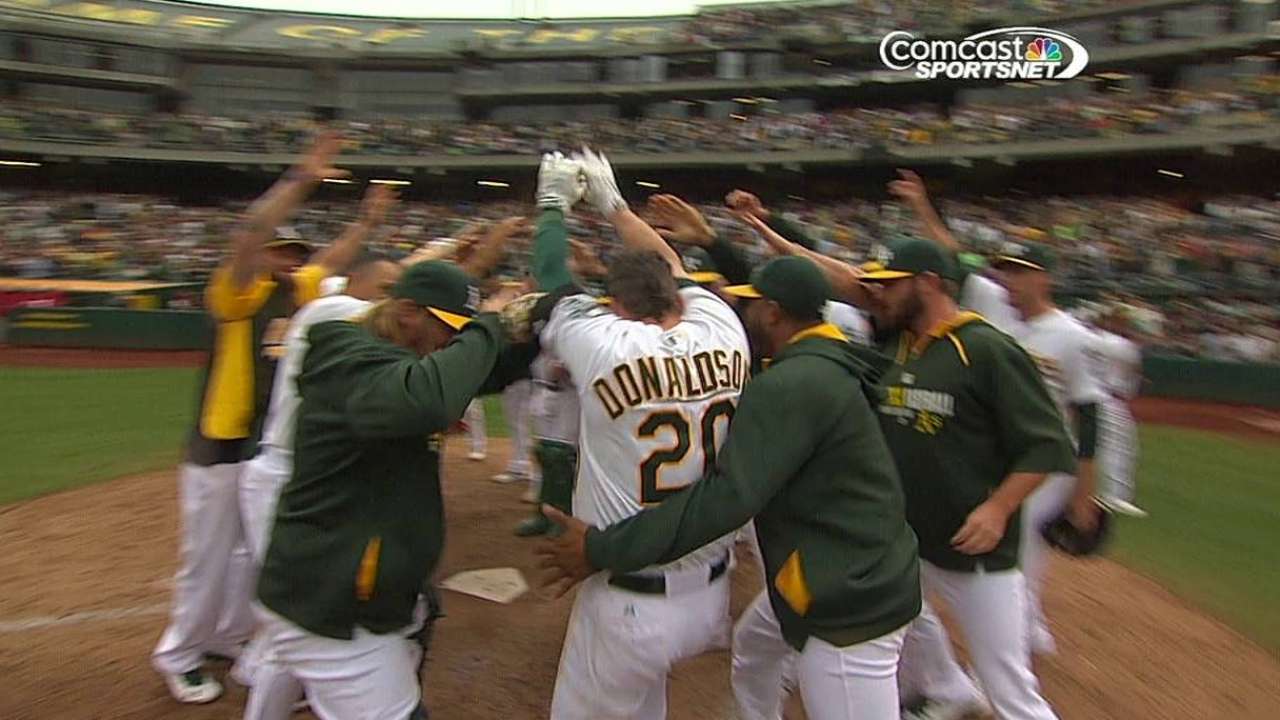 OAKLAND -- Throughout the A's recent stretch of bad baseball, manager Bob Melvin has spoken frequently about the importance of rediscovering the "good feeling" his club experienced almost daily during the first four months of the season. Over the last six weeks, that feeling has seemed impossible to come by -- but on Sunday, Josh Donaldson brought euphoria with one big swing.
Donaldson launched a walk-off, two-run homer in the 10th inning at O.co Coliseum -- a no-doubter off the siding in center field -- to give the A's a crucial 8-6 victory over the Phillies that kept them on top in the American League Wild Card race.
It was the A's 10th walk-off win of the year -- but just their third since July 19 -- and it was Donaldson's third walk-off hit of the season. All three were homers.
"Donny loves the spotlight," said closer Sean Doolittle. "A number of times this year he's put the team on his back."
"Ever since I was a little kid, that's what you prepare for," Donaldson said, "whether it's basketball, trying to hit a game-winning shot; football, making the catch; baseball, getting the game-winning hit. Ever since I was a kid, that's just the moment I've always wanted to be in."
Sunday's seesaw affair wasn't the prettiest, but an A's team desperate for wins will certainly not complain. With seven regular-season contests remaining, Oakland leads Kansas City by a half-game for the top AL Wild Card spot, with the Mariners two games back.
"One thing that we've been talking about is that we're still in the driver's seat," Doolittle said, "and that we don't have to scoreboard watch. As long as we take care of business, we'll continue to be in the driver's seat."
The A's gave starter Scott Kazmir three leads in the rubber match, but all three quickly vanished. With Oakland up, 3-1, the Phillies scored twice in the third. With Oakland up, 4-3, the Phillies scored once in the fourth. And with Oakland up, 6-4, the Phillies scored twice in the sixth, knocking Kazmir from the game.
With the score tied, 6-6, in the ninth inning, Nick Punto hit a one-out triple off Justin De Fratus. But Geovany Soto and Eric Sogard struck out, sending the game to extras.
Doolittle returned for a second inning of work in the 10th, retiring the Phillies in order to set up the dramatic finish. Nate Freiman hit a one-out single off Miguel Gonzalez, Billy Burns came in to pinch-run, and Donaldson took care of the rest.
Kazmir's second straight rocky outing lasted 5 1/3 innings, with six runs allowed on 11 hits. The lefty has given up 10 runs over his past two starts, and over his last 10 his ERA is 6.67. His ERA for the season, which was 2.37 after 21 starts, is now 3.63.
"My body, everything feels great," he said. "It's just a matter of consistency, I'm not consistent out there. I can hit my spots, but a matter of doing it consistently, that's something I just haven't done."
Philadelphia starter A.J. Burnett struggled with his command from the outset, walking six and plunking a pair in 4 1/3 innings. While the A's were unable to blow the game open, they did touch him up for six earned runs to break out of a 15-inning scoreless drought.
In the fifth, Soto drove a tiebreaking two-run double to the right-field wall off Cesar Jimenez, and he finished with three RBIs, his most since July 30, 2013.
"He had a good game all the way around," said Melvin. "Made a great throw, blocked numerous balls in the dirt with guys on base or with two strikes, huge hit, walk. He's here for a reason."
After Donaldson's blast, the A's dugout erupted. There was celebratory pie and a Gatorade bath for the hero. Music blared in the clubhouse.
The A's, at least for the moment, were feeling good.
"A game like that can be real emotional," Melvin said. "Obviously a good feeling amongst the group right now. You always hope that will carry over."
Aaron Leibowitz is an associate reporter for MLB.com. This story was not subject to the approval of Major League Baseball or its clubs.