First career save a testament to Giles' progress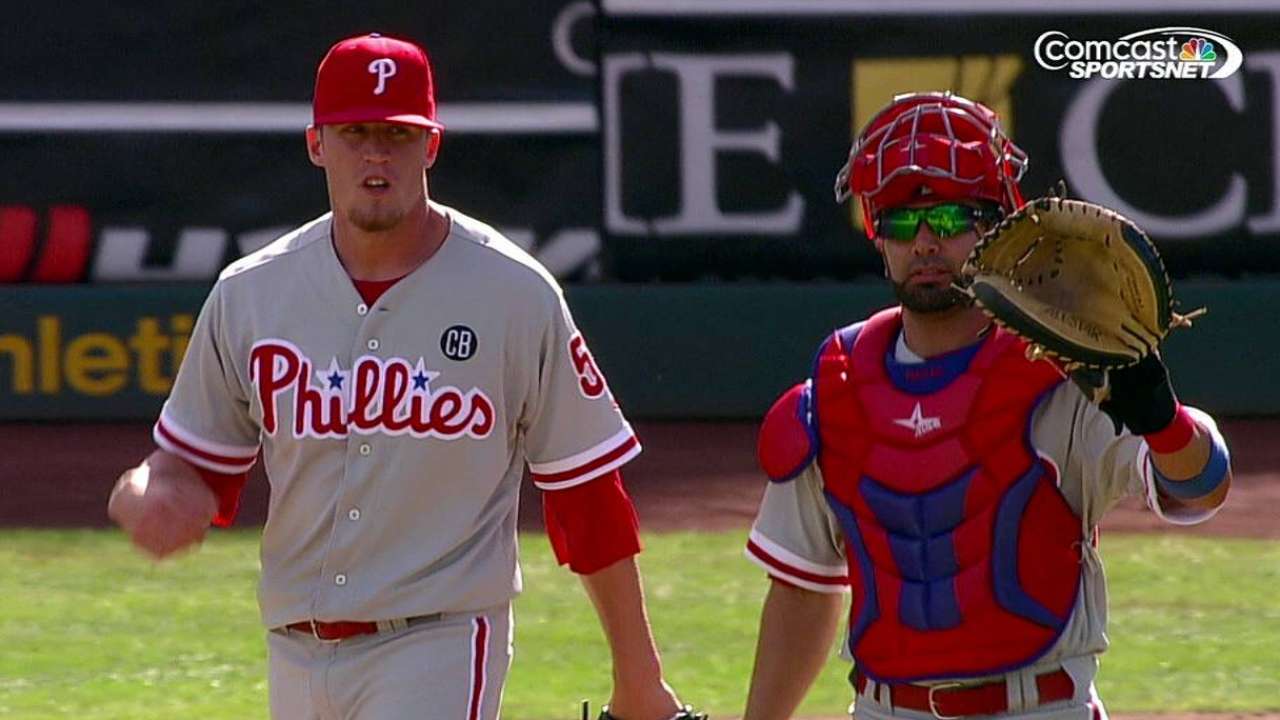 OAKLAND -- The lineup card from Saturday night's 3-0 Phillies victory over the A's was in Ken Giles' locker before Sunday's matinee and for good reason.
The rookie setup man recorded his first career save against Oakland on Saturday, which also marked his 24th birthday. And to think, when he turned 23, Giles was getting prepared for the Arizona Fall League after a disappointing season at the Class A Advanced level.
Giles only made 24 appearances in 2013 because of a pair of oblique injuries, but he said the setbacks have turned into a blessing.
"Staying healthy is a big part," Giles said of his success this season. "But getting hurt also helped me rethink how to pitch and how my mechanics work for me. I think that's what was a big part of that year. I kind of reshaped myself and reworked my pitching strategy."
Giles said he tweaked his delivery to make better use of his entire body instead of just his upper half. The hard-throwing right-hander has been lights out since reaching Philadelphia after spending time in Double-A and Triple-A to start the year.
He's posted a 1.24 ERA while racking up 63 strikeouts in 43 2/3 innings. Together with suspended closer Jonathan Papelbon, who's eligible to return on Tuesday, Giles has given the Phillies one of baseball's top 1-2 punches at the end of the bullpen.
Giles has the makeup of a closer, but Papelbon is signed for $13 million next year and could be a hard to trade. Papelbon, who has a 2.10 ERA and has converted 37 of 41 saves, also has a $13 million vesting option for 2016 if he finishes 50 more games by the end of 2015.
When looking at the rest of the bullpen, which has posted an MLB-best 2.37 ERA since Aug. 5, Giles said it's been a pleasure to learn from Papelbon and others like Jake Diekman and Justin De Fratus.
"I think that's the best thing that's come for this team this year," Giles said. "We have so much talent in this 'pen, it's amazing. We can do amazing things, I believe. If we continue that next year, anything can happen."
Alex Espinoza is a contributor to MLB.com. This story was not subject to the approval of Major League Baseball or its clubs.