O's allowing Markakis, Pearce to heal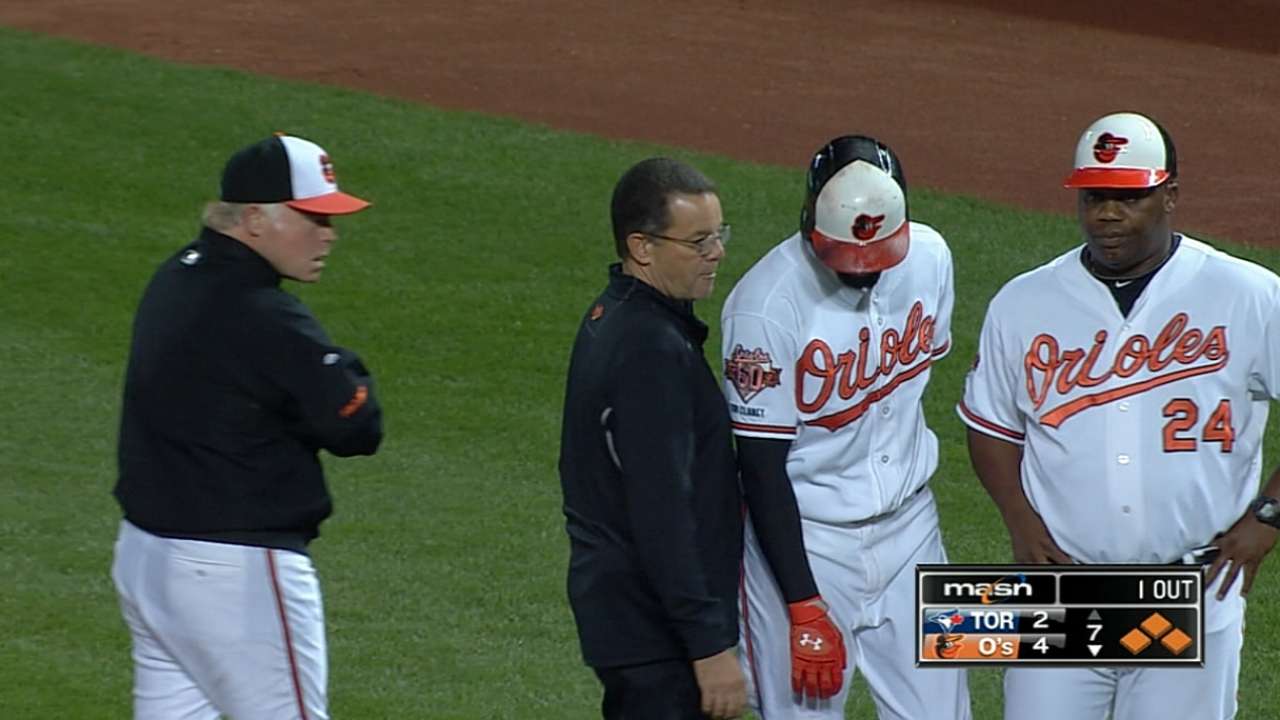 BALTIMORE -- Nick Markakis and Steve Pearce were both noticeably absent again from Sunday's starting lineup, although Orioles manager Buck Showalter said he wasn't overly concerned and expected both to play during the team's upcoming four-game series in New York.
Markakis, who hasn't played since Tuesday's American League East clincher -- in which he was hit by a pitch under his right shoulder blade -- came in Sunday morning and wanted to play. But after doing some cage work, he opted to take another day.
"[Nick is] getting better every day. That's why I'm not [concerned] at this point. More of the concern is diving for a ball, which he will do, sliding," said Showalter. "If you think about it, it's kind of like a blow to the rotator cuff. It got in there deep. I watched in slow motion. That thing got in between the blade. Stevie's history with this [wrist soreness] ... I like the idea that they don't think there's anything structurally wrong with either one. They've X-rayed, so I'm hoping it will manage itself."
Pearce, who will be shut down for three days, said he would be in there if it was necessary. But the O's are using their early clinch to allow some nagging injuries to heal.
"I could play through it if I wanted to," said Pearce, who had a cortisone injection in the area on Saturday. "We have the luxury, being in first place, having the playoffs coming up ... that we could work in a couple days off."
Pearce could play as early as Tuesday, though Showalter joked that the tougher problem is getting Pearce -- a notoriously hard worker -- to back off a little bit.
"He's got to take a little BP. I want to make sure he feels good the day after. Once he gets cleared, you've got to close the cage so he can't get in it," Showalter said. "You've got to close all the cages around Yankee Stadium that kids go to. You've got to give him an extra-small room at the hotel, so he can't hit in his room. Don't let him carry a bat back to the room. I expect him to play in New York. But if [him and Markakis] don't, they don't."
The Orioles play three more games in Toronto following the Yankees series to close regular-season play. Showalter, who will make his AL Division Series rotation public in the next few days, is expected to pare down the roster during the pair of postseason workouts.
Brittany Ghiroli is a reporter for MLB.com. Read her blog, Britt's Bird Watch, and follow her on Facebook and Twitter @britt_ghiroli. This story was not subject to the approval of Major League Baseball or its clubs.