'Proven' Soria's work based on other relievers
Manager Ausmus says initial plan is to go with Joba, Nathan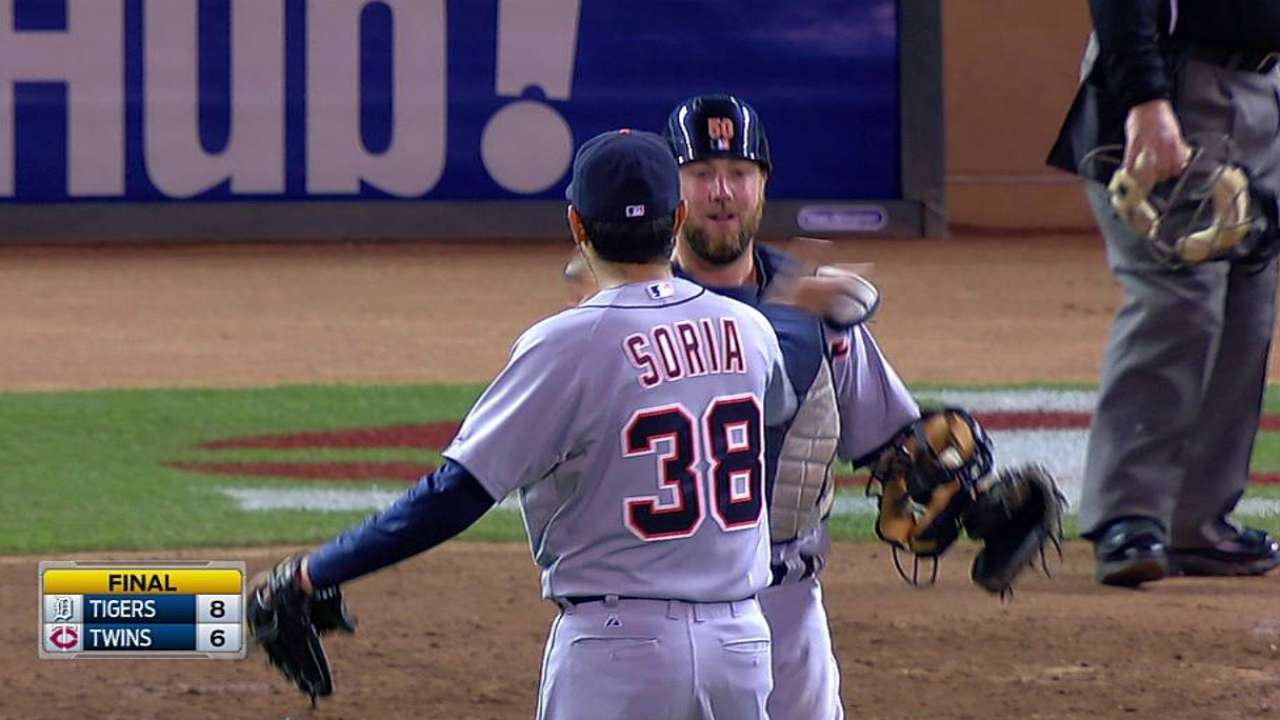 KANSAS CITY -- The Tigers won Saturday with help from two September callups. Their win ended with 39-year-old closer Joe Nathan facing 42-year-old pinch-hitter Raul Ibanez with the game on the line.
It also ended with the argument that the Tigers' best relief pitcher did not pitch. At this point, however, Joakim Soria remains a reliever whose work is contingent on the rest of Detroit's bullpen.
"Generally speaking, I would go for Joba [Chamberlain] and then Joe, assuming everyone is rested," manager Brad Ausmus said. "But if I don't like the way somebody's throwing or pitching, I certainly wouldn't hesitate to go to Soria. All three of those guys are proven back-end-of-the-bullpen pitchers."
That's a little bit of a shift from his previous situation, but not a full-time role. The question, as this American League Central race heads into its final week, is whether the hesitation will lessen further.
In Saturday's case, Ausmus said, "Soria was almost in the game a number of times."
Soria warmed up in the eighth and ninth innings once Chamberlain and Nathan allowed baserunners. Chamberlain gave up an Eric Hosmer single to whittle a 3-1 lead to 3-2 and put the potential tying run on base, but he retired Omar Infante from there.
At that point, Soria and Phil Coke -- who also began warming with left-handed-hitting Mike Moustakas on deck -- sat down, and Nathan got up.
Ausmus said that Soria was "not necessarily" going to be held unless the game was tied there.
Once Jarrod Dyson and Alcides Escobar hit back-to-back one-out singles in the ninth, Soria began warming up again. He kept warming until Nathan closed out with back-to-back groundouts from Nori Aoki and Ibanez.
In similar situations this season, Ausmus has had relievers warming in the ninth in case Nathan gave up the lead. When asked after Saturday's game if the decision to warm up Soria was in case the game was tied, Ausmus said, "That was if I wanted him in the game."
Jason Beck is a reporter for MLB.com. Read Beck's Blog and follow him on Twitter @beckjason. This story was not subject to the approval of Major League Baseball or its clubs.