Tribe's McAllister makes most of bullpen time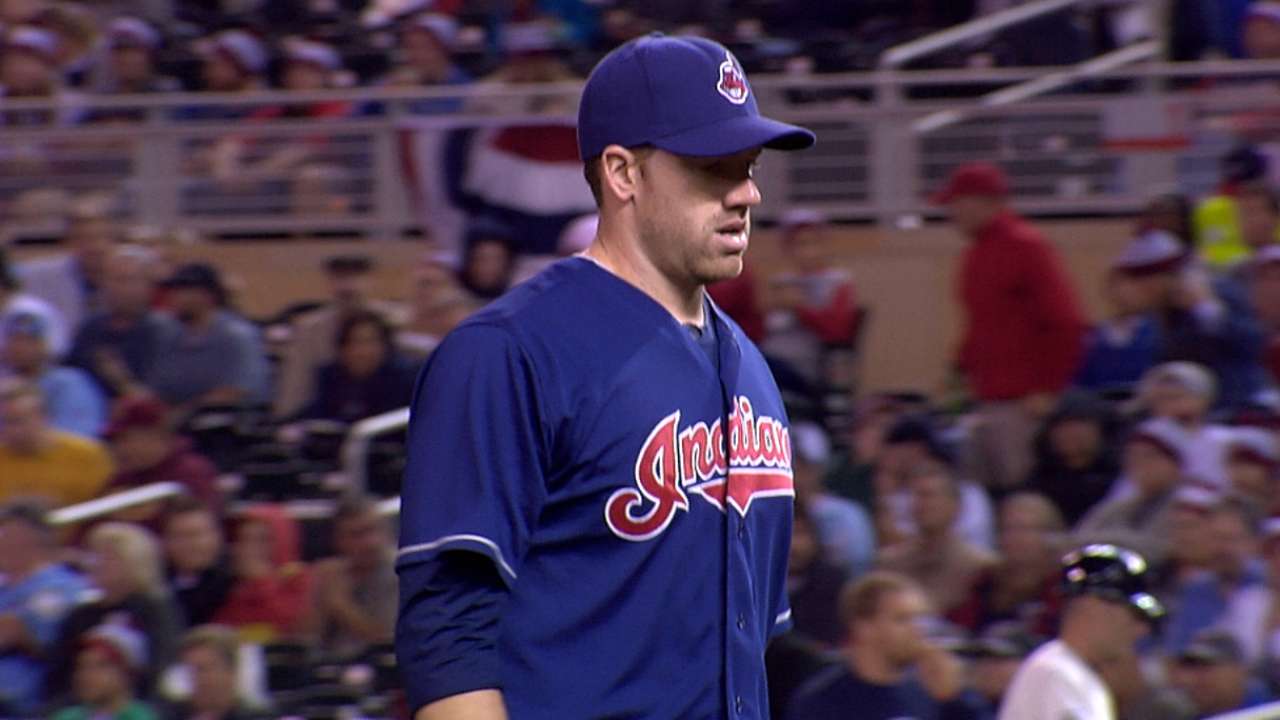 MINNEAPOLIS -- When it comes to the Indians' starting rotation, there is currently no room in the inn for right-hander Zach McAllister. Under the circumstances, the pitcher has tried to make the most of his September stint in the bullpen.
McAllister flashed increased fastball velocity and turned in two key relief appearances in the first two games of Cleveland's three-game weekend series in Minnesota. The right-hander's recent showing has impressed manager Terry Francona and the Tribe's staff, but it is too soon to begin speculation about a potential role change for the starting pitcher.
"He actually seems like he's become another option, kind of a weapon, which is really good," Francona said on Sunday. "Moving forward, [considering future roles] are why you have meetings in the winter. Who knows what the roster is? I think, if guys can pitch, that's more important than handing out roles in September."
In the seventh inning of Cleveland's 5-4, 10-inning loss on Friday, McAllister recorded the final out of the seventh inning, stranding two runners and preserving a 4-3 lead at the time. On Saturday, the righty logged two scoreless innings, striking out five and helping Francona avoid using relievers Scott Atchison, Bryan Shaw and Cody Allen in the Indians' 7-3 win.
"That was huge," Francona said of McAllister's outing on Saturday. "That was a bridge to staying away from the other three and holding [the Twins] at bay. That was really big."
Francona has noted a handful of times that McAllister's fastball "plays up" out of the bullpen. Along those lines, the righty averaged slightly more then 97 mph on Friday and Saturday, according to PITCHf/x data compiled on brooksbaseball.net. In April and May, when McAllister was in Cleveland's rotation, he averaged around 93 mph on his heater.
McAllister has averaged 11.7 strikeouts per nine innings in his brief experience (7 2/3 innings) as a reliever this season, compared to 7.4 per nine innings in his 15 starts this season. As a starter, the right-hander went 3-7 with a 5.67 ERA this year.
"It's different. I'm just ready whenever my name's called," McAllister said of working out of the bullpen. "You're probably a little more amped up than usual [in relief situations]. Being a starter, you have that time to relax and catch your breath and go at it again. Coming out of the bullpen, you're thrown right into it and expected to get them out. It's a fun challenge."
Quote to note
"We know where we're at. To stress about it or to put pressure on ourselves, that's only going to [make it] worse. I think we just come in here every day with this one game on our mind. One game at a time is how I feel like we're approaching it right now. "
-- Indians lefty T.J. House, on the Tribe's postseason chase
Smoke signals
• Cleveland established a unique Major League and franchise record on Saturday by registering at least 12 strikeouts as a pitching staff for the fifth consecutive game. The previous club mark of four such games in a row (also done by three other teams in the past 100 seasons) was achieved by the Tribe from Sept. 21-25, 2013.
• Indians second baseman Jason Kipnis, who missed the past two games due to a right hamstring issue, returned to the starting lineup on Sunday as Cleveland's designated hitter. Francona said Kipnis has been fighting through the injury for at least the past week.
• The Indians headed into play Sunday with a 10-10 record in September. If Cleveland finishes the month at .500 or better, it will mark the first time since May-Sept. of 1997 that the club posted at least a .500 record in five consecutive months.
• All-Star left fielder Michael Brantley entered Sunday's game riding an 11-game hitting streak, during which he had a .432 (19-for-44) average. Brantley (190 hits) is aiming to notch Cleveland's first 200-hit season since 1996, when Kenny Lofton accomplished the feat.
Jordan Bastian is a reporter for MLB.com. Read his blog, Major League Bastian, and follow him on Twitter @MLBastian. This story was not subject to the approval of Major League Baseball or its clubs.