Bucs hope to re-sign impending free agent Martin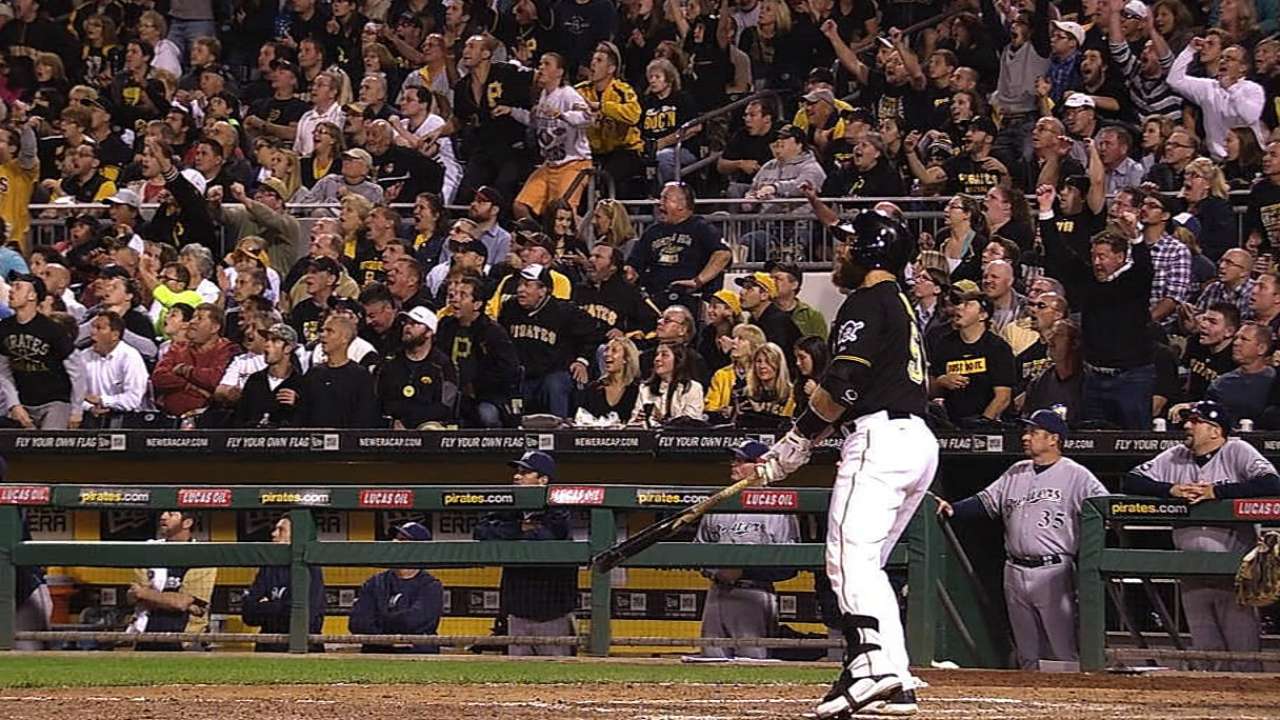 PITTSBURGH -- The Pirates are hoping to delay their offseason as long as possible, but once it arrives, there will be one decision looming larger than others for the front office: the possible re-signing of Russell Martin.
The 31-year-old catcher is having an outstanding season at the plate, as well as behind it. Martin boasted an on-base percentage of .409 entering Sunday and was called as valuable a member of the Pirates as Andrew McCutchen by manager Clint Hurdle earlier in the season. The Pirates signed Martin to a two-year contract for $17 million before last season.
The asking price is not going to be in that neighborhood this time around.
Martin will be receiving a longer and much pricier deal this offseason from somebody, and the Pirates are hoping it's within their budget. The desire from the fan base to re-sign Martin is strong, and only grew with his go-ahead, eighth-inning homer against the Brewers on Friday.
While fans cross their fingers this winter, the Pirates will try to get Martin to ink a new contract. But it's far from a certainty.
"We're going to do everything we can to try to keep Russ here. If we don't have enough, we'll do our very best to find the next Russ Martin," general manager Neal Huntington said on Sunday.
"I've said it before, I'll say it again, Russ is one of those unique circumstances where we got beat up and highly criticized for signing him when we did. And if he does walk out the door, we're going to get beat up and highly criticized when he walks out the door. And a lot of that credit goes to Russ Martin."
Long-term deals for a lot of money are not the Pirates' MO, however, and Huntington noted that is not going to change.
"We're going to continue to have to pay guys for what we believe they're going to do, and not what they've done," he said. "The bigger markets certainly have luxury to be able to extend much beyond comfort levels to pay an extra year or two, to pave over prior mistakes with more money. Smaller markets pay players based on what they think they're going to be; they pay players what they feel comfortable paying them, they retain players they feel comfortable retaining."
Stephen Pianovich is an associate reporter for MLB.com. This story was not subject to the approval of Major League Baseball or its clubs.