Interference call baffles Mariners
Running to first, Jackson ruled out when throw from catcher hits him in back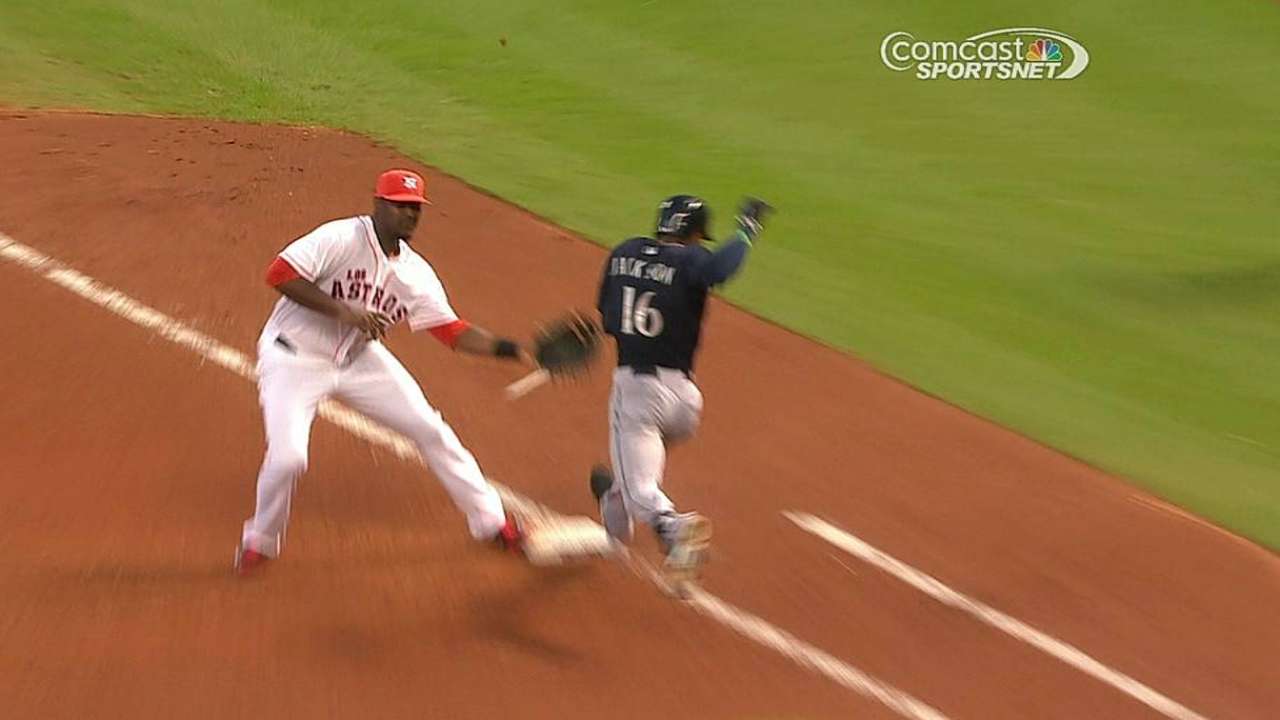 HOUSTON -- Mariners leadoff hitter Austin Jackson was ruled out at first base on an interference call in the fourth inning of Saturday's 10-1 loss when a throw from Astros catcher Carlos Corporan hit him in the back just before he reached the bag on a critical double play.
Trailing, 5-1, at the time, Seattle had the bases loaded with one out when Jackson hit a chopper back to the mound. Houston pitcher Dallas Keuchel threw home for the force, with Corporan then firing a throw that hit Jackson in the left side of his lower back and bounded away as a run scored.
But the umpires waved the run off and called Jackson out on interference because he wasn't in the box outlined by a 45-foot line along the first-base line. Jackson was in the dirt portion of the base line, directly in front of the bag, and manager Lloyd McClendon and Jackson both noted there's not much else a runner can do at that point in the base line.
"There's nothing he can do different," said McClendon, who argued the call at the time. "If you think about a right-handed hitter, when they swing they're coming from the left side of the plate. So where do they go, other than toward the grass and eventually you move over? When he hit the base, his right foot was on the line and left foot on the bag. I don't know what else you do.
"What happened was the defensive guy got rewarded for making a [bad] throw," McClendon said. "That's what happened."
The Mariners had a similar call go against James Jones earlier in the year, but Jackson said he's never been in that situation before as a baserunner.
"It happened fast," Jackson said. "I was just running to try to be safe, so I felt like I was running like I always do. If you're intentionally doing it, I think that's one thing. But that's just always how I've run to first and it's never been called interference.
"If I was two-three steps out of the box, I get it," he added. "But you're talking about two steps from the bag. He threw it right in line. He didn't get to the side. So I don't know. It was definitely a frustrating moment. You ground out and kill a rally and then that happens, you're just, 'Wow.' That was definitely frustrating."
McClendon believes the rule interpretation needs to be changed, noting it's awkward for a runner to be off to the right side of the base and then have to step on the bag at the last second, particularly if it's his right foot that is lined up to hit the base.
"What they ought to do is take that box out of there and you can't run on the grass," McClendon said. "That's what it should be. When you get ready to get to that bag, you can't be in the grass. We all know what is blatant. We all understand. You also have to take into account what kind of throw it was, and in that case, it was a bad throw. He never stepped out and he threw it right at the runner. That's a bad throw. I don't fault the umpire. The rule is what it is."
Greg Johns is a reporter for MLB.com. Follow him on Twitter @GregJohnsMLB as well as his Mariners Musings blog. This story was not subject to the approval of Major League Baseball or its clubs.