On a roll, Jeter to play every game down stretch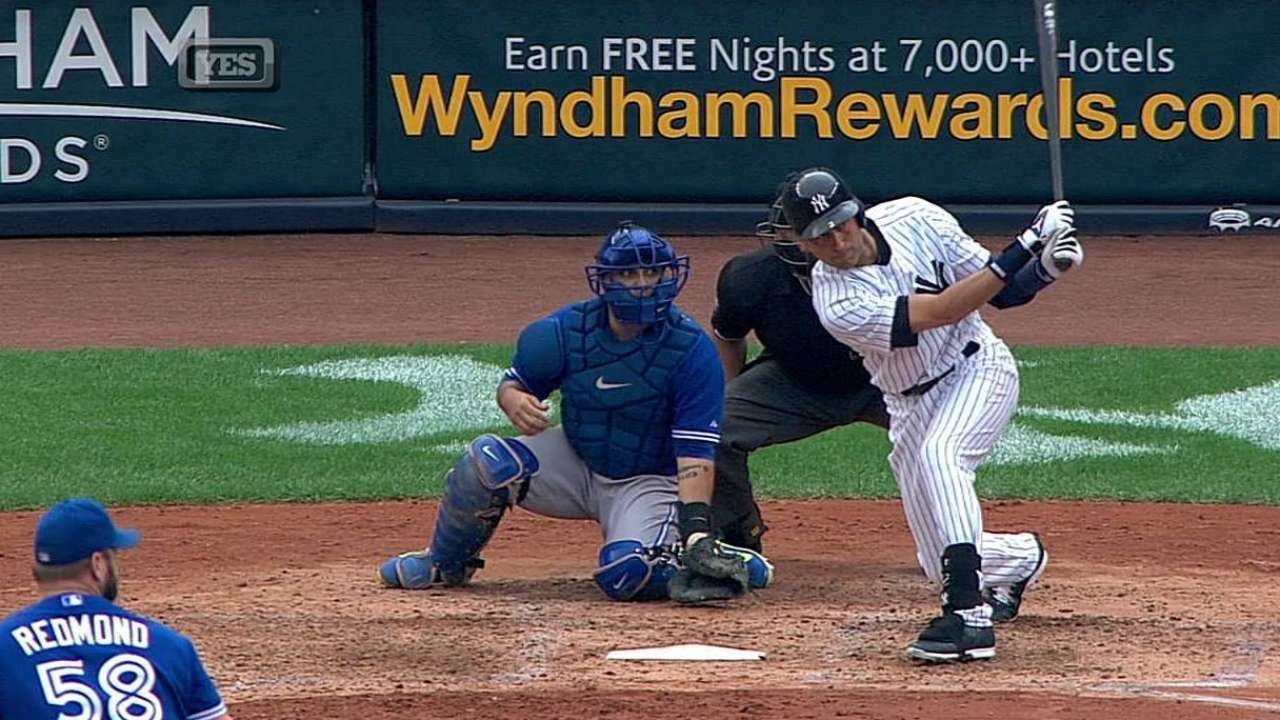 NEW YORK -- Derek Jeter is saving his best for last.
In the Yankees' 5-2 victory over the Blue Jays on Sunday afternoon, Jeter collected two hits, including an RBI double. It was his fourth straight two-hit game, as he became the first Yankees player 40 or older to have such a streak.
And so, as Jeter embarks on his final week of baseball -- and final four games at Yankee Stadium -- manager Joe Girardi said Sunday that he expects to play the Yankees' captain in every game until the season's conclusion, an easy decision considering his recent performance.
"Obviously, some of those days are going to be DH days to keep him going, similar to what [Sunday] is," said Girardi. "He had Monday off, but now he's swinging the bat and I'm going to keep him in there."
Jeter has certainly made the most of his last homestand so far, hitting .471 with two doubles, a home run and three RBIs, with every at-bat accompanied by standing ovations, name chants and camera flashes.
"It's fun. It's a lot better when they're cheering for you," said Jeter. "But the fans have been great to me all season. Now, I feel good, and we're still trying to win games. Until we're out of games, we all need to battle and play as hard as we can."
On Sunday, he helped lead the Yankees to a series victory over Toronto by doubling home Brett Gardner in the seventh inning, stealing third base and then scoring on Brian McCann's home run.
"That's a huge hit in that situation," said Girardi of Jeter's double, which extended the Yankees' lead to 3-1. "Then he steals third -- it makes it much easier for the guys to get him in. ... But he's hit the ball with more authority. And that's the ups and downs of a hitter."
"I don't feel different," said Jeter. "I'm well aware it's winding down getting constantly reminded about it. But like always, you want to play well. This is a game where you've got to battle sometimes. Sometimes things aren't as easy as they look. Like I said before, I'm going to play as hard as I can until we're out of games."
What's been more impressive -- and certainly more exciting for fans getting one more look at Jeter -- has been his turnaround, breaking out of a 1-for-30 slump on the first pitch he saw Thursday to start his final eight-game stretch at home.
"A lot of times when a guy is older and they're going through it, everyone's ready to write him off," said Girardi. "That's what happens. That's the nature of the business. But he's swung the bat extremely well since I gave him the day off in Tampa."
Jake Kring-Schreifels is an associate reporter for MLB.com. This story was not subject to the approval of Major League Baseball or its clubs.