Lucroy: No signal made to plunk McCutchen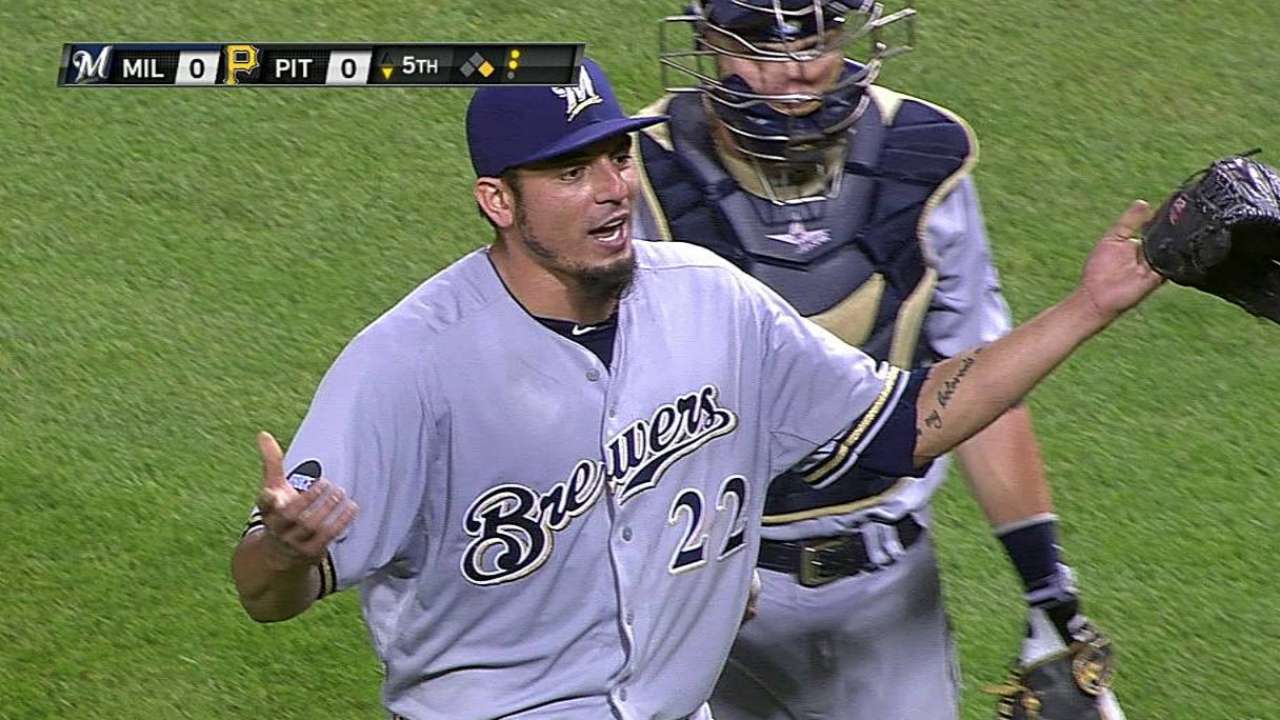 PITTSBURGH -- Brewers catcher Jonathan Lucroy on Sunday morning dispelled the theory that he signaled for the second plunking of Pirates slugger Andrew McCutchen in Saturday's 1-0 win over the Bucs.
Brewers starter Matt Garza, who was ejected after hitting McCutchen twice in the span of three innings, said anyone who believes he would do so the second time with a 1-2 count and two outs in the fifth inning of a scoreless game was an "idiot." That didn't stop a video clip from spreading around social media of Lucroy touching his facemask, then tugging on the left sleeve of his undershirt, before Garza threw that pitch.
"I don't know if people don't watch the games, but I do it all the time," Lucroy said. "My sleeve gets caught around my elbow and I pull it up. You can go back and watch film from the first game of the season, and I was doing it.
"Look, you're going to see what you're going to see as a fan. And whoever thinks that -- I'm not really worried about it. I don't even need to say anything, because I'm in the right, so that's it."
Milwaukee manager Ron Roenicke went further.
Asked whether Lucroy's sleeve tug meant anything, Roenicke said, "It means exactly what Garza quoted last night when you guys asked him about hitting McCutchen -- if you think that, you're an idiot. If you're thinking he's calling for that, you're an idiot. It was a great quote, and it's appropriate for anybody who thinks 'Luc' was doing that."
Roenicke suggested there was too much at stake for both teams to have any spillover into Sunday's season series finale.
"They understand that Garza wasn't hitting him on purpose. There's no doubt," Roenicke said. "That's a smart crew over there. They understand. But they also understand that they've got a guy that they can't lose out of their lineup again. I get that. I understand it. So I understand why they're upset about it; we would be too. Regardless of whether it's on purpose or not, it still can put your guy out of the game.
"They hit Carlos Gomez twice the day before that. We knew that wasn't on purpose. One was on the foot, and one on the elbow. They pitch Gomez inside, they're going to hit him. Gomez has been hit more than McCutchen has."
Roenicke also was aware of the fact Pirates pitchers had hit 85 batters this season entering Sunday -- 20 more than any other team in the Major Leagues (the Phillies and White Sox were tied for second). Brewers pitchers had hit the third-fewest number of batters (41) in the National League.
"The way [the Pirates] hit people, the way they pitch inside, they shouldn't be complaining about anything," Roenicke said.
Adam McCalvy is a reporter for MLB.com. Read his blog, Brew Beat, and follow him on Twitter at @AdamMcCalvy. This story was not subject to the approval of Major League Baseball or its clubs.