Cruz garners Most Valuable Oriole honors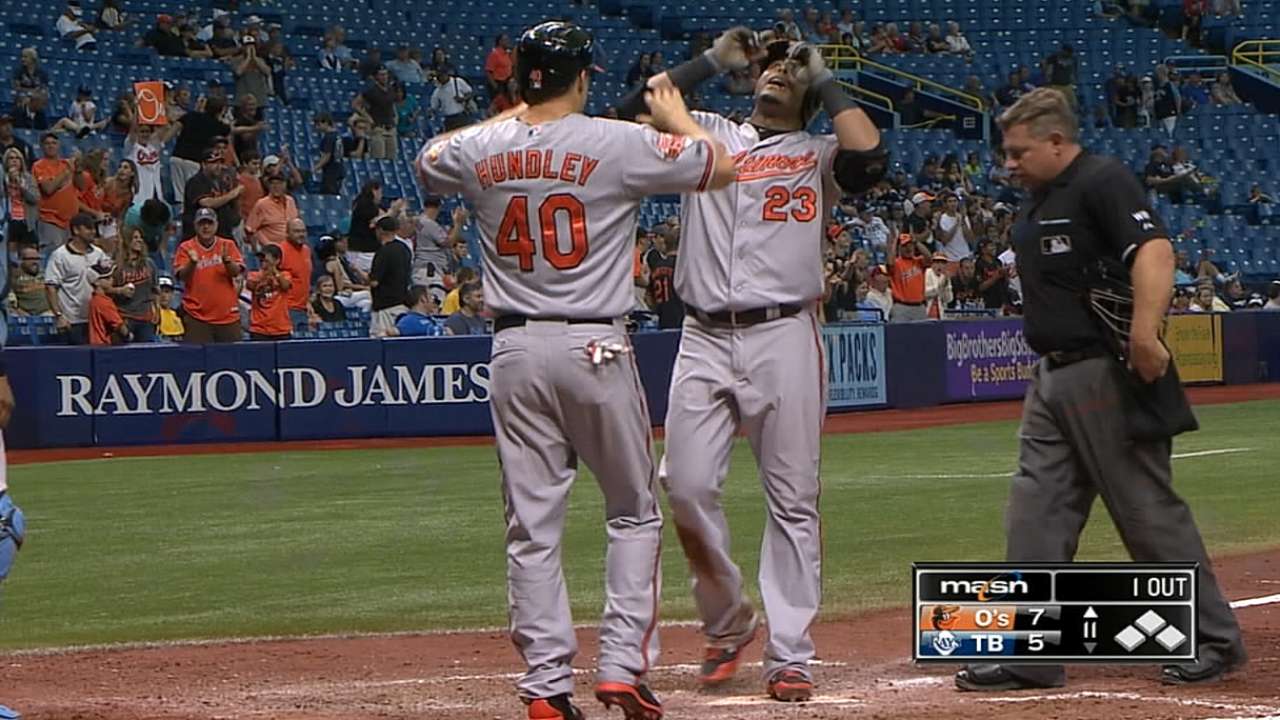 BALTIMORE -- It wasn't quite a chip on his shoulder, but Nelson Cruz came to Baltimore this offseason with something to prove. His 2013 was cut short by a 50-game suspension for performance enhancing drugs. He couldn't land a contract until Spring Training, and when he finally did land one, it was only a one-year, $8 million deal.
Almost seven months later, Cruz is putting the finishing touches on the best season of his career. He's already set career highs in hits, home runs and RBIs -- and is on pace for a career high in on-base percentage.
"I also [am on pace for] career highs in games played and at-bats, so that tells you something," Cruz said. "I haven't been able to play that many games before, so I know that I was capable of doing something like this. I can't imagine how ... it would ... be if I got to play that many games."
The outfielder was recognized on Sunday as the Most Valuable Oriole, beating out Adam Jones and Zach Britton for the team award.
From Opening Day -- when he belted the first of his Major League-leading 39 home runs -- until Baltimore clinched the American League East on Tuesday, Cruz has been the O's most consistent and best hitter. The award is just affirmation of that.
"There were lots of people deserving. Hard to argue with Nelson, with the year he's had," manager Buck Showalter said. "I've kind of followed his career batting, probably the most consistent year he's ever had. He had a little stretch there, but he's just been a rock for us."
Cruz, who has had hamstring issues in the past, has managed to stay healthy this year by serving as the designated hitter in more than half of his games. In that role, Cruz was voted into the All-Star Game as the starting DH for his third career All-Star selection.
Even since, he's continued to hit -- despite a 5-for-56 slump (.089) coming out of the break. Since the start of September, he's rebounded with a .364 average and four home runs to bring his season slash line to .269/.334/.527, heading into Sunday.
Cruz has played his way into a more lucrative contract than the one he earned this past offseason. He says he hasn't started seriously discussing a contract beyond this season, although he would like to remain in Baltimore long term.
"Hopefully, we go a long way. Hopefully, I stay here, we work something out," Cruz said. "We have an important thing going on in front of us -- so after the season is over, we'll figure it out."
David Wilson is an associate reporter for MLB.com. This story was not subject to the approval of Major League Baseball or its clubs.