Swarzak scuffles in spot start, Twins fall to Tribe
Righty allows three earned runs; offense racks up 15 strikeouts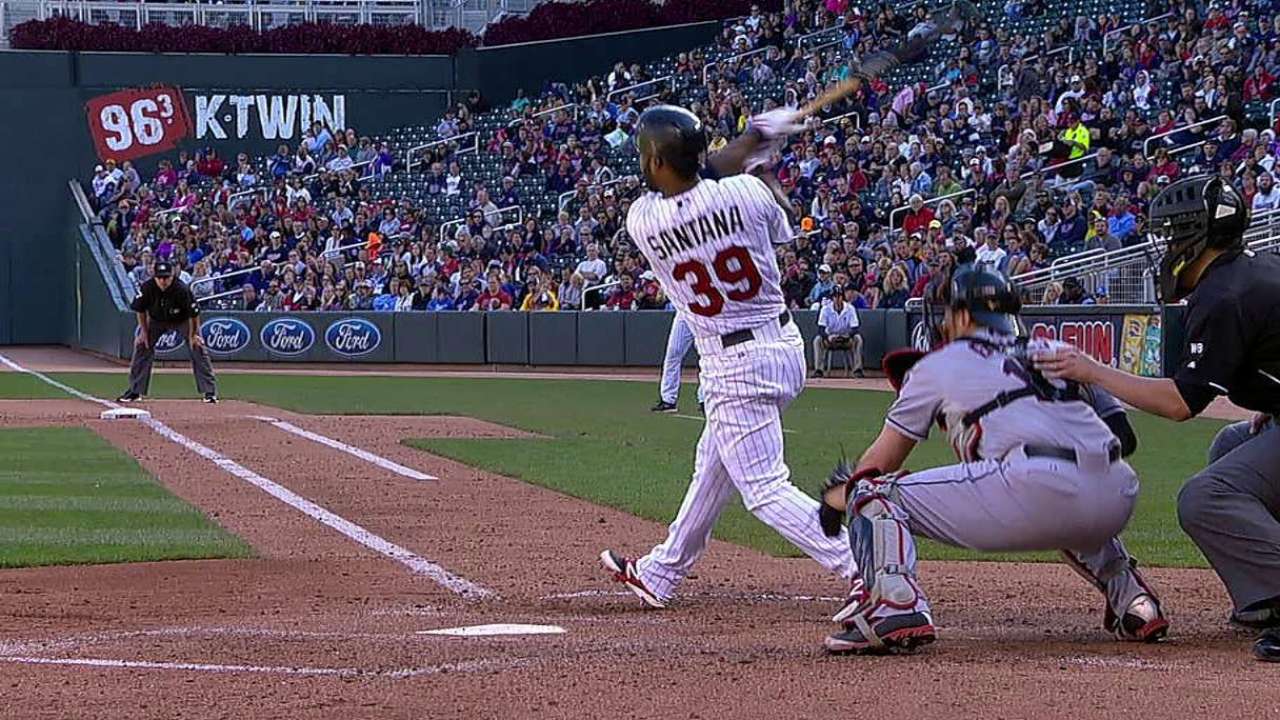 MINNEAPOLIS -- With the way Corey Kluber has pitched for the Indians this season, the Twins needed a strong spot start from Anthony Swarzak, strong defense and a few big hits with runners in scoring position for a chance to win the series finale Sunday afternoon.
Instead, Swarzak lasted just 4 1/3 innings and wasn't helped by his defense, while the offense was held in check by Kluber in a 7-2 loss to the Indians at Target Field. The fifth inning was Minnesota's downfall, as the Twins made two errors on a potential inning-ending double play and Swarzak balked home a run in a three-run inning for the Indians.
"We made some mistakes out on the field that really hurt us today," Twins manager Ron Gardenhire said. "We attempted a double play that was two bad plays in a row. And we had a balk, so it's a bad inning and it turns into that kind of game where now you're in a hole with Kluber."
That hole was too much for the Twins to overcome, as Swarzak, making a second straight start with left-hander Tommy Milone still out with neck stiffness, went 4 1/3 innings, giving up five runs (three earned) on eight hits and two walks. It was the third spot start of the year for the right-hander. He fell to 1-1 with a 6.59 ERA in those outings.
"I felt like my stuff was good," Swarzak said. "I had a little more velo early in the game than later in the game. They got me in the stretch pretty often and I didn't make enough pitches to get myself out of it."
Swarzak ran into trouble in the third, when he gave up four straight hits with one out. Jose Ramirez brought in the game's first run with an RBI single before Michael Brantley followed with an RBI double.
The Indians scored three more times in a wild fifth inning that saw Swarzak get knocked from the game. Michael Bourn and Ramirez both singled with one out before Brantley hit into a potential inning-ending double play to second baseman Brian Dozier. But Dozier's throw to second brought Danny Santana off the bag and Santana's throw to first sailed past Kennys Vargas to bring home a run on two errors.
"I made a bad throw," Dozier said. "I felt like we probably could've turned two even though Brantley is a good runner. If I make a better throw, we at least get one."
The Twins opted to intentionally walk Carlos Santana to load the bases, but Swarzak committed a balk to bring home a run. Swarzak then intentionally walked David Murphy before coming out of the game. After Swarzak departed, the Indians scored the third run of the frame on a sacrifice fly from Yan Gomes off reliever Ryan Pressly.
Cleveland put the game away with two runs in the sixth against reliever Aaron Thompson with Ramirez providing a sac fly and Brantley coming through with an RBI single.
It was more than enough for Kluber, who is among the leading candidates for the American League Cy Young Award this season. The right-hander went eight innings, surrendering two runs on seven hits and a walk, while tying a career high with 14 strikeouts to improve to 17-9 with a 2.53 ERA on the year.
"I made some mistakes throughout the game and they did a good job of putting them in play," Kluber said. "They had a few hard-hit balls and stuff, but I think for the most part Yan and I did a good job of limiting the damage and when I did get guys on, we limited them to those two runs."
Chris Herrmann helped the Twins score both runs against Kluber, as he laced an RBI double in the second before leading off the fifth with another double. He came around to score in the fifth on a one-out double from Santana.
"We gave Herrmann a chance out there," Gardenhire said. "He swung the bat really well."
But a day after going 0-for-11 with runners in scoring position, the Twins went just 1-for-5 in those situations to get the series loss against the Indians, who won the last two games and remain 3 1/2 games back of the second AL Wild Card spot with a week left in the season.
"Every one has been big," Indians manager Terry Francona said. "We're looking forward to it. We've worked hard to get to this point."
Rhett Bollinger is a reporter for MLB.com. Read his blog, Bollinger Beat, and follow him on Twitter @RhettBollinger. This story was not subject to the approval of Major League Baseball or its clubs.