Collins sees value in time off for pitchers during season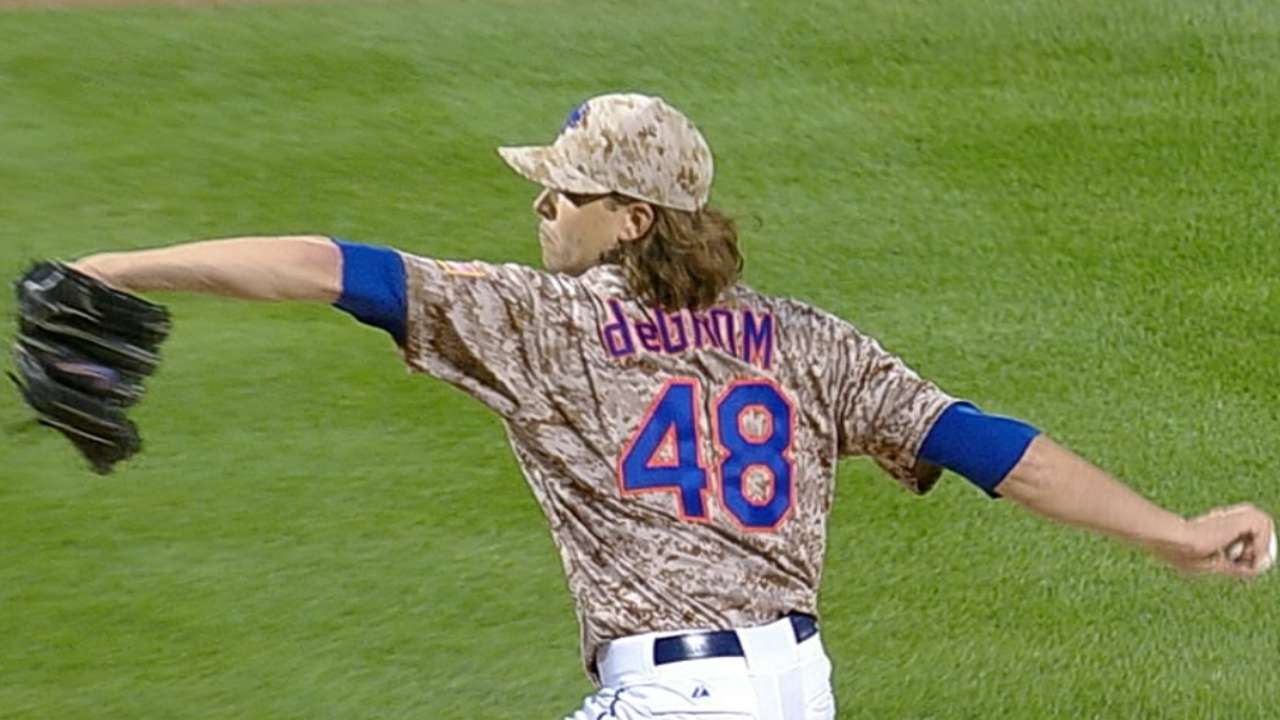 ATLANTA -- When Jacob deGrom took the field for the Mets on Sunday, in the series finale with the Atlanta Braves aimed to finish off an improbable season complete with talk about Rookie of the Year.
According to his manager, Terry Collins, the key to deGrom's strong finish may be as improbable as his becoming the ace of the staff.
"I'll tell you what helped us. He got a sore arm," said Collins, referring to deGrom's August DL stint. "He had tendinitis and took two weeks off and rested up and now he's got a strong finish."
The blessing-in-disguise ailment and the resulting hiatus has resulted in a tremendous finish for the 26-year-old. He entered Sunday's game with a 2.12 ERA in 34 innings in the five starts since coming off the DL, including a streak of 28 scoreless innings, snapped in his last start, when he matched a modern Major League record by striking out the first eight Miami Marlins he faced.
The job by deGrom, who missed the entire 2011 season after undergoing Tommy John surgery, following the break gave Collins food for thought: Why not give pitchers some time off during the course of the season?
"We have talked about it as a staff, that there might be a time when one of these young pitchers comes up and you gotta give those guys a couple of weeks break," he said. "Just to make sure that they can get through September. Because [deGrom], ever since he has come back from the tendinitis, he's been lights out."
Pitching Coach Dan Warthen sees merit in the idea.
"Terry and I have talked, along with [general manager] Sandy [Alderson] and everyone else, that it would be kind of nice to give every starter a two-week break during the course of a year sometime," said Warthen. "Everybody that I've seen have that little break, has actually come back and finished the season stronger. I think it would be a very interesting concept and it could be implemented pretty easily."
It might take some convincing among the pitchers. Jon Niese, a pitcher Collins suggested might benefit from such a break, was dead set against it.
"It just takes away from a start," said Niese. "If a pitcher's feeling well, then he should be out on the mound."
Collins feels the move could be justified to even the harshest critics, who might use the term "babying pitchers."
"I know one thing, they'll say that until they get hurt. Until they're not there anymore," Collins said. "Then the question's going to be 'Why didn't you do something about it? How come everybody keeps getting hurt?' As I've told you before, I've had the greatest doctors in the world tell me, 'When they're going to break, they're going to break.' So the point is, if you can manage it somehow, try it."
Jon Cooper is a contributor to MLB.com. This story was not subject to the approval of Major League Baseball or its clubs.