Injured Herrera may be able to play in winter ball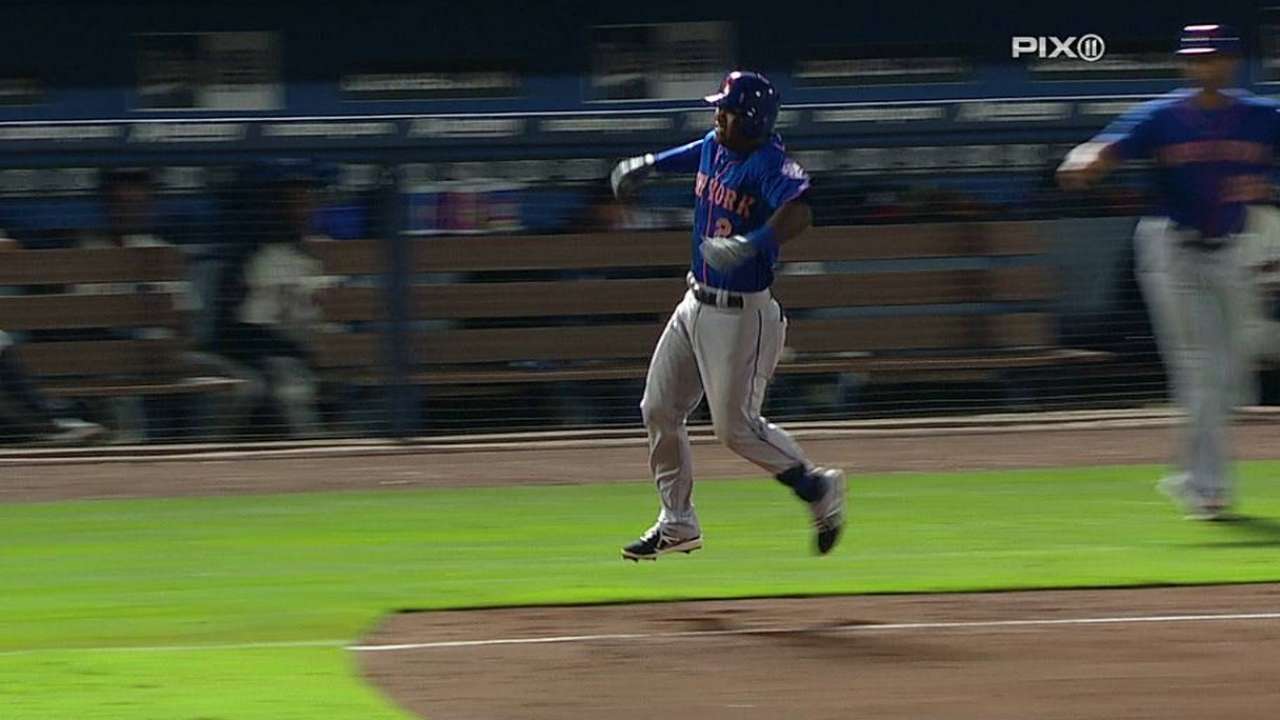 ATLANTA -- There was no chance that second baseman Dilson Herrera (strained right quad) was going to play in Sunday's weekend- and season-series finale between the Mets and Atlanta Braves at Turner Field.
It's uncertain whether the Mets will take a chance on letting their prized prospect take the field in D.C. this week against the Nationals or at Citi Field next weekend in the final series of the season against Houston. That will depend on how the quad responds to rest and treatment over the next couple of days.
"It's not so severe that we'd send him home," said Mets Manager Terry Collins prior to Sunday afternoon's game. "We're going to certainly have him make sure he goes through the process of getting back and, hopefully, by this time next week he's running and maybe back in the lineup. I don't know."
It's possible that Herrera, who hurt the quad beating out an infield hit in the sixth inning of Saturday night's 4-2 win, may not get back on the field with the Mets again until Spring Training.
In fact, the next time he gets on the field could be during the winter, when he'll play in the Dominican Republic for Licey (the team is officially known as Tigres del Licey and plays in Santo Domingo).
Collins feels that playing Winter Ball would be a positive next step for the 20-year-old Herrera, or any up-and-comer.
"I believe in Winter Ball because in Winter Ball it's not about developing. It's about winning," he said. "You go down there you better be ready to perform and perform at a big level. I think it's good for a young player like Dilson to go down there because it's a great league, especially if you play long enough down there to where the stars start to come out in December. You can face some pretty good competition. The better competition that you play, the better you're going to become."
Herrera, acquired from Pittsburgh at last year's Trade Deadline along with reliever Vic Black for Marlon Byrd, John Buck and cash, showed plenty in his 18 games since being called up from Double-A Binghamton on Aug. 29. His .220 batting average aside, he's hit .286 with runners in scoring position (6-for-21), and .323 (10-for-31), with three homers on the road. He had been 3-for-6 in the series with Atlanta, including a two-run homer in the second inning Saturday night, his first games after being given three days off by Collins to shake off a 1-for-19 slump.
General manager Sandy Alderson said the Mets will call up infielder Wilfredo Tovar, who will join the team Tuesday in Washington. The 22-year-old Tovar spent the majority of the season at Binghamton, where he batted .282 in 78 games. He hit .200 (3-for-15) in seven games with the Mets in 2013.
Jon Cooper is a contributor to MLB.com. This story was not subject to the approval of Major League Baseball or its clubs.