Early offensive burst captures Royals' series finale
Aoki's decisive triple helps KC cut division deficit to 1 1/2 games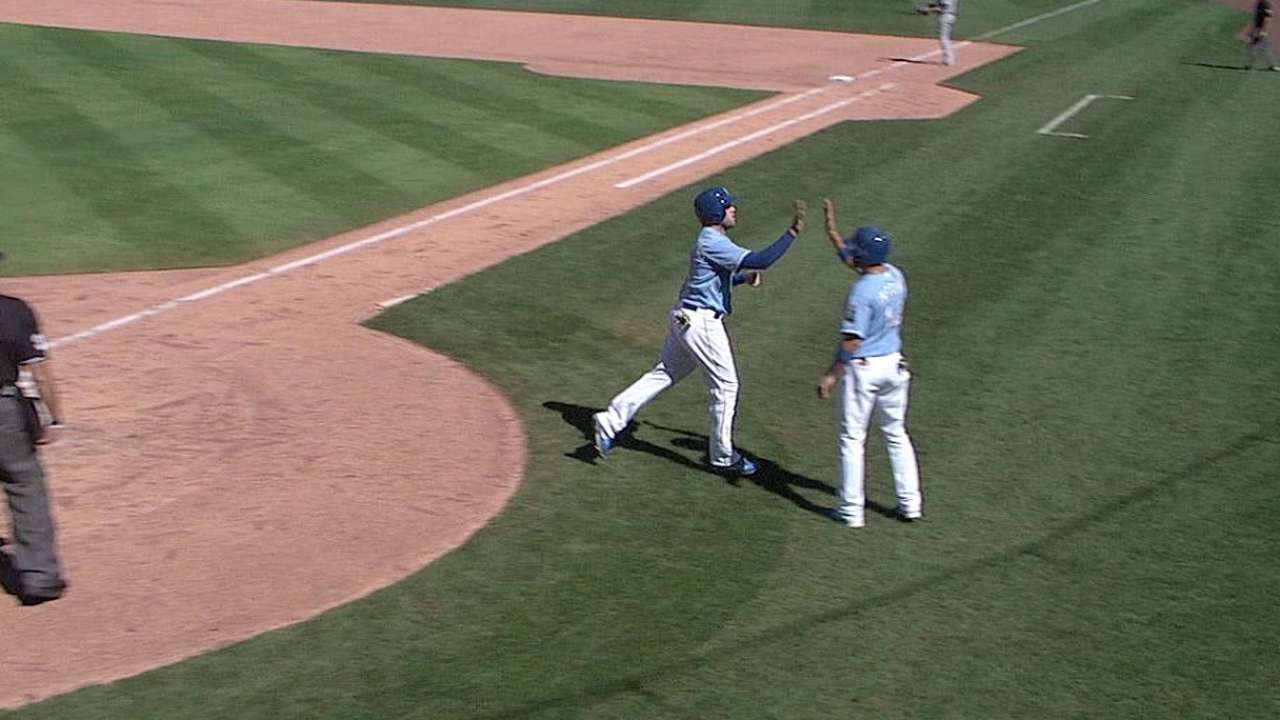 KANSAS CITY -- If Sunday's crucial 5-2 win over the Tigers in the series finale revealed anything, according to Royals manager Ned Yost, it was his team's refusal to slow down in the American League Central race.
"I think today's game showed that we're not going away," said Yost after Kansas City won the final regular-season game at Kauffman Stadium. "They had that feeling this morning that they knew that this was going to be a big game. They had a lot of confidence in themselves when they hit the field."
The Royals dropped Friday's opener, 10-1, and Saturday's game, 3-2, but Sunday's win moved them back within 1 1/2 games of the Tigers with seven remaining, including the resumption of a suspended game they trail, 4-2, against Cleveland.
"Even before this game, we felt like we weren't going anywhere," said Alex Gordon, who snapped a 0-for-14 streak with an RBI double in the eighth.
Kansas City, which finished the season 42-39 at Kauffman Stadium, was led by Nori Aoki, just like it was during the entire 10-game home stand. Aoki ripped a game-winning two-run triple to break a 2-2 tie in the fourth inning. He batted .474 (18-for-38) in the series.
The Royals struck in the first inning when Billy Butler punched an RBI single to center, scoring Lorenzo Cain.
"That first hit that Billy got was huge for us to break the ice," Yost said.
Alcides Escobar tied the franchise's record for doubles in a season with an RBI two-bagger off the left-field wall in the second inning. Escobar's 33rd double put the Royals up, 2-0, and leveled him with Jose Offerman (1996).
Royals starter Jeremy Guthrie experienced a slight hiccup in the third, courtesy of Ian Kinsler, who halved the deficit with a solo shot. Detroit tied it one inning later when Mike Moustakas mishandled a throw by Alex Gordon, which allowed J.D. Martinez to scamper home from third after his leadoff single.
"I just dropped the ball. Unfortunately, that's something that can't happen," Moustakas said.
Through two innings, Tigers starter Rick Porcello allowed six hits and threw 54 pitches. Kansas City started the game 7-for-13 with a walk after one batter in the third, but only pushed across two runs. Porcello staved off rallies in the first three innings, but he couldn't escape the fourth-inning jam.
Moustakas, just a half inning removed him his error, evidently let the gaffe wash over him as he sparked a two-run fourth with a single.
"The thing that was so impressive was Moose wears those types of situations hard," Yost said. "He'll come in and slam his glove, he'll be really upset with himself. He came in that inning, laid his glove down and, I mean, he was locked in. Boom, base hit, set up a nice inning for us."
The Royals' two runs that frame came on Aoki's career-high fifth triple of the season. With Omar Infante and Moustakas aboard, Aoki chopped a grounder down the right-field line that evaded first baseman Victor Martinez. The ball leaked into the right-field corner, easily plating the two to give Kansas City a 4-2 lead.
That was all the insurance Guthrie and the bullpen would need.
Guthrie got through 5 1/3 innings, allowing two runs (one earned). He surrendered eight runs in each of his previous two outings against Detroit.
"Guthrie did a phenomenal job maneuvering through that lineup with the offensive firepower that they had," Yost said. "He did a great job of executing his pitches in, changing speeds down and away and the big key for Jeremy -- especially against a club like this, they hunt balls up and they do damage with it -- he did a great job keeping the ball down, changing speeds and keeping them off balance."
Kelvin Herrera replaced Guthrie in the sixth with a threat intact. The Tigers had a pair of runners on base and only one out, but Herrera took care of the next two hitters, then worked a pristine seventh.
"Big time job right there," Yost said.
Wade Davis and Greg Holland locked up the victory with scoreless eighth and ninth innings, respectively.
Kansas City moves on for a three-game set at Cleveland, which will begin with the completion of the suspended game from Aug. 31.
"We're still right in the middle of all this; we're a game and a half out and anything can happen," Yost said. "There's nobody in this room that knows what's going to happen -- nobody. So you go play them one at a time and it will play itself out."
Jackson Alexander is an associate reporter for MLB.com. This story was not subject to the approval of Major League Baseball or its clubs.