Porcello bounced early as Tigers can't finish sweep
Kinsler homers, but Detroit's division lead shrinks to 1 1/2 games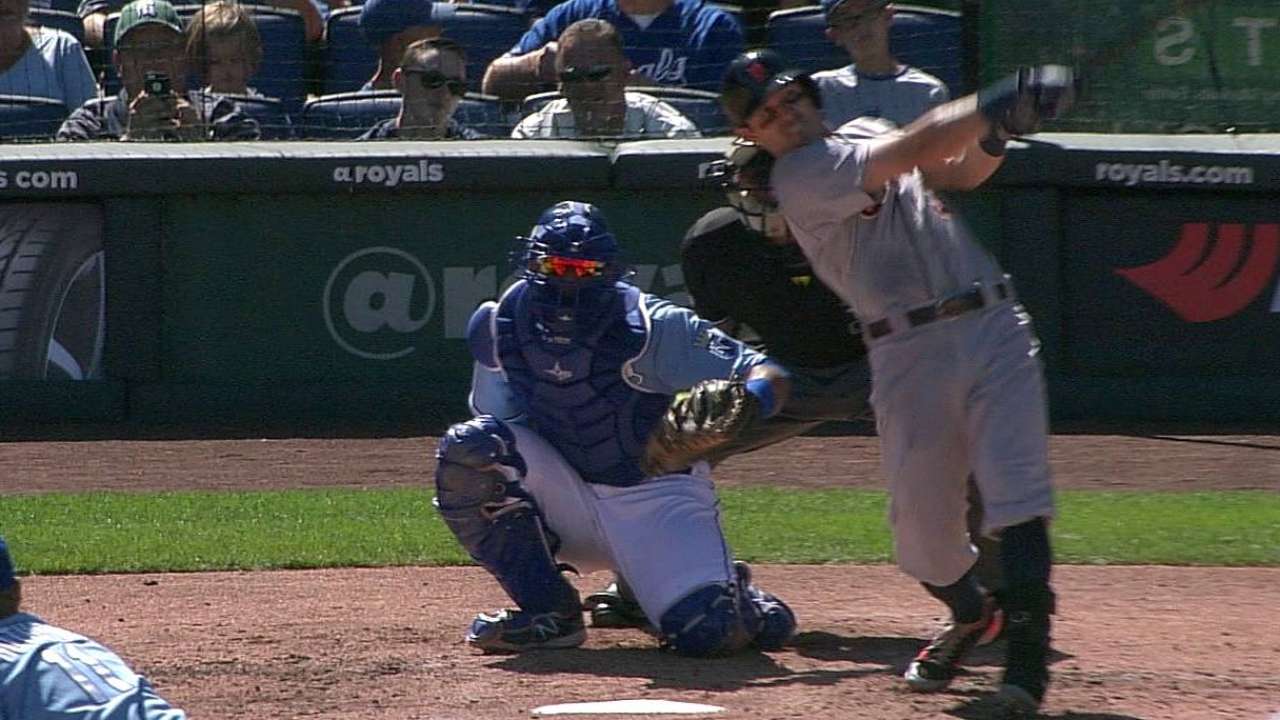 KANSAS CITY -- For a game the Tigers seemingly had no business being in, Sunday could yet end up being a game they wish they had.
In the end, they headed home with two wins in the series before the Royals pounded Rick Porcello's pitches to salvage the finale in a 5-2 Detroit loss at Kauffman Stadium.
"Happy that we won two out of three," manager Brad Ausmus said. "Would've loved to sweep."
The Tigers missed the chance to all but put the American League Central away. They ended up doing what they needed.
They return home for their final seven games up a game and a half on the Royals, who could fall two games back before Detroit's next pitch unless they overcome a two-run deficit in one inning in the resumption of their suspended game against the Indians on Monday in Cleveland.
"We came in and we did what we needed to do," J.D. Martinez said. "Yeah, it would've been nice to get a little extra game cushion, but we're in the driver's seat going forward right now.
"We control our own fate. We don't have to be looking at the scoreboard hoping somebody loses or something happens. We control our own destiny right now, so you've got to like our chances going home."
That's been the case before, of course, with disappointing results. What happened this week, however, was generally better baseball, from a healthier-looking Miguel Cabrera -- despite going hitless in his final 11 at-bats of the series -- to an offensive resuscitation to overall smarter play. A rotation that has struggled off and on at times rallied behind Justin Verlander and Max Scherzer. A bullpen that still looks out of sorts provided some big outs in spots, including 4 2/3 innings of one-run ball Sunday.
"This is a really, really good team, and we came in and we won the series," said catcher Bryan Holaday. "We did what we had to do."
As for what they wanted, Sunday was a reminder of the oft-mentioned Jim Leyland phrase that Verlander cited Friday when asked about a statement game.
"Momentum," Verlander said, "is the next day's starting pitcher."
Verlander and Max Scherzer had it this series. Rick Porcello, from the outset, did not.
"I was up in the zone the whole day," said Porcello, tagged for four runs on nine hits over 3 1/3 innings. "I really just didn't make a whole lot of good pitches, to be honest. It was one of those things where I kept battling to get the ball down and just really struggled to do so, and that resulted in a lot of hits."
Some came from hitters Porcello had previously owned. Alcides Escobar was just 2-for-29 against Porcello, but he needed just two at-bats over the first two innings to match that -- a leadoff single among four Royals first-inning hits, and a second-inning RBI double.
Porcello kept the damage at a run each inning. He gave up hits to seven of his first 13 batters, yet he was pitching in a 2-2 game when he took the mound for the fourth. He had new life, but he had neither the inside corner in home-plate umpire Paul Nauert's strike zone nor the command on his secondary pitches. Without those, Porcello didn't have long.
With Omar Infante and Moustakas on base and nobody out, Escobar's sacrifice bunt attempt brought a sellout crowd to raucous boos. All it did for Porcello, however, was delay the damage for Nori Aoki -- 0-for-8 previously against him -- whose two early-inning bunts Saturday were roundly criticized.
"The Aoki at-bat, I think it was one of the better at-bats that I had pitched," Porcello said. "I was throwing some pretty good fastballs on the inner half of the plate and he kept fouling them off, fouling them off. He finally turned on one and hit it down the line."
Aoki tripled to right, delivering two runs and a 4-2 Kansas City lead.
Porcello (15-12) is 0-4 with a 4.55 ERA in five starts since his last win, allowing 43 hits over 27 2/3 innings. His third inning pushed him across the 200-inning mark for the first time in his career, but Ausmus doesn't believe fatigue is a factor.
"I know what I'm capable of doing out there and struggled to execute that today," Porcello said. "It was just a tough day. It was one of those days. It didn't happen at a very good time, obviously.
"This would've been a really nice game to have. I don't feel too good about that, but at the same time, I can sit here and think about what I could've done differently all I want. It just didn't happen."
That's where the Tigers are in general right now. As much as they wanted the sweep, they had to settle for what they needed.
Jason Beck is a reporter for MLB.com. Read Beck's Blog and follow him on Twitter @beckjason. This story was not subject to the approval of Major League Baseball or its clubs.