Dominant Strasburg helps Nats sweep Fish
Schierholtz's triple enough as ace tosses seven scoreless innings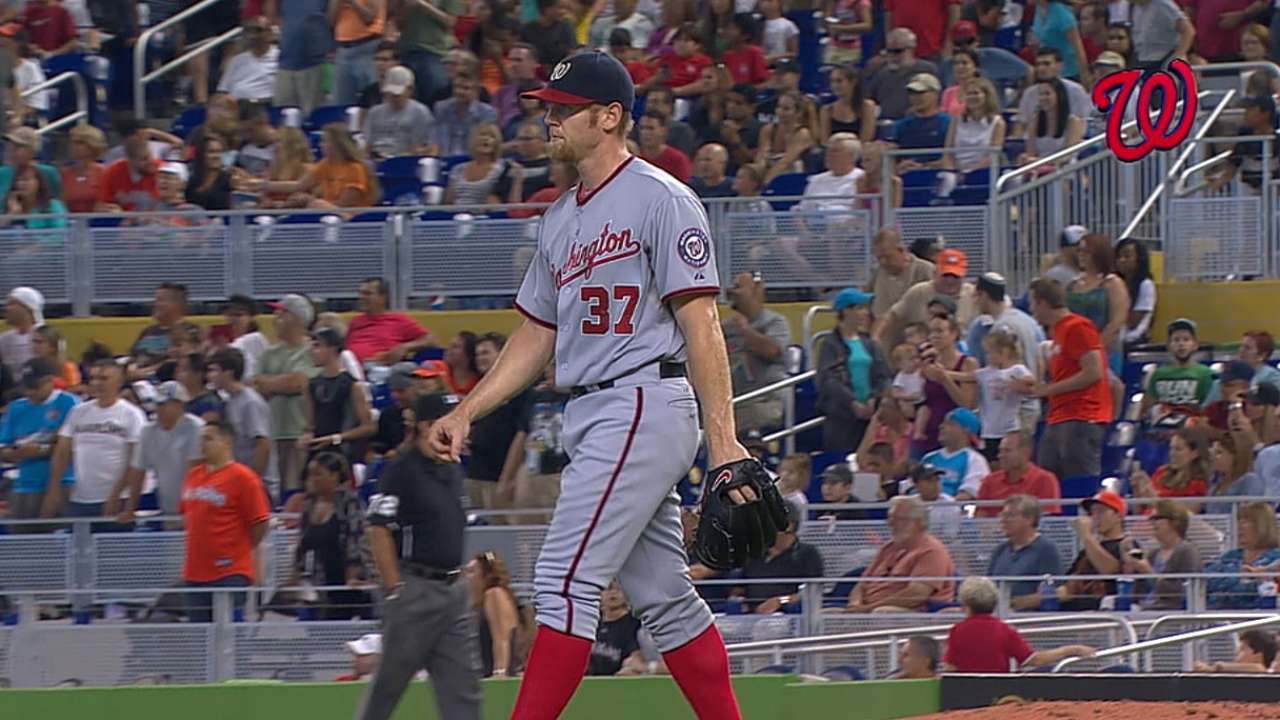 MIAMI -- The postseason is just over a week away, and even though they've secured a spot in the postseason, the Nationals haven't let up on their opponents. Washington earned a 2-1 win over the Marlins on Sunday to sweep them in four games and end their 11-game road trip with a 9-2 mark.
And they did it behind starter Stephen Strasburg, who hasn't allowed a run in his past two starts spanning 14 innings. His performance coupled well with the way Washington starters performed on the road in this last stretch -- the rotation allowed just 12 earned runs in 71 1/3 innings over the last 11 games.
"Good road trip for us against some teams that had been playing well, and especially here in a place where they play very good at home," Nationals manager Matt Williams said. "We won some close ones. Pitching was good. That certainly will keep you in any ballgame. You have those guys toe the rubber everyday, you got a chance. We did enough to win, which is good."
Strasburg was almost flawless through the first five innings. He got his first batter of the game out on a strikeout, and even though he issued a walk on four straight balls to the next batter, a double play erased any threat the Marlins had in the first.
The second inning was his toughest, as it took him a total of 21 pitches to work around a leadoff walk and an infield single. But from then on, Strasburg shut down the Marlins. He retired 16 of the last 18 batters he faced -- and all but two of the outs were on the ground.
Strasburg exited the game after seven innings, having struck out five and allowing three hits. He needed just 84 pitches to get through it. For a pitcher who's never pitched 200 innings at the Major League level until this year, the way Strasburg has performed makes it seem like he won't tire any time soon.
"The indicator is that his body feels good, his legs are strong and he works really hard in between starts," Williams said. "He's crisp, he's throwing strikes and he feels good about it. Any more than that you couldn't ask for."
Added catcher Jose Lobaton: "The way he's throwing right now, that's the way that everybody wants to see. Today's strike zone command was really good on both sides. … That's the way you want to be. He was really fun to catch today, and hopefully he can stay there and we got a pretty good battle for the postseason."
To back up Strasburg, the Nationals put up two runs in the fifth inning. It was the bottom of the order, which was full of backups as Washington played its 17th game in 17 days, that kicked off the scoring against Marlins starter Nathan Eovaldi.
Lobaton led off with a bloop double into left field that Christian Yelich couldn't come up with on a diving attempt. Then Nate Schierholtz, who started for Jayson Werth in right field, hit a ball into the right-center-field gap for a stand-up triple.
With the count full and one out, Anthony Rendon drove Schierholtz in on a stinging double up the third-base line for his 65th extra-base hit of the season. He was, however, left stranded.
The Nats only managed one more hit after that inning, but with Craig Stammen throwing a scoreless eighth inning and Rafael Soriano coming in to close out the game for the first time since he blew a save on Sept. 5, that was all Washington would need.
Soriano's outing wasn't perfect, though. Pinch-hitter Reed Johnson smoked a ball to deep center field for a leadoff double, and instead of keeping the ball down to get the next batter, two straight flyballs brought Johnson in to break the shutout.
Soriano settled down and was able to record his 32nd save of the season.
"I think the only problem that he had today with the double, he was behind the count and it's easier to get a quick swing," Lobaton said. "That ball was down and [Johnson] got it pretty good. After that, [Soriano] was able to control himself and he finished the game. That's the important thing, that he saved the game and he did it good. I think he's getting better. He's working, and we're gonna be here for him."
After Los Angeles outlasted the Cubs for a victory on Sunday, Washington's lead stands at 2 1/2 games over the Dodgers for the best record in the National League.
Maria Torres is an associate reporter for MLB.com. This story was not subject to the approval of Major League Baseball or its clubs.