Braves' postseason chase ends with loss to Mets
Santana allows five runs over five innings as New York finishes sweep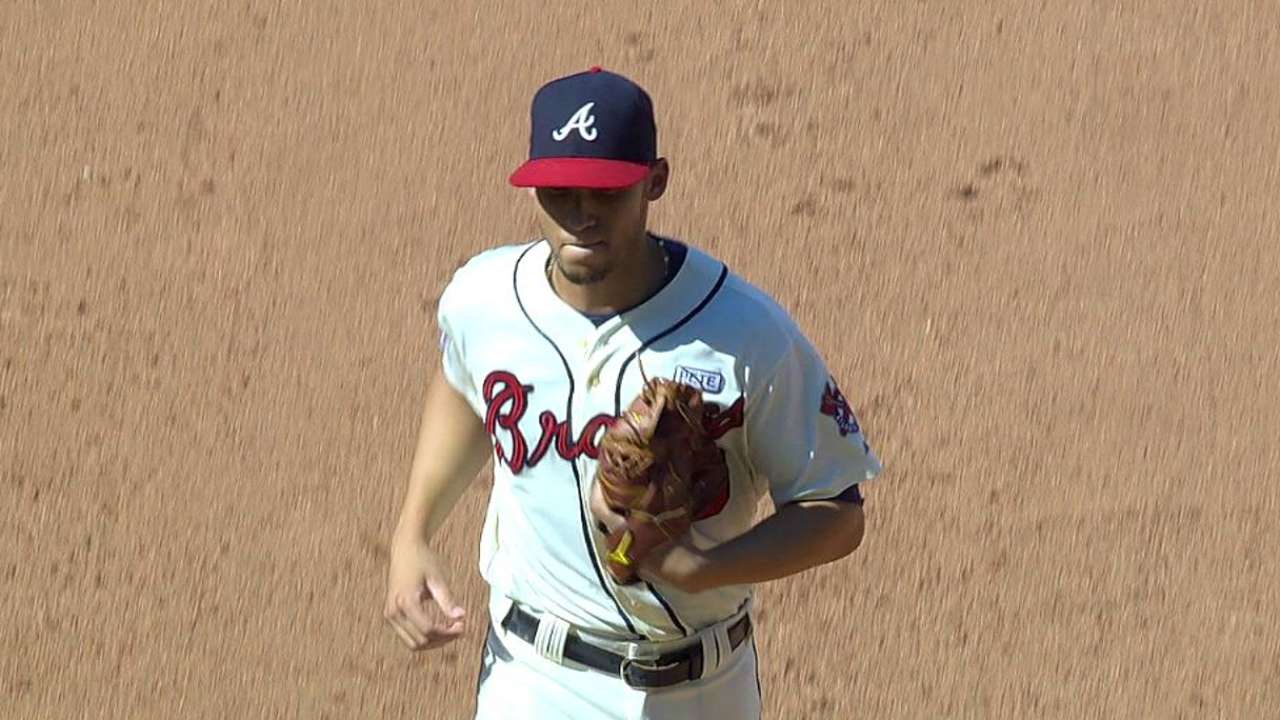 ATLANTA -- Now that the Braves have bid adieu to any thought of playing in October, they have started to provide answers that are indicative of the genuine frustration they have felt over the past few months. This proved to be the case with Ervin Santana, who took his lumps during Sunday afternoon's 10-2 loss to the Mets and then talked about how hard it is to pitch with the support of an offense that has been as abysmal as Atlanta's.
"It's tough because we haven't been playing well lately," Santana said. "We have our confidence up, but at the same time, you have to throw a complete-game shutout or something like that to get a win. It's pretty tough."
Given that he spotted the Mets a 5-0 lead through the first four innings and ended up completing just five innings, this might not have been the most appropriate day for Santana to point his finger at the offense. But those who have watched the Braves offense most of this season likely understand the level of frustration that every member of the Braves starting rotation has experienced.
Santana's decision to express his feelings might have also had something to do with the fact that the Braves were officially eliminated from the Wild Card race because they were swept by the Mets and the Pirates won on Sunday.
The Braves would certainly like to prevent the Pirates from celebrating the clinching of a Wild Card spot while they spend the next four days playing in Atlanta. Just last week, the Nationals celebrated at Turner Field after clinching the National League East.
"We can't really worry about elimination if we're not winning ballgames," Braves third baseman Chris Johnson said. "It's pointless. We just have to come in, work hard and try to get better these next [seven] games."
The Braves have scored two runs or fewer in 15 of their past 25 games and 11 of their past 18. They have seen their starting pitchers produce a 3.47 ERA in the 26 games played dating back to Aug. 23. But because they have averaged just 2.3 runs per game, they've gone 8-18 during this span.
"If you're a starting pitcher, you're going to have that on your mind when you see that we're not scoring any runs," Santana said. "It's tough for us because when we're playing like this and you give up two or three runs, you know it's going to be a tough game."
With their eighth loss in the past nine games, the Braves dropped to 4-14 in September. They stand just a half-game ahead of the third-place Mets and five games in front of the last-place Phillies.
The Braves began this month by being on the wrong end of a combined no-hitter completed by the Phillies. Though Mets starter Jacob deGrom never really got close to matching this accomplishment by himself, he at least flirted with it as he proved perfect through Sunday's first four innings. But after looking dominant throughout that stretch, the rookie right-hander surrendered consecutive singles to Justin Upton and Chris Johnson during a two-run fifth inning that included Emilio Bonifacio drawing a four-pitch, bases-loaded walk.
After getting off track in the fifth, deGrom escaped the bases-loaded threat by notching the third of the career-high four strikeouts Phil Gosselin produced. deGrom, who exited after the sixth inning, notched eight of his 10 strikeouts through the first four innings. The 26-year-old hurler has produced a 1.06 ERA over the five starts he has made dating back to Aug. 29.
"We had a chance, we got to him in the fifth inning in a 4-0 game and scored a couple runs," Braves manager Fredi Gonzalez said. "If we had gotten a couple more runs, it might have been a different ballgame."
Santana surrendered a leadoff double to Matt den Dekker that led to a first-inning run and he surrendered a pair of singles as the Mets gained a 2-0 lead in the second. But most of his damage was incurred during an ugly fourth inning that included Christian Bethancourt allowing a run to score on a passed ball. B.J. Upton also airmailed his throw to the plate on Anthony Recker's sacrifice fly. Then to add to the frustration Ruben Tejada hit a solo homer.
Now the Braves have to look toward this week's series against the Pirates with the desire to play for pride and the integrity of the game. This four-game set will certainly draw interest from the Brewers, who are still fighting for a Wild Card spot.
"Those are meaningful games for the Pirates," Gonzalez said. "We need to come out and battle and give the teams that are behind them an opportunity to get in. That's how I look at these last four games at home."
Mark Bowman is a reporter for MLB.com. This story was not subject to the approval of Major League Baseball or its clubs.