Improved Eovaldi not enough to halt Miami's slide
Righty strong, but offense held in check as Ozuna hurts ankle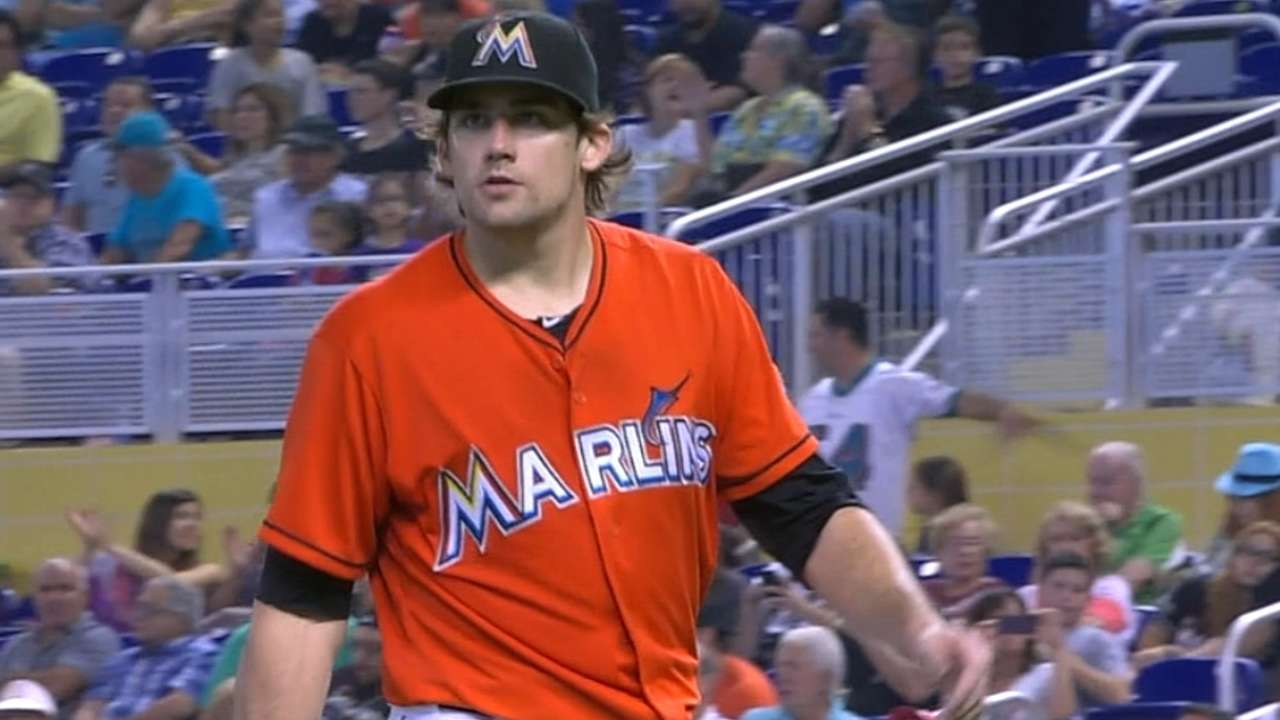 MIAMI -- It wasn't a victory, but it certainly was a positive step forward for Nathan Eovaldi. The hard-throwing right-hander demonstrated a more consistent delivery, executed more effective secondary pitches and minimized damage on Sunday afternoon.
What Eovaldi wasn't able to do was reverse the Marlins' downward trend, as the Nationals, behind Stephen Strasburg, claimed a 2-1 victory at Marlins Park. It was a painful afternoon overall for Miami as center fielder Marcell Ozuna injured his right ankle and was assisted off the field in the seventh inning.
Already without MVP-candidate Giancarlo Stanton, the Marlins also face the strong likelihood of not having Ozuna in the final week.
"It's tough on the team, especially losing Stanton, and Ozuna is probably going to be out a couple of games," Eovaldi said. "I don't know how bad it is. It's tough. You want to finish the season strong and with everybody healthy. It will be another challenge for us."
For the first time in the history of the rivalry, the Marlins were swept in a four-game series, dating back to when the Nationals were the Montreal Expos.
Strasburg threw seven scoreless innings, allowing three of Miami's four hits.
The Marlins are now 3-8 since Stanton was hit in the face with a pitch at Milwaukee on Sept. 11. Overall, the club is 74-81, meaning one more loss will mark their fifth straight losing season.
"We're trying to win all these games," manager Mike Redmond said. "That's what it's all about. We don't go into each game going, 'Man, I just want to feel good about this one.' We're trying to win and finish off on a good note, no doubt. Losing Ozuna doesn't make it any easier, especially when we have to play these guys four more times."
Miami is off on Monday after a span of playing 17 straight games. They take on the Phillies at home beginning on Tuesday and finish up the season with four games at Washington.
The Marlins lost three straight, one-run games to the Nationals.
"We won some close ones," Washington manager Matt Williams said. "Our pitching was good. We did enough to win, which is good."
The day turned even more agonizing in the seventh inning when Ozuna went down. The 23-year-old hit one to left field, and when the ball wasn't fielded cleanly by Kevin Frandsen, Ozuna advanced to second. As he reached the bag, he slowed down and his right ankle rolled on second base, causing him to stumble off the bag and onto the ground.
Ozuna was credited with a double, but was tagged out by Asdrubal Cabrera. Assisted by trainer Sean Cunningham and Redmond, Ozuna hobbled off the field and to the training room.
The Marlins announced Ozuna has a right ankle sprain, and the X-ray came back negative. The double was just the third hit Strasburg allowed over his seven innings.
The game changed in Washington's favor with two runs in the fifth inning when Nate Schierholtz and Anthony Rendon each delivered RBIs that gave the Nationals a lead Strasburg didn't surrender.
Opening the fifth, Jose Lobaton dropped a double to left on a ball that Christian Yelich nearly made a diving grab on. Schierholtz laced an RBI triple to the gap in right-center, and Rendon, with the count full, poked a run-scoring double to left.
In the ninth inning, the Marlins avoided the shutout when Reed Johnson delivered a pinch-hit double and scored on Donovan Solano's sacrifice fly off Rafael Soriano.
Between starts, Eovaldi worked with pitching coach Chuck Hernandez on refining his delivery. The early result on Sunday was an improved slider. He was able to strike out Cabrera swinging in the first inning on a crisp slider.
The breaking pitch also caught Lobaton looking in the second inning. Bryce Harper swung through a two-strike slider in the third inning.
In the fourth inning, Eovaldi received a big boost by his defense. Adam LaRoche singled to open the inning, and Frandsen ripped a liner to right for what appeared to be extra bases. Without hesitation, LaRoche sprinted to second, and he was rounding the base as right fielder Enrique Hernandez made a terrific leaping grab near the line. LaRoche was easily doubled up at first.
"It was nice to bounce back," Eovaldi said. "I still had that rough inning in the fifth. I was able to bounce back. I was able to move the ball to both sides of the plate, and use my offspeed pitches."
Joe Frisaro is a reporter for MLB.com. He writes a blog, called The Fish Pond. Follow him on Twitter @JoeFrisaro. This story was not subject to the approval of Major League Baseball or its clubs.