Danks cruises with abundance of support
Lefty allows first hit in sixth; Semien, Avisail (twice) homer in rout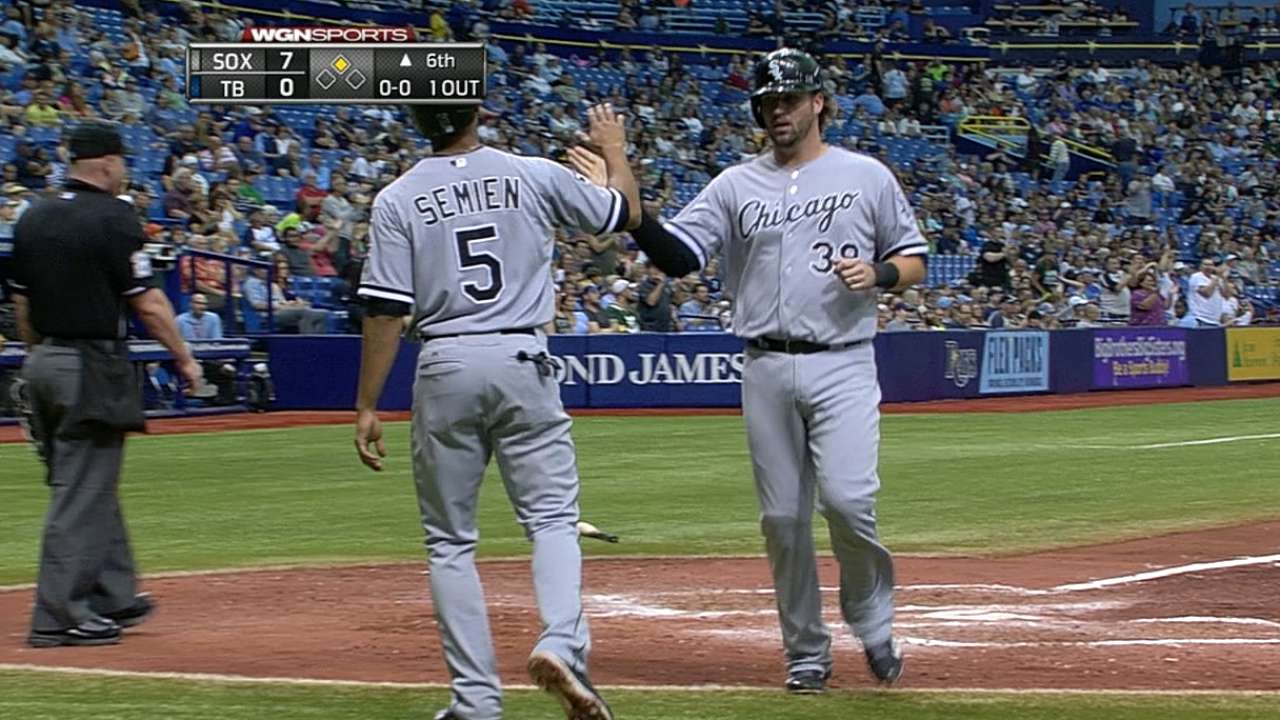 ST. PETERSBURG -- How can putting up a six-run inning ever be a bad thing? The White Sox might have found out on Sunday: When it puts your pitcher on ice in the middle of a no-hit bid.
Yes, Chicago blew open its series finale against the Rays -- a 10-5 win at Tropicana Field -- batting around in the sixth inning of a game between teams eliminated from postseason contention. Meanwhile, John Danks waited, waited, waited in the White Sox dugout, having yet to allow a hit after five innings. Sure enough, just after the layoff, during which he had been staked to a 10-0 lead, Danks surrendered his first hit, and then his only runs.
But he wasn't about to think about things in those terms.
"Trust me, you'll never hear me complain about six runs in an inning," Danks said with a laugh. "Yeah, it was different, but I've been there before. I can't go out there and walk the leadoff leader like I did. That kind of set that inning off. ... I kind of dug my own grave with that one."
In 2008, Danks lost a no-hitter against the Red Sox in the seventh inning.
"Anyone that says they don't know what's going on is lying to themselves," Danks said. But, he also "definitely knew we had a five, six, seven, eight-run lead -- was able to maybe pitch a little different."
A one-out double by Brandon Guyer broke up the no-hitter in the bottom of the sixth, and Danks later allowed an RBI groundout to Kevin Kiermaier and an RBI infield single to Wil Myers. The veteran left-hander exited after the inning, having allowed just the two hits and two runs.
Danks cruised through the first five innings, even getting some of the trademark defensive support that always seems to back a no-hitter. Second baseman Carlos Sanchez made a fine play up the middle in the third inning, running down Curt Casali's ground ball and throwing him out at first to prevent an infield hit. And Dayan Viciedo ran down Sean Rodriguez's slicing fly ball in the right-field corner to end the fifth, juggling the ball in his glove before holding on for the third out.
By the sixth, the White Sox had pushed the game so far out of hand that the Rays began pulling their starters. After Chicago's six-spot, Nick Franklin pinch-hit for Ben Zobrist, and Kiermaier pinch-hit for Evan Longoria.
"All things considered," White Sox manager Robin Ventura said, "you'd rather have a six-run inning than take your chances out there trying to throw a no-hitter."
The Sox rudely greeted Rays starter Nate Karns, who was making his second start with Tampa Bay, and were just as rude to Alex Colome when he came in in relief.
"I just tried to stay out there as long as I could and be effective as long as I could," Karns said.
That wasn't very long, though, and he wasn't very effective. In his first game of the season, Karns had shut out the potent Blue Jays on two hits over seven innings, but on Sunday, Chicago knocked around the right-hander for six runs in five-plus frames. Chicago hit three long home runs off Karns -- two solo shots by Avisail Garcia and a three-run blast by Marcus Semien.
"I think it was a case of Avisail Garcia -- the bat in his hand was our problem," Rays manager Joe Maddon said.
When Colome stepped in for Karns with no outs in the sixth after Garcia's second homer and a single by Viciedo, he didn't fare any better. Colome allowed four runs on four hits and a walk before he could get out of the inning, and when the dust had settled, the White Sox were up by double digits.
So once the Rays got their hit off Danks, Ventura felt comfortable taking him out after 86 pitches, choosing to not push his starter at this point in the season.
"We're not gonna extend him," Ventura said. "At that point, he's done his job."
But what if there had still been a zero in the Rays' hit column?
"Oh, he would have been out there," Ventura said.
David Adler is an associate reporter for MLB.com. This story was not subject to the approval of Major League Baseball or its clubs.