Loss drops Mariners further back in Wild Card race
Iwakuma's recent issues continue, but club remains upbeat, optimistic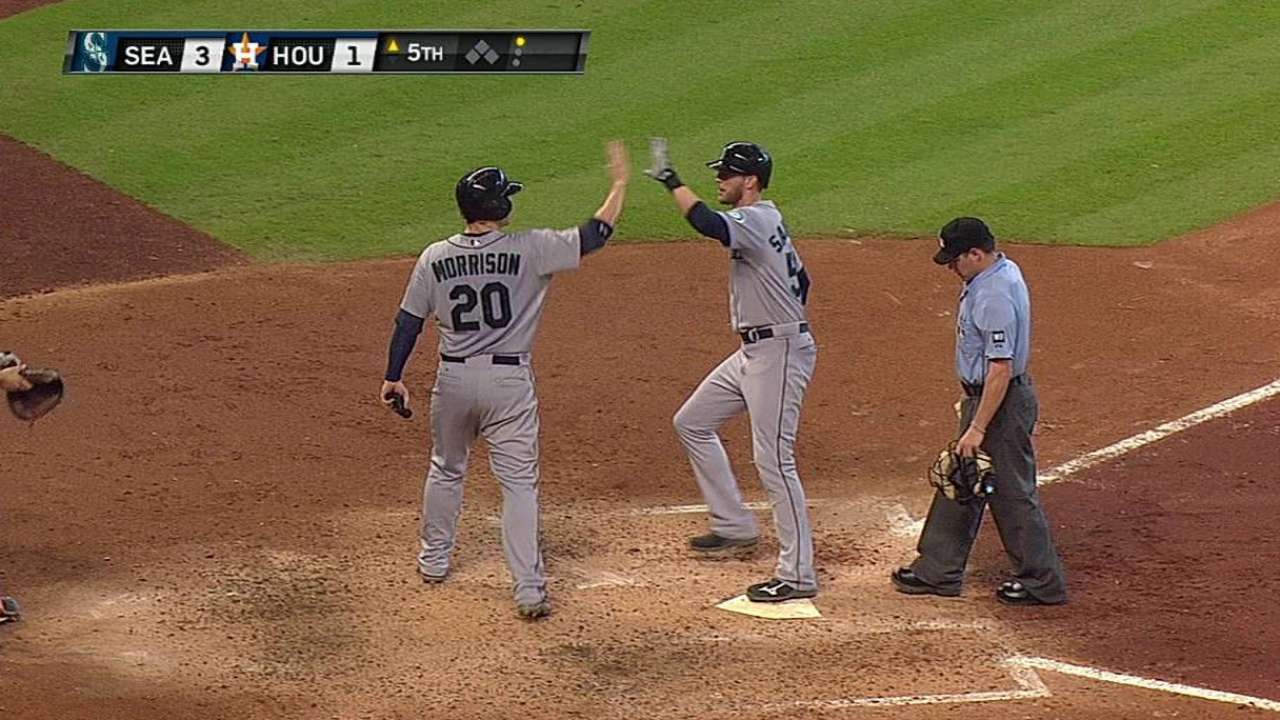 HOUSTON -- Stellar pitching has kept the Mariners in the playoff chase all season, but fatigue seems to be a growing concern as Hisashi Iwakuma saw his late-season struggles continue in an 8-3 loss to the Astros on Sunday, dropping Seattle 1 1/2 games back in the American League Wild Card race.
Kansas City topped Detroit, 5-2, to move a game and a half ahead of the Mariners for the second AL Wild Card spot. Oakland beat the Phillies, 8-6, and holds a half-game lead over Kansas City and a two-game edge over Seattle for the first Wild Card position. The Mariners are 83-72 with seven games to go.
"We just have to regroup," said catcher Mike Zunino. "Obviously this isn't the series we wanted to have here. Hopefully we can bounce back and string a few together in Toronto."
Iwakuma allowed six hits and four runs in 4 1/3 innings before giving way with a 4-3 deficit. The Astros slammed the door with a three-run homer by Jake Marisnick off Yoervis Medina in the seventh.
Since getting bounced early in an Aug. 24 outing at Fenway, Iwakuma has posted a 9.12 ERA in his last six starts with 26 runs in 25 2/3 innings. The 33-year-old standout, who was fourth in the AL Cy Young voting last year, said he's fine physically, but acknowledged almost all pitchers have to push through things at this point in the season.
"I'm physically healthy. There's no issue with that," Iwakuma said through interpreter Antony Suzuki. "This late in the season, we're all tired and feel fatigued at times, so we're trying to overcome that. But like I said the other day in Anaheim, it's more the balance for myself. I'm still working on making my adjustments. I'm not able to get ahead early in the count and that's kind of messing up my game plan."
Coupled with a similar skid from fellow starter Chris Young and an elbow injury to rookie Roenis Elias, the Mariners' once-solid rotation has suddenly wobbled down the stretch.
"I'd be lying if I said I wasn't concerned," manager Lloyd McClendon said, echoing the same thought he had a day earlier after Young went just three-plus innings in a 10-1 loss. "[Iwakuma] had [an extra day of rest between starts] and I thought he'd be a lot sharper than he was today. He lacked command, really of all his pitches. We have to figure it out."
Iwakuma normally relies on pinpoint control and the second-best strikeout-to-walk ratio in the Majors, but he needed 88 pitches to get through 4 1/3 innings and has lasted less than five frames in four of his last six outings. Iwakuma walked a season-high three Sunday, including one intentional, but did have eight strikeouts.
"My lower body feels like it's diving more to the plate, which is actually keeping the ball up in the zone and not down like I'm usually pretty good at doing," Iwakuma said. "I'm not being able to get ground balls and that's causing a lot of issues. The last 5-6 starts I haven't been contributing, so I feel bad."
Iwakuma's record fell to 14-9 with a 3.54 ERA, the ERA having climbed from 2.57 in those last six appearances.
Houston scored three times in the fifth off Iwakuma to regain the lead after Michael Saunders briefly put Seattle on top with a two-run blast in the top of the frame off Astros starter Collin McHugh.
Saunders had started just one of Seattle's previous five games and was 2-for-18 since coming off the disabled list Sept. 8. But he went 2-for-3 with two RBIs and two runs Sunday, and his soaring two-run blast in the fifth was his seventh homer of the season.
"I got some swings today, but you know it's meaningless when you lose," Saunders said. "We're at a point in the season where we have one goal in mind and that's to win ballgames. Unless we do, nothing else matters."
After Iwakuma's departure, the Astros broke things open when Dominic Leone gave up a one-out single in the seventh to Dexter Fowler, Alex Presley singled off Charlie Furbush and Marisnick drove a 1-2 pitch from Medina into the left-field seats for his third homer of the year.
Seattle wound up 10-9 against Houston for the season and heads to Toronto for a crucial four-game set to close out an 11-game road trip.
With seven games left, including a season-ending three-game set at Safeco Field against the Angels, the Mariners certainly aren't out of the picture.
"Thankfully, our destiny is kind of in our own hands," said Saunders. "We are not three or four games back or have four or five teams ahead of us where we need a lot of teams to lose. We just need to go out and take care of business."
And as McClendon notes, still being in the playoff hunt with a week to go is a scenario pretty much anyone associated with the Mariners would have gladly accepted at the start of the year.
"Is the cup half empty or half full? I choose to be very positive," said McClendon. "We lost a tough series, but we're still in this thing. I guarantee you, there are a lot of teams that wish they were in our position right now. We'll take our chances."
Greg Johns is a reporter for MLB.com. Follow him on Twitter @GregJohnsMLB as well as his Mariners Musings blog. This story was not subject to the approval of Major League Baseball or its clubs.