Keuchel finds it 'rewarding' to reach goal of 200 innings
In likely his final start of '14, Astros ace hits mark with eight-frame gem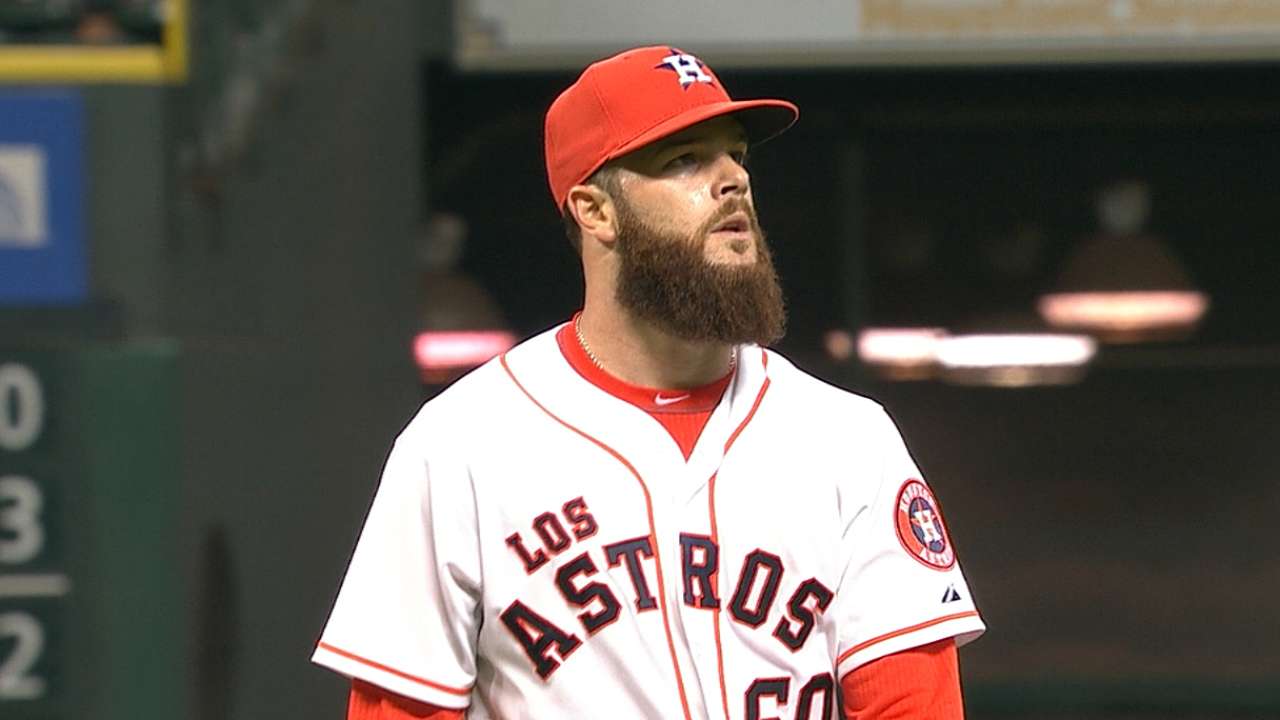 HOUSTON -- Dallas Keuchel achieved a personal milestone Saturday night.
In beating the Mariners, 10-1, at Minute Maid Park, the Houston left-hander reached the 200-inning mark for the first time.
"That's the only goal I had was 200 innings," said Keuchel. "I've never been a stat guy. All I ever wanted to do was pitch 200 innings and do my job effectively.
"I want the team to rely on me to get it done. To be able to do that was very rewarding."
Keuchel reached the mark in his final inning, retiring the side in order. In eight innings, Keuchel (12-9) allowed only one run and seven hits. He struck out eight and walked one. Eighty-seven of his 120 pitches were strikes.
Backed by five home runs, Keuchel had plenty of cushion with which to work and was determined to reach the 200-inning mark.
"A lot of joy," said Keuchel. "It took me longer than expected, 120 pitches."
The last Houston pitcher to reach 200 innings in a season was Brett Myers (216) in 2011. The last Houston left-hander to accomplish the feat was Wandy Rodriguez (205 2/3 in '09).
For Keuchel, it was essential for him to reach the mark in this start, likely his last of the season. Last season, he pitched 153 2/3 innings.
"It was important for him because he probably won't pitch any more," said Houston interim manager Tom Lawless. "He'll probably be shut down after 200 innings. That's way more than he had last year.
"I went down and asked him how he was doing after the seventh, he said, 'You're not taking me out.' I said,'You're at 108 pitches. I'll let you go a little more than 125.' But he's a great competitor and that's why he can go 200-plus innings. He battles, not giving in to hitters. He's going to be a pleasure to watch for a long time."
A ground-ball pitcher, Keuchel has the respect of his teammates. He has not allowed more than three earned runs in any of his last seven starts.
"Amazing," said second baseman Jose Altuve on Keuchel's performance Saturday. "A real good pitcher. He did what he's been doing all season long."
Richard Dean is a contributor to MLB.com. This story was not subject to the approval of Major League Baseball or its clubs.