McClendon doesn't change his stance on Keuchel
Mariners manager does compliment Astros lefty following strong start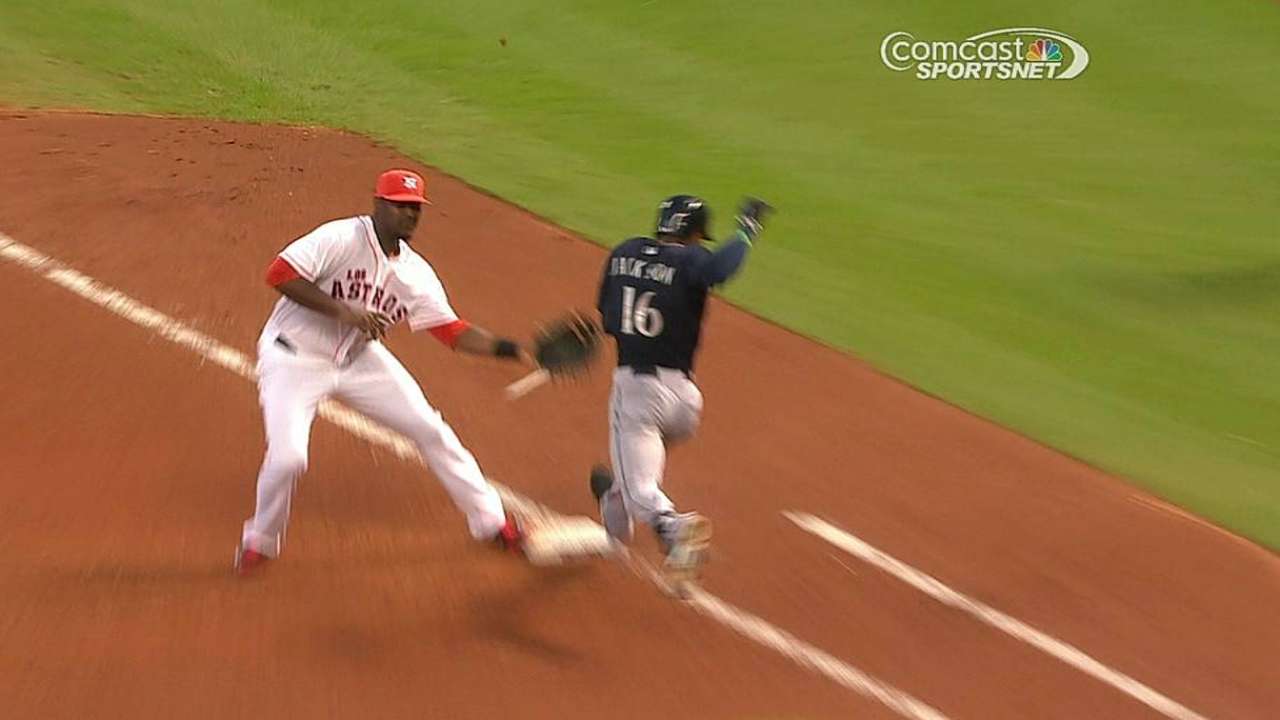 HOUSTON -- Mariners manager Lloyd McClendon raised some hackles in Houston earlier in the year when he called Dallas Keuchel an "average pitcher" after the Astros lefty shut down the Mariners at Safeco Field.
So naturally, when Keuchel topped the Mariners again Saturday in a 10-1 victory that likely will be his final appearance of the season, the 26-year-old pitcher offered a little return volley.
"I know they weren't going to let me go over 200 [innings]," the 26-year-old said when asked if that was going to be his last start of the season. "So I guess that's probably it. Pretty good for an average season, huh? I had to put that one in there."
Keuchel allowed one run on seven hits with eight strikeouts over eight innings, improving to 12-9 with a 2.93 ERA. He was 3-1 with a 1.75 ERA in four starts against Seattle.
McClendon said the lefty threw well Saturday, but wasn't backing down from his earlier stance.
"He pitched well. He had a good sinker," McClendon said. "Listen, everybody was up in a huff last time about what I said. I wasn't trying to downplay the kid. He's got average stuff. He knows how to pitch. He doesn't have David Price-type stuff. That's just a fact, not a knock on the kid. He's 88-90 [mph], but he pitched well. He sunk it, he did a nice job."
Mariners third baseman Kyle Seager said Keuchel is a smart pitcher who makes things tough for opponents in a lot of ways.
"He does a lot of things right," Seager said after going hitless in three at-bats against the southpaw. "He works fast, pounds the zone with that sinker, holds runners on extremely well and gets a lot of ground balls. When guys are on, he's quick to the plate and rushes you a little as a hitter. He disrupts your timing. He's a pretty good pitcher, obviously. But we had some opportunities and weren't able to get 'em."
The Mariners lead the season series against the Astros 10-8 going into Sunday's finale and had won six of their previous seven games this year at Minute Maid while averaging 8.3 runs a game until running into Keuchel on Saturday.
Greg Johns is a reporter for MLB.com. Follow him on Twitter @GregJohnsMLB as well as his Mariners Musings blog. This story was not subject to the approval of Major League Baseball or its clubs.