With chance to gain ground in West, Giants fall short
Pence's homer kicks off ninth-inning rally; SF remains 3 1/2 back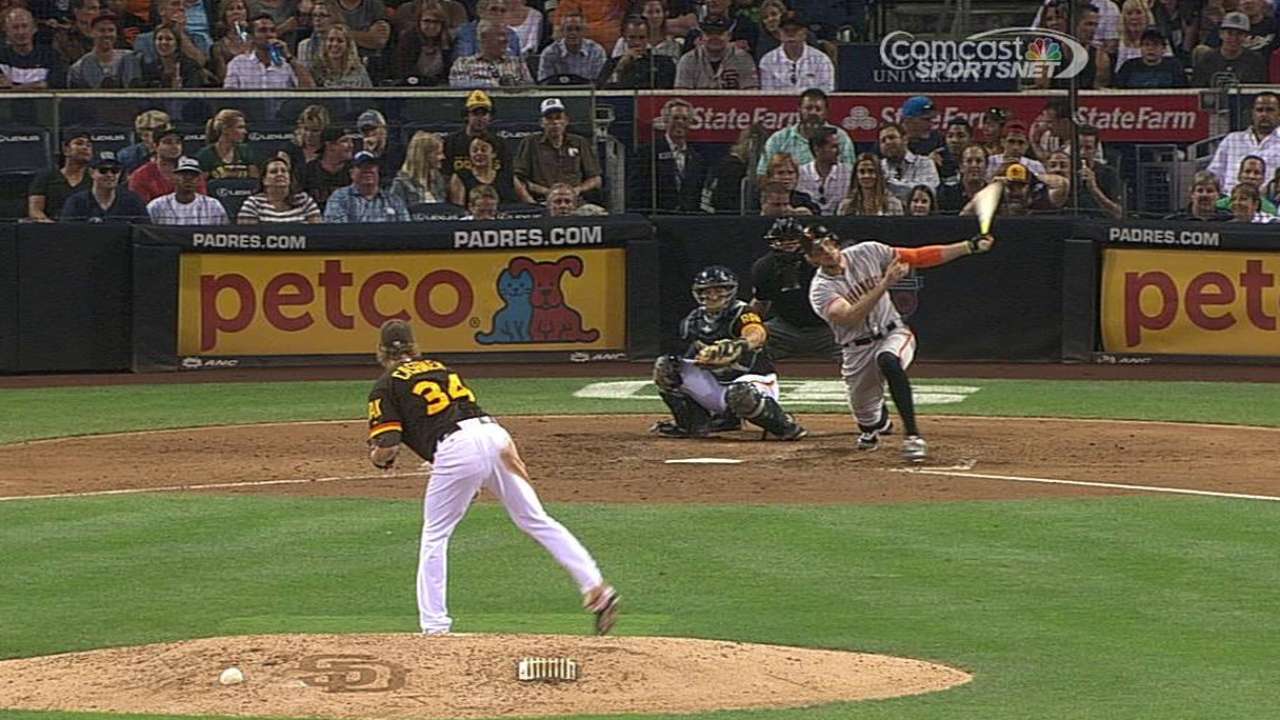 SAN DIEGO -- Reporters were not the first postgame guests welcomed into Giants manager Bruce Bochy's office Saturday. General manager Brian Sabean beat everybody to Bochy's quarters for a brief, private yet doubtlessly intense meeting after the Giants' 3-2 loss Saturday night to the San Diego Padres. Suffice it to say that they weren't discussing the postseason pitching rotation.
While losing the series' first two games to the Padres, the Giants have gained a fresh set of concerns. They know that Angel Pagan and Michael Morse might be sidelined for the upcoming Dodgers series with their respective injuries. Their absences leave the Giants scrambling for replacements at the leadoff spot and in the middle of the batting order. This makes them even more susceptible than usual to imposing pitchers such as San Diego's Andrew Cashner, who was three outs away from completing his second straight shutout until the Giants staged a ninth-inning rally.
Bochy returned Hunter Pence to the leadoff spot Saturday, which weakened the heart of the order. Pence bashed his 20th homer to begin the Giants' late surge. However, Brandon Belt went 0-for-4 with two strikeouts while occupying the No. 5 position that Pence vacated. In fairness to Belt, he started just his second game since recovering from the aftereffects of a concussion.
Nevertheless, Bochy sounded vaguely dissatisfied. Asked if Pence would remain at the top of the order, Bochy said, "I don't know. We may switch it back. We'll see."
The Giants' fifth defeat in seven games prevented them from gaining a game in the division standings on first-place Los Angeles, which leads them by 3 1/2 games. Should the Dodgers (88-67) win only three of their remaining seven games -- a stretch that includes the three-game series against San Francisco beginning Monday at Los Angeles -- the Giants (84-70) would have to finish 7-1 just to forge a first-place tie. That would force a one-game playoff for the division title.
The Giants maintained a decent chance of reaching the postseason through the Wild Card. Due to Pittsburgh's 1-0 loss to Milwaukee, San Francisco still leads the Pirates by one game for the first of two Wild Card berths, though Milwaukee trails the Bucs by just 3 1/2 games.
Cashner, one of baseball's best pitchers despite performing in virtual anonymity, surrendered nothing more than two singles by Buster Posey and entered the ninth with a 3-0 lead until Pence homered. Joe Panik singled, prompting reliever Kevin Quackenbush's arrival.
Posey flied out to the right-field warning track before Pablo Sandoval singled. Belt struck out looking, but Gregor Blanco singled home Panik while moving pinch-runner Chris Dominguez to third base. Crawford connected solidly but his drive traveled directly toward left fielder Seth Smith.
"It's good to see the fellas come to life," Bochy said.
Giants starter Yusmeiro Petit (5-5) kept up with Cashner until San Diego pushed across an unearned run in the third inning. With runners on first and second and one out, second baseman Panik ranged to his left to make a nice stop on Yangervis Solarte's grounder. But Panik's relay to shortstop Crawford at second base was wide, resulting in a throwing error that enabled Will Venable to score.
"I didn't have the right grip on it," Panik said. "I guess I forced [the throw]."
The Padres added a pair of runs in the sixth. With Yasmani Grandal on second base and one out, Bochy ordered Smith intentionally walked. That brought up Rene Rivera, who was 0-for-2 and struck out awkwardly in his previous plate appearance. This time, however, Rivera drove a double to left field, scoring two runs and finishing Petit.
"The ball ran a little bit toward the middle of the plate," Petit said of his delivery to Rivera. This typified Petit's inconsistency on a night when his streak of consecutive batters faced without going to a three-ball count ended at 70.
Naturally, the batter who victimized Petit was Cashner, who drew a third-inning walk. Cashner proceeded to demonstrate his athleticism by collecting a fifth-inning triple and a sixth-inning bunt single.
Chris Haft is a reporter for MLB.com. Read his blog, Haft-Baked Ideas, and follow him on Twitter at @sfgiantsbeat. This story was not subject to the approval of Major League Baseball or its clubs.