May's win streak ends as Indians strike early
Rookie allows seven runs in 4 2/3 innings as three-game run is snapped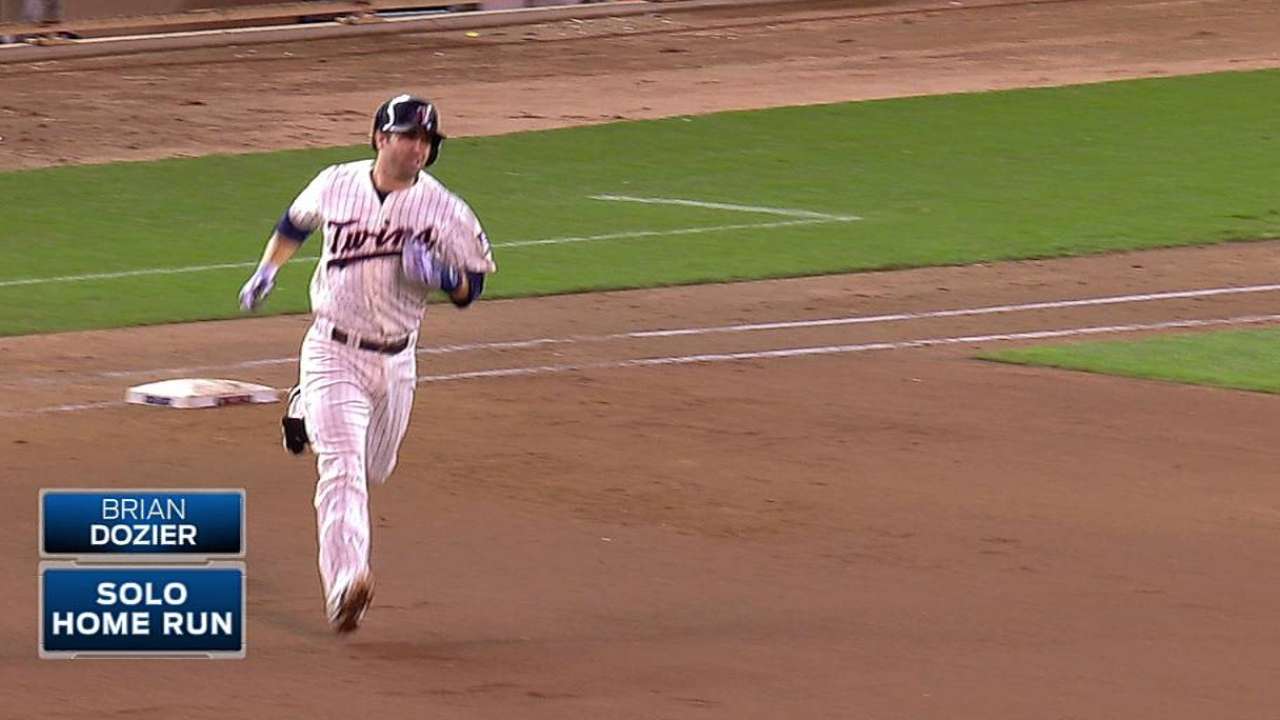 MINNEAPOLIS -- After a shaky start to his career, rookie right-hander Trevor May started to show some signs he was turning it around with three straight wins.
But May reverted back to his old form Saturday night, as he struggled against the Indians in a 7-3 loss at Target Field. May, making his eighth career start, couldn't build on his last outing when he struck out a career-high 10 batters and walked none against the White Sox on Sunday. The right-hander lasted just 4 2/3 innings, giving up seven runs on eight hits and two walks while striking out three to fall to 3-5 with an 8.39 ERA.
"The biggest thing was just putting guys away," said May, who has one more start left this year. "I think all the runs scored with two outs. There were three instances where I was one pitch away from getting out of an inning unscathed. And I was 0-for-3 on those pitches."
Twins manager Ron Gardenhire said it was a battle for May, who didn't have his best stuff and couldn't limit the damage the way he did in his last three outings. His final straw was a three-run homer to Yan Gomes in the fifth that put the game away for the Indians.
"He was fighting it but he still had a chance to get out of it," Gardenhire said. "The three-run homer to Gomes pretty much put the nail in the coffin. If he makes a pitch there and gets through that inning, who knows? His damage control wasn't great."
The Indians jumped out to an early lead with a three-run second inning keyed by a two-out triple down the right-field line from Mike Aviles. Michael Bourn followed with an RBI single.
Cleveland scored again in the third after Michael Brantley led off the inning with a double and scored on a two-out single from Gomes. Gomes came through yet again with the three-run blast with two outs in the fifth to knock May from the game.
"That was the big pitch of the night," Gardenhire said. "He left up and over the plate and the guy puts it in the seats and you're down 7-2. It was a battle for him. It wasn't a step in the right direction."
It was enough offense for Indians rookie left-hander T.J. House, who also didn't have his best stuff and went just five innings but still picked up his fourth career win. House gave up two runs on six hits and a walk with five strikeouts in his shortest outing since Aug. 26.
"I was definitely shaking off the dust the first two or three innings," House said. "After that, I felt like I settled down a little bit better. I kept the ball down in the zone and was getting more ground balls and I got to strike out the side in the fifth inning."
The Twins got on the board in the second after loading the bases with nobody out following a 12-pitch walk from Oswaldo Arcia. After Eduardo Nunez struck out, Jordan Schafer brought home a run with an RBI groundout, but Danny Santana flied out to right to end the scoring threat.
Minnesota scored again in the third when Brian Dozier led off the frame with a double and scored on an RBI groundout from Kennys Vargas. Dozier gave the Twins another run in the eighth with a leadoff homer off lefty Nick Hagadone. It was Dozier's 21st of the year and his first since Aug. 10.
"It got the monkey off my back or whatever," Dozier said. "I'd been stuck on that for a while. It is what it is. More importantly, we didn't win the game."
But as Dozier noted, it wasn't enough, as the Twins went 0-for-11 with runners in scoring position on the night to snap their three-game winning streak.
"You credit their pitchers," Gardenhire said. "They brought in a lot of pitchers over there. Their starter, he flipped it over there exactly like we saw. We've seen him a few times now. He adds and subtracts really well. We put some people out there but never came up with the big ones."
Rhett Bollinger is a reporter for MLB.com. Read his blog, Bollinger Beat, and follow him on Twitter @RhettBollinger. This story was not subject to the approval of Major League Baseball or its clubs.