O's late rally falls short in finale with Red Sox
Gonzalez strikes out seven but is undone by a pair of Boston homers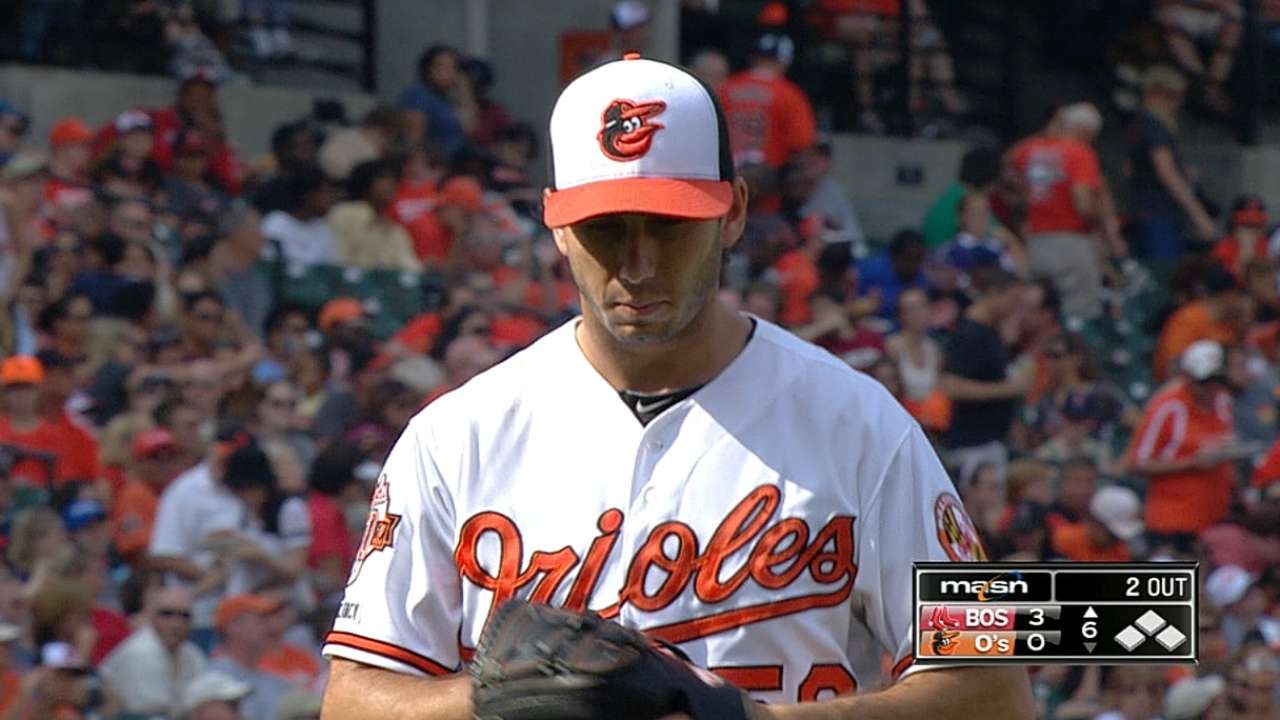 BALTIMORE -- The Orioles walked off the field on Sunday afternoon knowing this wouldn't be their last time at Camden Yards in 2014. And that was a really good feeling.
While the O's regular-season home finale -- a 3-2 loss to last-place Boston -- was pretty forgettable, Baltimore has a chance to create some much more meaningful memories when the calendar flips to October. Already American League East champions, the O's -- who ended the year 50-31 at Camden Yards -- used the weekend set to rest some of their regulars in hopes of letting a few nagging injuries heal before they ascend to baseball's big stage.
For the second time in three years, there will be playoff baseball in Baltimore. Manager Buck Showalter, whose club was getting ready to board the train to New York for its final seven-game road trip, will take every precaution to ensure his club has the best possible chance in the AL Division Series.
"[Looking at] the schedule a month ago, to think that we don't have to win a game in New York or Toronto [is amazing]. But we're certainly going to approach it [like we need to win], because there are still some things out there for us," Showalter said. "But we're trying to keep our priorities in order here, and that's getting Steve [Pearce] back and getting Adam [Jones] rested up some and getting Nicky [Markakis] back and getting our [bullpen arms] as good as they can be.
"I'm trying to pass the load around a little bit. I think that's the biggest benefit of it. With this group, they're meaningful games in their minds -- because it's competition. They have great pride in what they do. I really don't worry about the next seven days from that standpoint. I worry about a few other things we've got coming up before the season's over."
With Jones, Markakis and Pearce all absent from the starting lineup, the O's lineup -- backed by a crowd of 38,329 -- didn't have enough to stage a comeback, as Baltimore remained 2 1/2 games behind the Angels, who lost to the Rangers, for the best record in the AL and home-field advantage throughout the postseason. Still, the O's were able to close the regular season at Camden Yards knowing they will be back for more -- just the second time they've been in such a favorable position since the park opened.
"It's exciting, definitely, for everyone," Orioles starter Miguel Gonzalez said. "We did a good job overall, and I'm very happy about what's going on. It was a bad [day] because we lost the last game of the [home] season, but we're excited to come back for the postseason."
Gonzalez, who put the Orioles in a hole four pitches into the game, lasted 5 2/3 innings. The righty, who allowed eight hits and three runs -- including two homers -- turned in a start shorter than six innings for just the second time in his last 12 games.
"[Gonzalez] elevated some pitches," Showalter said. "The one that kind of stuck in the craw was the home run to [David] Ross. I'm sure he'd like to have that one back. The ball was obviously carrying good today, but he hit that ball well. I'm just saying a lot of balls went further than you thought they would. But Miggy held his own."
Held scoreless through the first five innings, the Orioles pulled within a run after scoring a pair off Boston starter Joe Kelly in the sixth. Alejandro De Aza started things off with a leadoff walk before David Lough drove him in with a double. One out later, Nelson Cruz picked up his 106th RBI of the season with a groundout to plate the O's second run.
But that was as close as Baltimore would get, ending its final homestand with an 8-2 mark. After a rocky start to its home season, the club was able to turn things around in the second-half. The O's success at Camden Yards was part of what fueled that run. Now, they'll try to end the season on a strong note before October starts.
"This team, whether it's playing now or at the beginning of the year, we come out and still try to win each game," said catcher Caleb Joseph. "That's just a testament to each and everybody's character, and who they are deep down. Whether they're meaningful or not, when there's 37,000 people out there cheering you on, we're not trying to go through the motions."
Brittany Ghiroli is a reporter for MLB.com. Read her blog, Britt's Bird Watch, and follow her on Facebook and Twitter @britt_ghiroli. This story was not subject to the approval of Major League Baseball or its clubs.