Cosart, defense falter in seventh, eliminating Marlins
Three-run frame proves decisive after righty got out of jams early on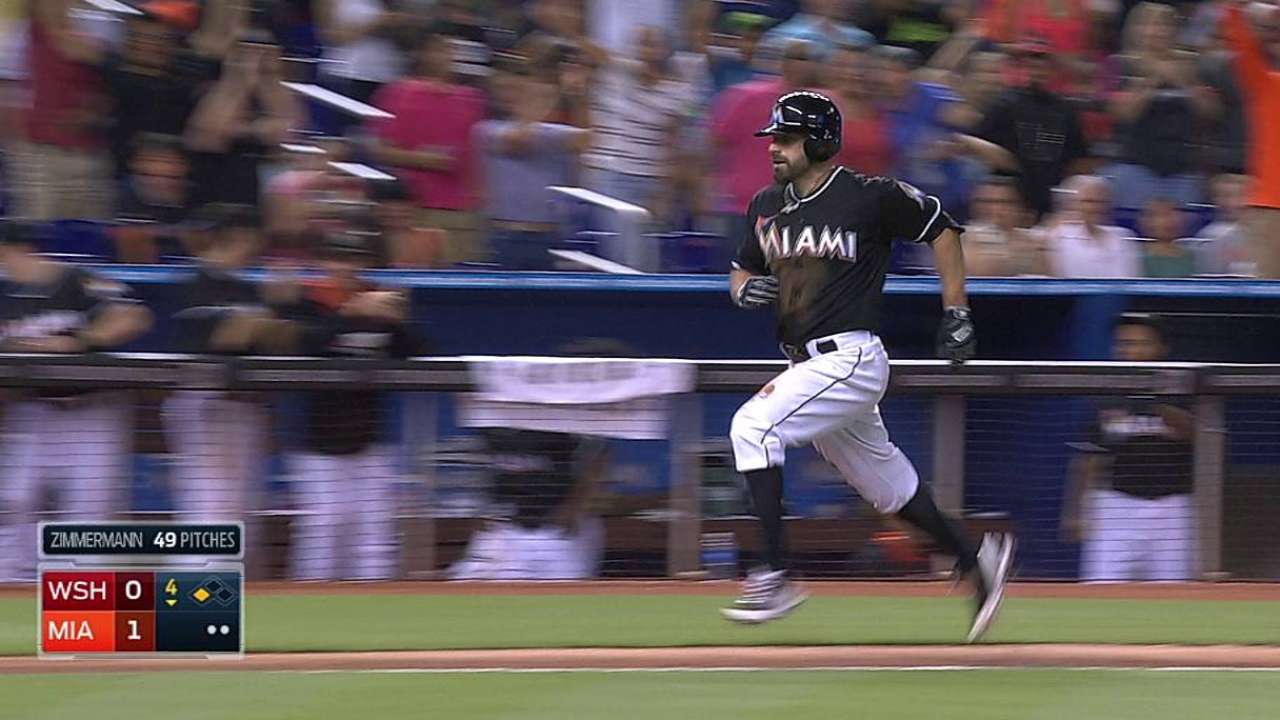 MIAMI -- The Marlins initially got the call on home-plate collision rule 7.13 in the decisive seventh inning on Saturday night, but they were unable to execute the necessary big outs. Against a surging team like the Nationals, any missed opportunity has become extremely costly.
Ryan Zimmerman and Asdrubal Cabrera each delivered RBI triples in a three-run seventh inning that rallied Washington to a 3-2 victory that officially eliminated Miami from National League Wild Card contention.
The Marlins lost by the 3-2 score for the second straight night. This time, the one-run loss came in an agonizing manner. Against closer Drew Storen, the Marlins had first and third after one-out singles by Marcell Ozuna and Justin Bour. But the game ended when Garrett Jones bounced into a 4-6-3 double play.
"We're just not scoring a lot of runs," manager Mike Redmond said. "Every misplay ... we're getting a couple of runs and having to hang on. Sometimes that's tough against a team like that."
Marlins right-hander Jarred Cosart had been clinging to a two-run lead, but in the seventh inning, the Nationals were able to break through on their way to taking the first three games in the series. Cosart worked 6 1/3 innings, giving up three runs on nine hits.
The injury-depleted Marlins are striving to finish strong, but they've now fallen to fourth place in the National League East. The loss also put an end to any postseason aspirations.
"I'm proud of these guys. We've battled," Redmond said. "We've battled through a lot of adversity. These guys, they've given me everything they've had, every single day. We've gone through a lot."
The Marlins fell to 74-80, but they've certainly caught the attention of the first-place Nationals, who improved to 90-64.
"A really good win against a pitcher [Cosart] that's been very, very good," Zimmerman said. "One of the best pitchers in the big leagues for the past couple of months."
The seventh inning got going with a single by Ian Desmond and an RBI triple by Zimmerman, which Reed Johnson gambled on by making a diving attempt in right field. Wilson Ramos tapped to Casey McGehee at third, who threw home to Jeff Mathis, who tagged Zimmerman out. A crew-chief review was used to determine if Mathis either didn't provide a lane or apply the tag in time. The call was confirmed after a review of one minute and 54 seconds.
The Nationals tied it on Cabrera's triple to right field on a 1-2 pitch.
"I wasn't very good today, for the whole game," Cosart said. "I threw [Cabrera] too many breaking balls, and hung one. I hung it, and he put it down the line into the corner and they ran for days. Just a bad pitch, bad execution."
Cosart was lifted for Mike Dunn, who retired pinch-hitter Bryce Harper on a grounder to second. But Washington claimed the lead on Denard Span's two-out RBI single with the count full.
"I really thought that he would get through that inning and keep the game, 2-1," Redmond said. "[Cabrera] hooked that ball right down the line. I couldn't tell if it was right down the line or right inside the line. I guess that's how it is kind of going for us."
The Marlins grabbed the lead in the first inning on Bour's two-out RBI single, which scored Donovan Solano from second.
Miami tacked on a second run the unconventional way with two outs in the fourth inning. Johnson rounded the bases on a double to deep center field, and courtesy of two errors, he was able to go all the way home.
Span was charged with an error in center when he overshot the cutoff man, and the ball dribbled into the infield. First baseman Adam LaRoche had a chance to scoop the ball up, but it skipped past him. Johnson took off for third, as Jordan Zimmermann retrieved the ball. Thinking he had a play on Johnson, the Washington pitcher threw to third baseman Anthony Rendon, but the throw was off the mark, skipping to the side wall before caroming up toward the outfield. Johnson raced home without a throw.
"I knew I overthrew the first cutoff guy, but I thought the ball was going to get caught," Span said. "I turned my head and all of a sudden I heard the crowd roaring. I was like, 'What the heck is going on?' Next thing you know, he was rounding third."
Joe Frisaro is a reporter for MLB.com. He writes a blog, called The Fish Pond. Follow him on Twitter @JoeFrisaro. This story was not subject to the approval of Major League Baseball or its clubs.