Garza ejected after hitting McCutchen twice
Brewers manager Roenicke also tossed as warnings had been issued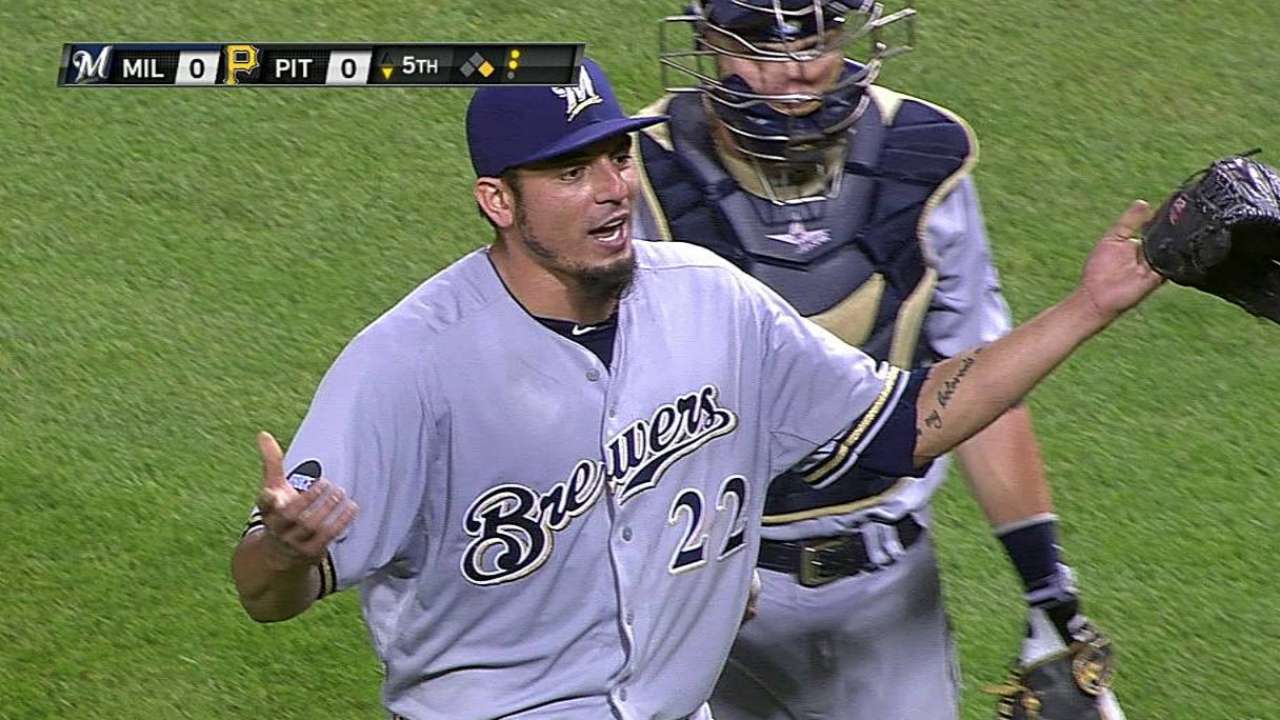 PITTSBURGH -- Andrew McCutchen's teammates were livid in the fifth inning Saturday night when Milwaukee pitcher Matt Garza was ejected after hitting the Pirates star with a pitch for the second time in the game.
Garza saved his own fire for after the game, perhaps fanned by the Brewers' emotional 1-0 victory.
"If people think I hit McCutchen on purpose, with a 1-2 count in a game like this, then you're just an idiot, OK?" Garza said, referring to the tenuous situation in a scoreless game. "Because a game like this, a starter doesn't go after a guy like that. It's a [1-2] count and I'm trying to pitch inside. Guy leans in, it hits him on the elbow, that's my day. So it is what it is, and I'm happy we pulled it out."
Garza directed his ire at the 39,027 fans who booed him off the field and, in a sense, even at the umpire who ejected him.
Even though home-plate umpire Marty Foster had no other recourse, having warned both benches the inning prior after Pittsburgh starter Edinson Volquez had brushed back Ryan Braun. Garza hit McCutchen for the first time in the third inning.
"I just wanted to pitch inside, that's the way I have been pitching against him," Volquez said. "I don't think [Garza]'s was on purpose, too, there were two outs. I know [McCutchen] is one of the best hitters on the team, but I don't think it was on purpose."
"It was the right call, no doubt," Pirates manager Clint Hurdle said of Garza's ejection. "If he doesn't get tossed, then I do. Somebody is going to leave."
McCutchen discussed his latest run-ins with pitched baseballs in even tones.
"The intent was to get the fastball off the plate in, that was the intent," McCutchen said. "As far as hitting me, I'm not too sure. They know better than to throw me a fastball on the plate in, so if they're going to throw it in there, they're going to throw it in off the plate. My assumption is that's what he was trying to do both times."
Gerrit Cole, the most visibly livid player in the home dugout, faulted Garza for not knowing how to properly pitch inside.
"I know when you're pitching to a guy like that, you have to get it inside, you can't leave it out over the plate," Cole conceded. "Going up and in, you've got to know how to do it, be comfortable doing it. I don't know what the intent was on either of them. It could've been as simple as that -- the only two misfires he had all night were to him."
When hit on the upper left arm, McCutchen angrily slammed his bat on the ground.
Garza and his manager, Ron Roenicke -- who was also ejected -- pleaded their case of an incidental pitch with Foster.
"I tried to plead my case to the umpire," Garza said, "and he just told me, 'In this type of situation, my hands are tied.' I said, 'Come on, you know it.' He said, 'Yeah, I know it,' and all three umpires there were like, 'You've got to understand the situation.' I was like, 'What? It's a playoff atmosphere situation. Of course, everybody's on the edge of their seats right now.' It is what it is."
The Pirates' dugout was up in arms while trainer Todd Tomczyk treated McCutchen, who remained in the game -- and in fact ended that inning by getting thrown out on a steal attempt.
"You see your best guy get hit like that, and everybody is pumped up, everybody starts screaming," Volquez said.
In April, Cole was at the center of a benches-clearing shouting and shoving incident with the Brewers after he called out Carlos Gomez for admiring a drive that turned out to stay in the ballpark.
The Pirates' displeasure at seeing McCutchen plunked twice was understandable. Their center fielder and reigning National League Most Valuable Player has been hit by pitches nine times.
"You might as well just put up four fingers if you're going to do that," McCutchen said.
Most notably, McCutchen was drilled in the spine by Arizona reliever Randall Delgado on Aug. 2, the day before sustaining an avulsion rib fracture believed to be related to the hit-by-pitch. McCutchen had to go on the disabled list for the first time in his career as a result.
Garza had hit a total of two batters in 160 innings this season before drilling McCutchen twice in three innings.
Tom Singer is a reporter for MLB.com and writes an MLBlog Change for a Nickel. He can also be found on Twitter @Tom_Singer. This story was not subject to the approval of Major League Baseball or its clubs.