Playful Bautista notches pair of club milestones
On day he draws 100th walk, slugger ties Bell on Blue Jays' homers list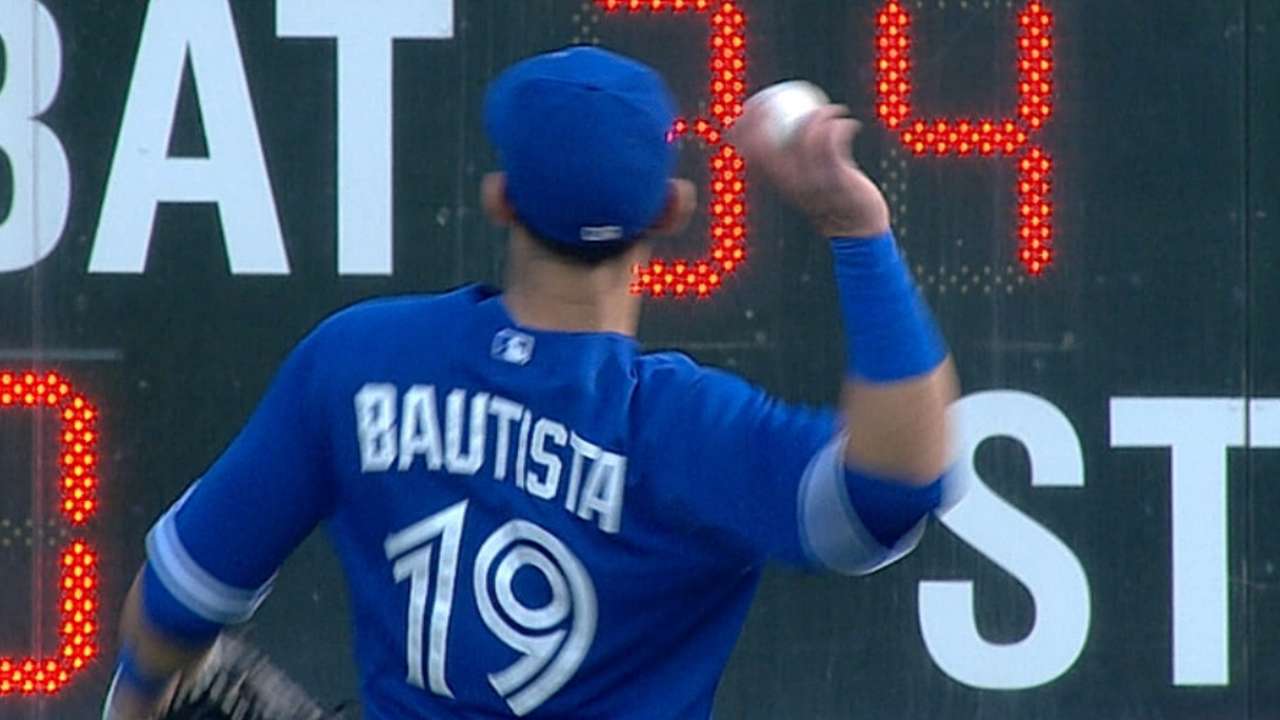 NEW YORK -- Jose Bautista had a firsthand exchange with the fans in right field, the so-called "Bleacher Creatures," at Yankee Stadium during Saturday's 6-3 Blue Jays victory.
Bautista said the fans were "chirping" at him all game, and he responded by blowing kisses back at them. Then, after catching the last out in the seventh inning, a harmless flyout by Brian McCann, Bautista turned and pump-faked, pretending to toss the ball into the stands before leaving the field to a chorus of boos.
Bautista eventually threw a ball into the crowd after warmups in the eighth, but it was thrown back onto the field, igniting applause from the sellout crowd of 47,292.
"At first, I thought it was some innocent back-and-forth," Bautista said. "But after the ball was thrown, I decided not to continue to have the interaction, because what was going to happen next?"
The ball did not come close to making contact with Bautista, but it was thrown with his back to the crowd.
Bautista did his damage at the plate, however, ensuring the Blue Jays snapped a season-worst six-game losing streak. He went 2-for-2, hitting his 202nd career home run to pull into a tie with George Bell for fourth most in franchise history, scored four runs and drew three walks to reach 100 walks and 100 RBIs for the third time in his career (2010 and '11). Bautista joins Carlos Delgado (four times) and John Olerud (1993) as the only Blue Jays to have reached that milestone.
"I'll enjoy that more in the offseason, and personal accolades are great," Bautista said. "That puts you in an elite group amongst Major Leaguers. ... That's what the game is all about when it comes down to it, and I'm going to enjoy it in the offseason, but we're still worried about winning games right now."
Jamal Collier is an associate reporter for MLB.com. This story was not subject to the approval of Major League Baseball or its clubs.