MLB.com Columnist
Barry M. Bloom
Preller looking forward to working with Black
New GM's quest to improve Padres will include current manager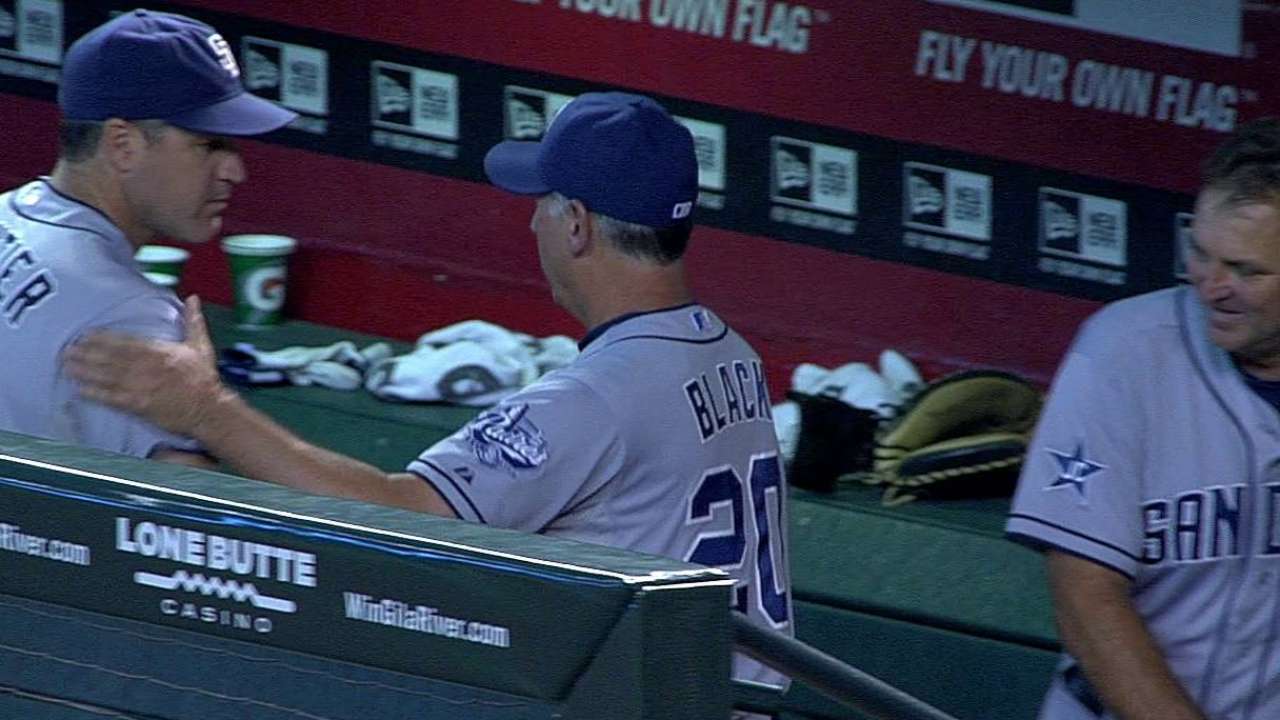 SAN DIEGO -- As A.J. Preller has gone about the task of evaluating the Padres in his first months as general manger, he has defined one area that is not a problem: He is bullish about the job Bud Black is doing as manager.
Preller is so pleased with the play of the team since he was hired Aug. 6 to replace Josh Byrnes, there is no doubt Black will be back to manage the Padres in 2015, his ninth season.
"Like I said from the beginning, I viewed it as Buddy is our manager," Preller said during an interview this weekend outside San Diego's clubhouse at Petco Park. "I had a chance to really enjoy the last month, to get to know him more on a day-to-day basis, getting to be around him and getting his thoughts on the team and his thoughts on baseball in general.
"I came from afar and had a very positive feel for Buddy. I think being up close, being with him day to day, probably strengthened that bond, honestly."
Asked pointedly if he looked forward to working with Black for an entire season, Preller responded:
"Yes, I'm looking forward to that for sure."
So there you have it. The Padres exercised an option on Black's contract for the 2014-15 seasons on Nov. 19, 2012, shortly after the current ownership took over the club. He has his deal. Black is coming back for the final year of his contract.
"I love managing here in San Diego," Black said. "This is where I've managed my entire managerial career. I think all of us managers never take lightly the responsibility that we have. I'm excited to continue to be a Padre."
Preller said this is the core reason for that decision.
"You see the fact that the team plays hard every night," he said. "They've definitely taken this thing to the finish line. As a group, they play with energy, they're coming hard, they're playing pretty good baseball overall. And I think that's reflective on the coaching staff and the manager, for sure."
Preller's candor and honesty is quite refreshing. Black has a 612-676 record and a .475 winning percentage (heading into Saturday night's action) since he was hired to replace the departed Bruce Bochy at the end of the 2006 season.
Black was an accomplished left-handed pitcher with 121 Major League victories and a well-respected pitching coach with the Angels under Mike Scioscia before the Padres gave him his first chance to manage. Twice during his tenure, Black had San Diego on the brink of reaching the playoffs. In 2007, the Padres lost a tiebreaker game for the National League Wild Card in the bottom of the 13th inning at Coors Field when Trevor Hoffman blew the save. In 2010, they missed the chance to reach another tiebreaker game for the NL Wild Card when the Giants beat them in San Francisco on the final day of the regular season.
Otherwise, what has happened this year has been the hallmark of Black's managerial career: resurrecting a team that floundered during the first half and returning them to some modicum of respectability before the end of that particular season. Preller is the fourth GM Black is working for during his tenure, and the roster has been marked by inconsistency and a constantly changing cast of characters. For Black to have survived all that tumult and remain as manager is unusual, to say the least.
"No matter who's been in that position, these were baseball guys dealing with the state of the club, and I've always been part of those discussions," Black said.
Preller himself survived an arduous interview process this summer and signed a five-year contract as San Diego sought a replacement for Byrnes.
Preller's main job is rebuild a farm system that hasn't produced an impact first-rounder in the First-Year Player Draft since Kevin McReynolds in 1981, the same Draft in which then-GM Jack McKeon also selected the late Tony Gwynn in the third round.
Working under Jon Daniels as an assistant GM with the Rangers, Preller gained a reputation for sorting through international talent. The Padres harvested Puerto Rico in the 1980s for Benito Santiago, Roberto Alomar, Sandy Alomar Jr. and Carlos Baerga. But despite San Diego's proximity to the Mexican border, the club has never developed an impact player born in that nation. Likewise, despite spending millions of dollars a decade ago to build a baseball academy in the Dominican Republic -- a country that produced the likes of David Ortiz, Manny Ramirez, Alberto Pujols and Pedro Martinez -- the Padres have never had a Dominican on their roster of any repute.
Preller said he will go into the offseason looking for impact players rather than earmark special needs or specific positions, although it's obvious that San Diego, with an NL-leading 3.25 ERA and a Major League-low .226 team batting average, is desperately in need of hitting over pitching.
"We'll look at any area where we need to improve," said Preller, adding that management is on board to make the Padres competitive again in the NL West.
"I definitely think I have the support of ownership. From the first interview, I felt like at end of the day it's an ownership group that shares a vision and basically is trying to build something successful for both the short and long term. I feel they're going to commit, that they're going to do what needs to be done from an atmosphere standpoint, from a player's standpoint, that the resources will be there to make the right acquisitions."
Barry M. Bloom is a national reporter for MLB.com and writes an MLBlog, Boomskie on Baseball. Follow @boomskie on Twitter. This story was not subject to the approval of Major League Baseball or its clubs.