Franklin's two-run homer stands following review
Blast gives Rays early lead against White Sox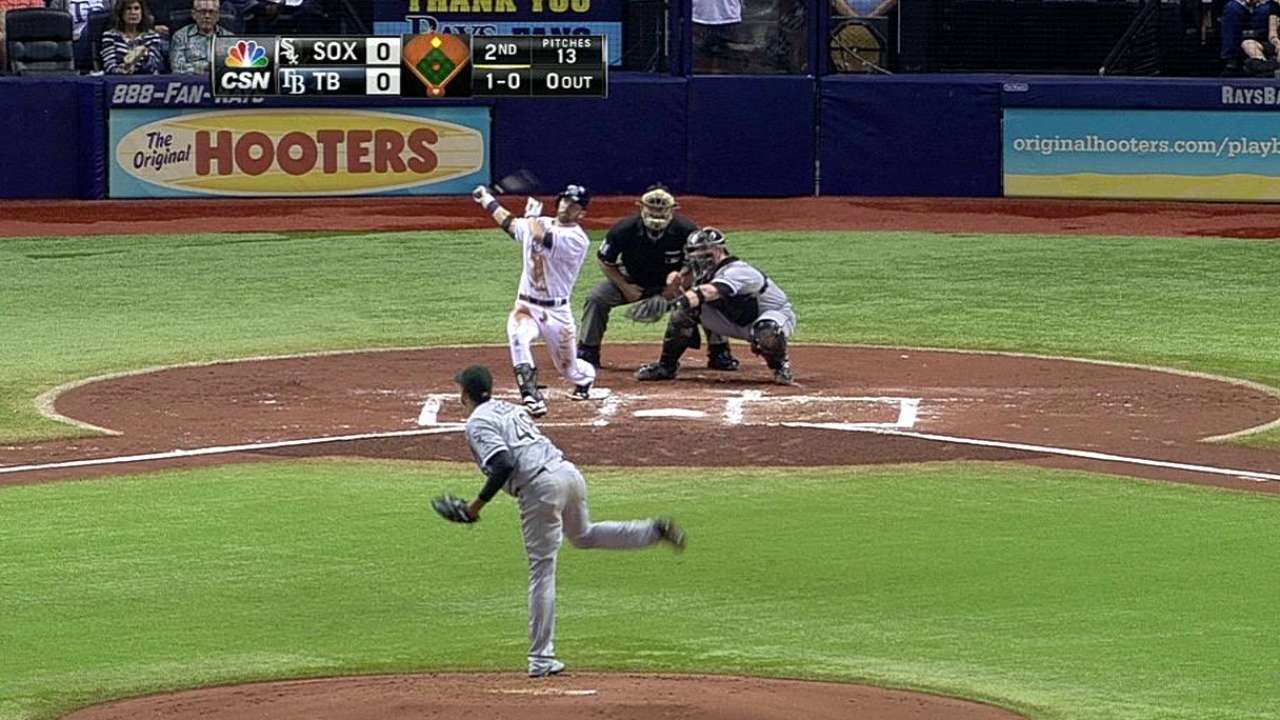 ST. PETERSBURG -- White Sox right fielder Avisail Garcia looked around confused, unsure of exactly what had happened on Nick Franklin's high fly ball into the right-field corner. But the umpires ruled it a home run, and after further review, it stayed that way.
Franklin's two-run shot gave the Rays a 2-0 lead against Hector Noesi and the White Sox in the second inning Saturday at Tropicana Field. With James Loney on second after a leadoff double, the Tampa Bay second baseman turned on a Noesi offering down and in and lofted it toward the foul pole. The ball hit one of the Tropicana Field catwalks and bounced down near the fence, and it was ruled a home run.
"It's not deceptive -- it's for real. He's got real power," Rays manager Joe Maddon said his club's 3-1 victory. "You can see the ball come off the bat. That ball really came off hot."
Chicago manager Robin Ventura came out to ask the umpires to look at the play, and after a one-minute, 19-second crew-chief review, the call on the field stood. Franklin's fly ball was ruled to have struck the "C" ring catwalk in right field, and he was awarded his first home run of the season.
Was Franklin worried the call would be overturned?
"No, not at all, actually," he said. "I knew right away that they couldn't change it. It was 15-20 feet fair."
It was the sixth fair ball hit off a catwalk at the Trop this season, and the fourth home run off the "C" ring of catwalks.
David Adler is an associate reporter for MLB.com. This story was not subject to the approval of Major League Baseball or its clubs.