De La Rosa can't keep O's bats in check
Papi goes yard in first, but offense does little else against Tillman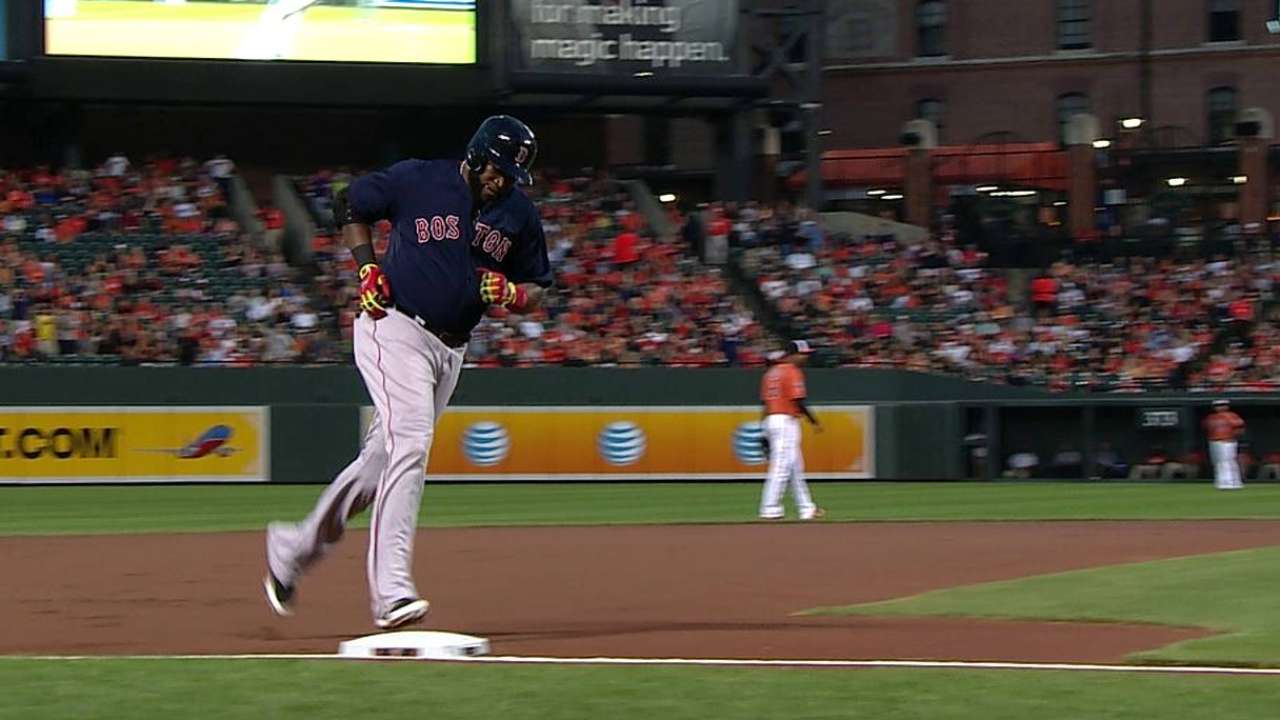 BALTIMORE -- Rubby De La Rosa has pitched more innings this season than any other in his career, and perhaps fatigue can explain his late-season slide.
The righty has lost his last three starts, including Saturday night's 7-2 defeat to the Orioles which dropped him to 4-8 on the season.
But it's not just physical fatigue. There is a mental element that goes with it as well, as De La Rosa tries to figure out the chess match of getting the best of Major League hitters.
De La Rosa, Allen Webster and Anthony Ranaudo have all been learning on the go for the Red Sox in recent weeks.
"I think what that group is learning along the way is that it's a sizable jump from Triple-A to here and the ability to go through a lineup three times is a challenge," said manager John Farrell. "That comes down to consistency from pitch to pitch. It's not a matter of stuff. It's a matter of learning challenges at the Major League level."
Over four innings, De La Rosa gave up six hits and four runs while walking two and striking out four.
It was no mystery to Red Sox pitching coach Juan Nieves what the next step is for De La Rosa.
"Making adjustments through the game," Nieves said. "I will pinpoint this: He never established anything. He never established his fastball. And I count all four quadrants of the strike zone as different pitches. He never established anything. He just threw stuff out there, hoped it would stick and swing and miss. That's probably the biggest thing."
Of course, just about every young pitcher has had to make the same adjustments before tasting success.
"It also comes from a young kid who has a great fastball and a plus changeup, working on spin-ability and seeing what fits," Nieves said.
In his first 11 starts this season, De La Rosa was 4-4 with a 3.21 ERA. In the last seven, he is 0-4 with a 7.16 ERA.
"He's at a point and time where he's not pitched this many innings in his entire career, so we have to take that into account," said Farrell. "There's been no decision on any changes to the rotation going forward, but all these things will be brought into play."
Early on, it looked like the Red Sox were going to have a continuation of Friday night, as David Ortiz launched a two-run homer over the wall in left-center to make it 2-0 in the first.
The Red Sox didn't know it at the time, but their offense would be nearly silent for the rest of the night. Orioles ace Chris Tillman went seven strong innings for the win, giving up five hits and two runs while walking two and striking out six.
"Tillman started to mix in his full pitch mix, full repertoire," said Farrell. "We had a couple of quick innings in the fifth and sixth to really allow him to get through seven pretty efficiently. David gets a two-run homer, we get a couple of base hits after that, and then two strikeouts to finish out the first but really nothing more after that."
After a laborious second inning in which De La Rosa got out of a bases-loaded, one-out jam, he wasn't so fortunate in the third. With one out, Adam Jones clubbed a two-run homer to right-center to tie the game.
In the fourth, Christian Walker put Baltimore in front with a leadoff shot to right. Ryan Flaherty kept the pressure on with a double and then he moved to third on a groundout. Jonathan Schoop followed by dropping down a suicide squeeze that worked to perfection, as a run scored to make it 4-2.
"Jon is one of our better bunters," said Orioles manager Buck Showalter. "Just kind of fit the situation and he and Ryan executed it real well. I have a lot of confidence in them to do that."
Jones took another fierce cut in the fifth, unloading for a two-run homer to left against Heath Hembree.
Ian Browne is a reporter for MLB.com. Read his blog, Brownie Points, and follow him on Twitter @IanMBrowne. This story was not subject to the approval of Major League Baseball or its clubs.