Slump buster: Jones belts two homers in rout
Tillman yields two runs over seven frames in 20th straight quality start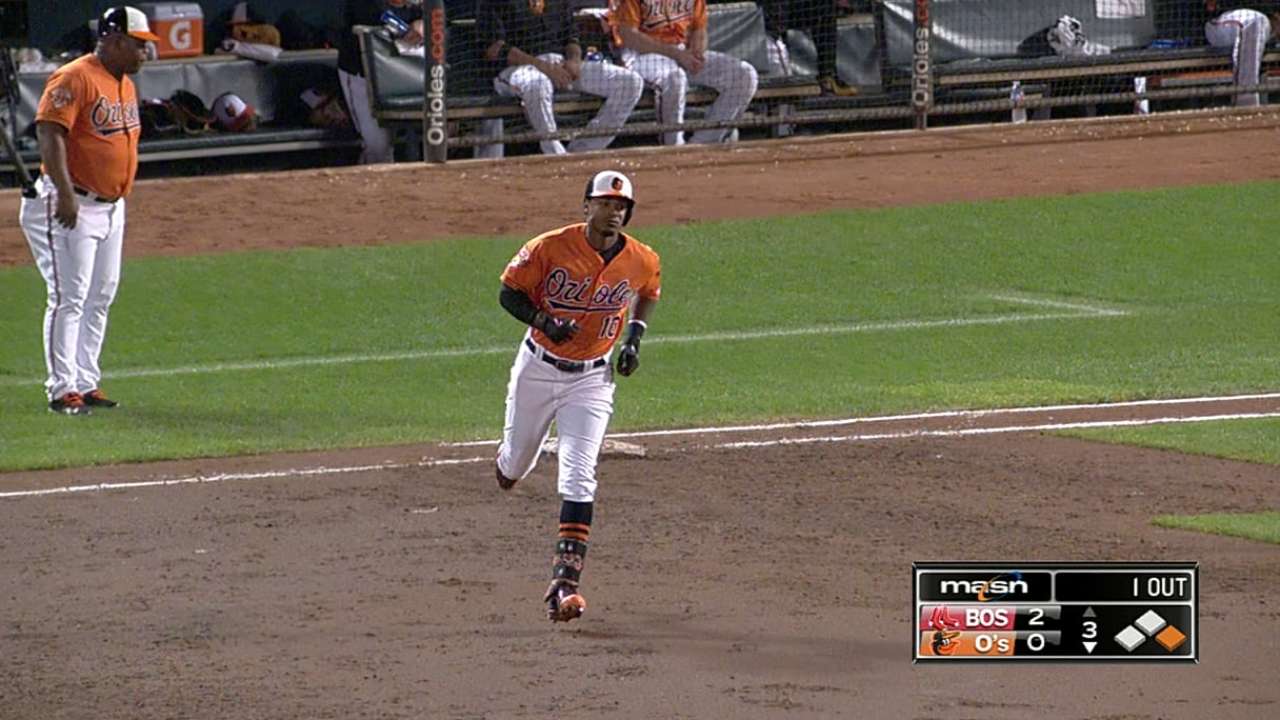 BALTIMORE -- Two days without baseball is rare for Adam Jones this time of year. Friday was only his second off-day of the season, and aside from the All-Star break, the past two days marked the first time he didn't play on consecutive days since April.
Jones marked his return with a bang. In the third inning, he tied the game with a two-run home run, only his second since Aug. 20. Two innings later, he turned a narrow lead into a comfortable four-run cushion with another two-run shot. Four days after clinching the American League East, the Orioles cruised to a 7-2 win against the Red Sox in front of 43,015 at Oriole Park at Camden Yards.
With a performance like that, another day off may be in order for Jones.
"I know Adam might have conflicts about tomorrow," manager Buck Showalter said during his postgame news conference. "I told him I'd talk when I got back."
As the Orioles balance their chase for the best record -- they trail the Angels by two games for the top seed in the AL -- and preparing for the postseason, Showalter continued to juggle his lineup. Nick Markakis sat again with a right shoulder injury. Steve Pearce was scratched because of right wrist soreness.
Jones and Nelson Cruz, two of the O's regulars, combined for three hits and five RBIs. As Baltimore tries to funnel Markakis and Pearce back into the starting lineup in the coming days, Jones and Cruz could head to the bench. And the Orioles, it seems, will continue to be competitive.
"Just because the normal stars aren't playing doesn't mean that the guys that are playing can't easily fill the role," Jones said. "That's what the guys are doing. It's a collective team."
Christian Walker, who is ranked the club's No. 4 prospect and found out he'd replace Pearce in the starting lineup during batting practice, put the Orioles ahead with his first big league home run in the fourth inning off Rubby De La Rosa (4-8). Ryan Flaherty, whose role at third base has expanded since Chris Davis' suspension, added an insurance run later in the inning when he crossed home on Jonathan Schoop's suicide squeeze.
After Chris Tillman conceded a two-run home run to David Ortiz in the first inning, the O's rattled off seven unanswered runs.
"We didn't really do anything after that," Red Sox manager John Farrell said. "Tillman started to mix in his full pitch mix, full repertoire."
Tillman (13-5) cruised through the next six innings, holding Boston to two hits and extending his streak of quality starts to 20 games. During that stretch, Tillman has posted a 2.21 ERA and brought his season mark down to 3.26 from 5.20.
"He's approaching that Felix Hernandez-type stuff," Jones said.
Pitching on six days of rest, as he will before his next start and before his first game of the postseason, Tillman struggled to start the game. He walked the leadoff batter to set up Ortiz's two-run homer.
Tillman tried to shake it off, but Allen Craig added another hit. Only then did Tillman finally find a rhythm to strike out rookie outfielders Rusney Castillo and Jackie Bradley Jr. to end the inning.
That's been the theme for Tillman. In the first inning this year, he has a 5.73 ERA. That drops to 4.65 in the second. By the fifth inning, that's all the way down to 2.05.
"I was a little off early, but we were able to work through it," Tillman said. "It's something that's been there my whole career. At the end of the night, you shake it off because we came out on top."
Since they clinched the AL East on Tuesday, the Orioles are 2-1 and have a chance to take another series with a win against Boston on Sunday in the regular-season home finale.
Showalter knows that those who show up on Sunday will be disappointed if Baltimore rolls out a makeshift lineup for that finale without Jones or Cruz. He also knows there are more important things to worry about, and that should make them happy.
"It's not our last game here," Showalter said. "Fans will get to see him again, too."
David Wilson is an associate reporter for MLB.com. This story was not subject to the approval of Major League Baseball or its clubs.