Ceremony for breaking Biggio's hit mark 'means a lot' to Altuve
Club recognizes All-Star, who eclipsed Biggio's '98 record with 211th hit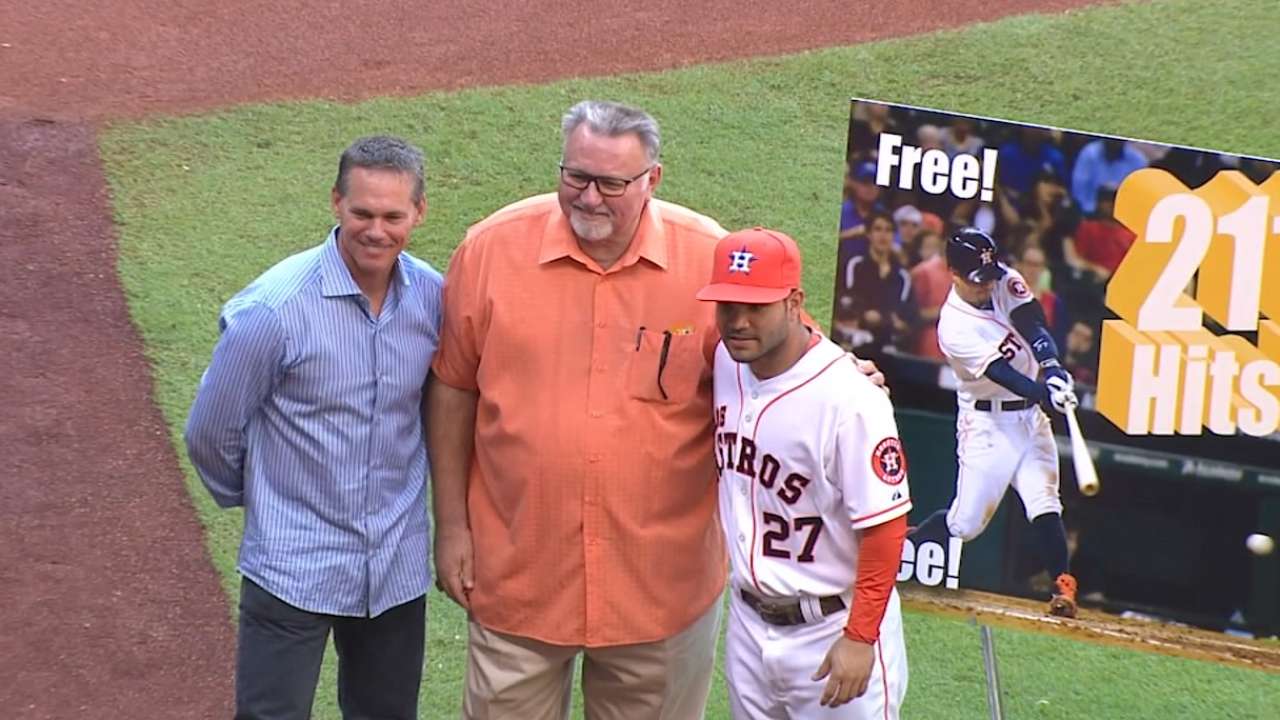 HOUSTON -- Jose Altuve was honored Saturday in a ceremony before the Astros' 10-1 win over the Mariners at Minute Maid Park. The Houston second baseman was being recognized for setting the franchise's single-season mark for hits.
His 211th hit eclipsed Craig Biggio's standard of 210 set in 1998. Biggio also took part in the eight-minute ceremony, which began with a video showing all of Altuve's 211 hits en route to setting the franchise mark.
"This means a lot," Altuve said after the game. "The organization is doing everything for you.
"It makes me want to keep playing hard, and I want to thank all the front-office people, my coaches, my teammates what they did today."
Altuve entered Saturday with a Major League-high 216 hits and a Major League-best .343 batting average. He went 2-for-4 to raise his average to .344.
Biggio and Minute Maid Park representative Fred Arnold presented Altuve with a coupon for 211 bottles of Minute Maid orange juice.
"I'm going to drink it all, on 211 different days," said a jovial Altuve.
Altuve, who is attempting to become the first Astro to win a league batting title, is also leading the AL with 54 stolen bases. His 44 doubles are second-best in the AL.
"That's great for the organization," said Houston interim manager Tom Lawless. "Any time you can have something like that at the end of the year means someone on your team had a great year, and he's having a great year.
"All those achievements and goals he's got, he's being rewarded. It's a great thing."
Earlier this season, Altuve's cleats were sent to the Baseball Hall of Fame. He wore the cleats when he registered his fourth consecutive multi-steal game June 29 against Detroit.
Richard Dean is a contributor to MLB.com. This story was not subject to the approval of Major League Baseball or its clubs.