Stroman returns Blue Jays to win column
Bautista knocks 34th homer to back rookie right-hander in Bronx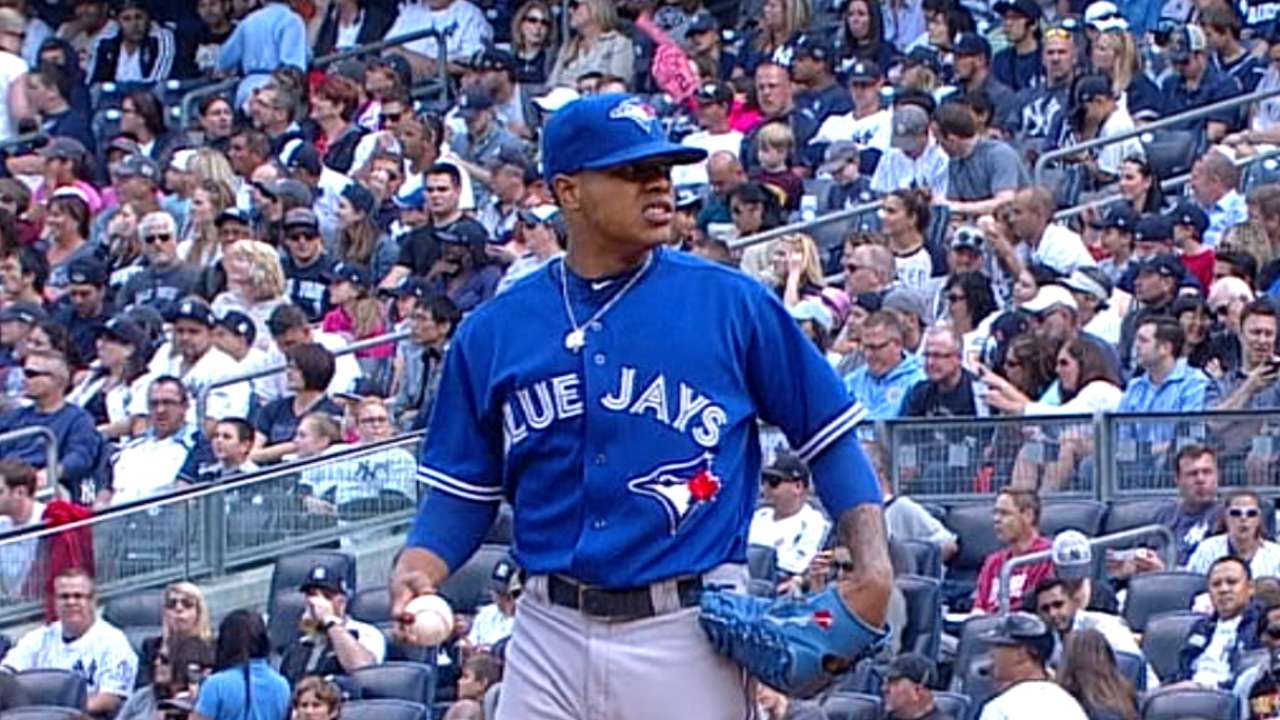 NEW YORK -- Marcus Stroman took the mound on Saturday facing the prospect of an impending six-game suspension from Major League Baseball, pitching in his home state of New York and against the Yankees, the team he grew up rooting for in Medford, N.Y.
Stroman was able to block out any distractions and deliver another strong start in this impressive rookie season, leading the Blue Jays to a 6-3 victory at Yankee Stadium. Stroman allowed eight hits but held the Yankees to two runs in six innings while striking out seven, snapping Toronto's season-high six-game losing streak.
"Once you get out there on the mound, you're not thinking about anything; you're just trying to win the game," Stroman said.
Stroman was disciplined after throwing a pitch over the head of Orioles catcher Caleb Joseph on Monday. The right-hander maintains that the pitch was not intentional and merely got away from him, although it appeared to be in response to another incident from Monday's game in which Jose Reyes felt that Joseph stepped on his hand while Reyes slid into home plate. The rookie was handed his suspension on Wednesday and immediately appealed, allowing him to make Saturday's start.
"I'm able to put things behind me and really focus on the present and the task at hand," Stroman said. "So honestly, it didn't affect me at all."
Stroman had some family members cheering him on from the stands, just as he did in his first start here, which did not go as he planned. On June 17, Stroman lasted just 3 2/3 innings and allowed two runs on four hits and issued three walks.
Stroman was sharper in this start, not issuing any walks and forcing the Yankees into five ground-ball outs. The hits New York did gather were rarely hit hard.
"He's a good young pitcher," Yankees outfielder Brett Gardner said of Stroman. "His fastball stays in the low to mid-90s, but it's pretty sneaky. It plays up. He's got a good breaking ball, and he tries to command both sides of the plate. He's just a real good pitcher."
Against left-hander Chris Capuano, Blue Jays manager John Gibbons stacked his lineup with all right-handed hitters and switch-hitters, leaving himself with nine left-handed hitters on the bench as would-be pinch-hitters.
Edwin Encarnacion doubled in the first to plate the game's first run, and Toronto chased Capuano in a three-run sixth. Danny Valencia drove in a pair of runs with a ground-rule double, and John Mayberry added a sacrifice fly to give the Blue Jays a 4-2 lead.
Jose Bautista added a solo home run in the seventh inning to extend Toronto's lead to 5-2. He has now hit 202 career homers with the Blue Jays to tie George Bell for fourth on the franchise's all-time list. Bautista also scored Toronto's sixth run on Dioner Navarro's two-out single in the ninth.
Bautista finished the day 2-for-2 with four runs scored and three walks to reach 100 walks and 100 RBIs for the third time in his career (2010 and '11).
"He's one of the top players in the game," Gibbons said of Bautista. "If we were having a better year, you could look at him as an MVP."
The Blue Jays' offense had stalled through the start of this seven-game road trip; the club was outscored, 27-10, over the first five games, all losses. Overcoming the drought was not made easier without first baseman Adam Lind, who missed Saturday's game because of tightness in his back.
The Yankees put some pressure on the Blue Jays in the ninth, with runners on first and second and the tying run at the plate, but Casey Janssen held on to give the Blue Jays their first win of the trip and help secure Stroman's 11th win of the season.
Coming into Saturday's game, the Blue Jays had not heard an update on the timetable of Stroman's appeal, and the rookie right-hander did not reject the notion of dropping his appeal after this start, saying that he would have to talk it over with his agent. If so, Stroman could serve his suspension and still be available to start one of the final two games of the regular season.
"I'm not sure what's going on with that yet," Stroman said. "I'll talk to my agent today and see what's going on."
Jamal Collier is an associate reporter for MLB.com. This story was not subject to the approval of Major League Baseball or its clubs.