Pirates edged by Brewers, fall back in Central
Club's lead over Crew for WC 3 1/2 games, but now 3 1/2 behind Cards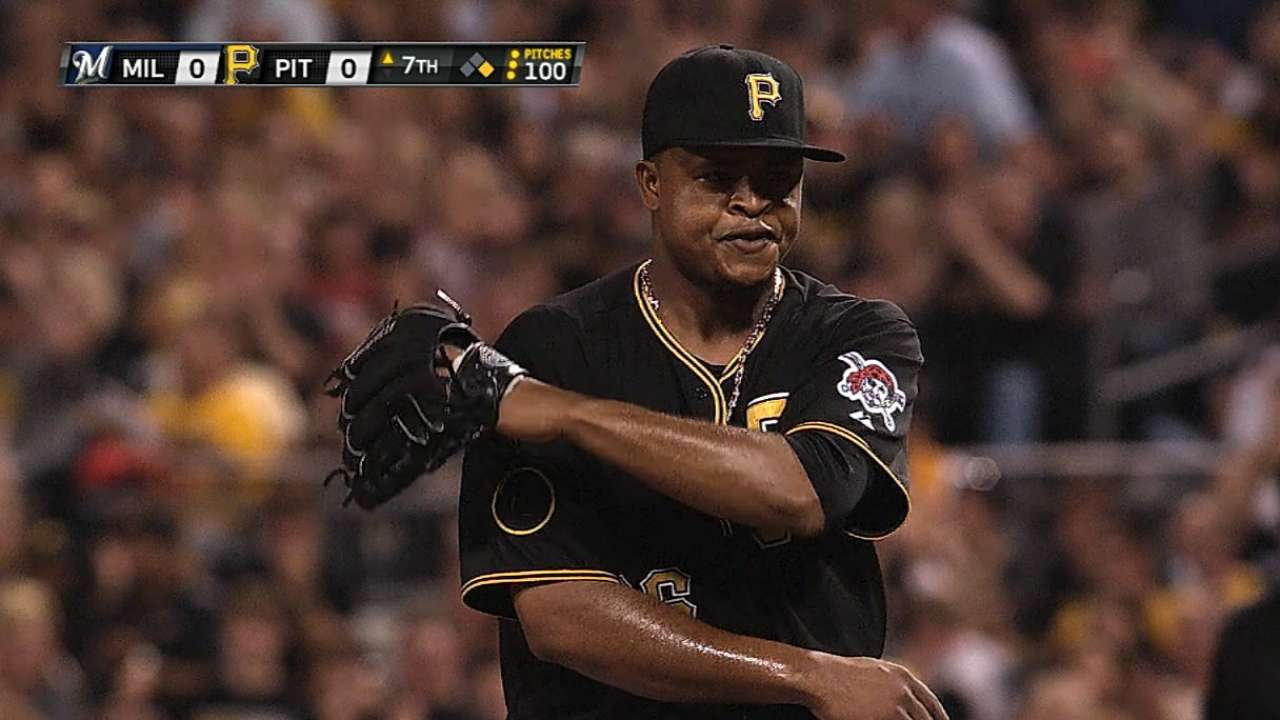 PITTSBURGH -- Again on Saturday night, a loud hit galvanized the Pirates' dugout. Unlike the others in the past two weeks, though, this one didn't win them a game.
Through two plunkings of Andrew McCutchen, dozens of heated shouts, one ejected Milwaukee starter and a pair of late-inning scoring chances, the Pirates were shut out by the Brewers, 1-0, in front of 39,027 in the penultimate regular-season game at PNC Park this season. The Bucs' lead over the Brewers for the second National League Wild Card spot shrunk to 3 1/2 games, and their magic number for clinching a playoff berth remained at five. Pittsburgh fell 3 1/2 games behind St. Louis for the NL Central's top spot.
The timely offense that has been seemingly automatic for the Pirates of late -- the team is still 12-3 in its last 15 games -- never appeared, and they were unable to break through against Matt Garza or any of the Brewers' six relievers.
Some tension that has been building all season boiled over in the fifth inning when McCutchen was hit with a pitch for the second time by Garza, who was ejected along with Brewers manager Ron Roenicke.
The Pirates stranded 10 runners, leaving a man 90 feet away in both the seventh and eighth innings of a scoreless game. The Brewers broke the tie in the ninth against closer Mark Melancon. The key hit was a Lyle Overbay chopping grounder which was just out of the reach of first baseman Gaby Sanchez and rolled to the wall for a double. Logan Schafer lifted a sacrifice fly two batters later.
"It's an exciting time of the year to play. Little things show up," manager Clint Hurdle said. "You'd like to execute every little opportunity you can when you got guys in scoring position, but it doesn't always work that way. We kept putting them out there, we didn't get it done tonight."
The Bucs put runners on the corners in the seventh, only to have it fall apart when pinch-runner Gregory Polanco was thrown out at the plate after Josh Harrison was picked off first and caught in a rundown.
With Jose Tabata at the plate with a 1-2 count, the Pirates put on the designed play, which was meant to have Polanco take off for home whenever the first baseman got rid of the ball in the rundown. That never happened as Overbay pump faked, Polanco broke, and he was out by a good margin at the plate.
"If we get that throw off, I believe Polanco scores easily," Hurdle said. "Just a little bit too antsy, left a bit too early. We took some chances at swinging the bat, didn't score a run, thought we'd give that a shot."
The Pirates had an even better opportunity the following inning when an intentional walk to Russell Martin -- the hero of Friday's win -- loaded the bases. However, Starling Marte lined out sharply to third and Sanchez's hard-hit grounder was directly at shortstop Hector Gomez, who ended the threat with a forceout at second.
The Brewers were kept quiet for the first seven innings of the game by right-hander Edinson Volquez, who worked around three hits and three walks to post seven zeros. Volquez's ERA now sits at 3.15 for the season, and Volquez has allowed just 10 earned runs in his last 59 innings.
Like Pittsburgh, Milwaukee whiffed on some chances. The Brewers had a runner reach second base in each of the first four innings against the 31-year-old Volquez, but none of them scored.
"That's me," Volquez said about his ability to work around multiple baserunners. "I think I settled myself down. I'm pitching better from the stretch and with runners in scoring position. I'm an old guy now, I know how to control the situation and make good pitches."
Volquez also had a small part in the McCutchen-Garza saga, as his inside pitch to Ryan Braun the inning after McCutchen was hit for the first time drew warnings to both benches from home-plate umpire Marty Foster. Volquez said there was no intent to hit Braun with the pitch, and he also said he didn't think Garza was intentionally throwing at McCutchen.
"I just wanted to pitch inside, that's the way I have been pitching against [Braun]," Volquez said. "I don't think [Garza]'s was on purpose, too, there were two outs. I know [McCutchen] is one of the best hitters on the team, but I don't think it was on purpose."
Stephen Pianovich is an associate reporter for MLB.com. This story was not subject to the approval of Major League Baseball or its clubs.