Francona being cautious with Kipnis' hamstring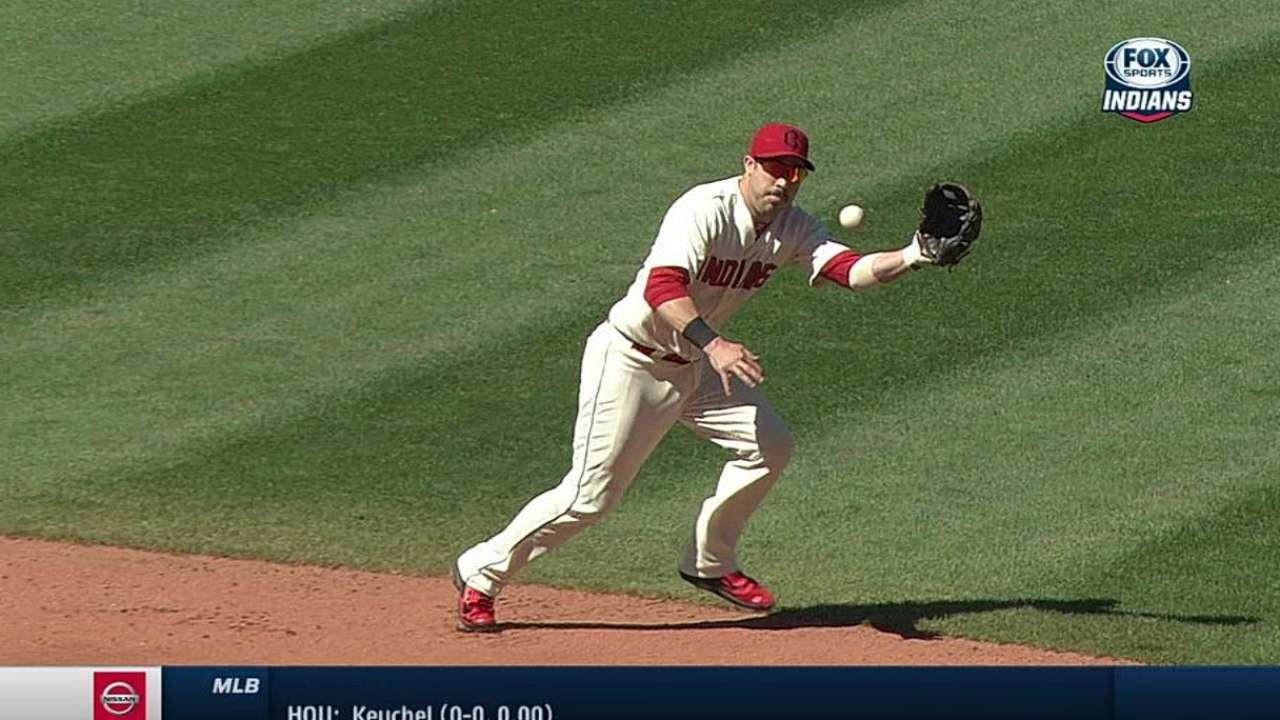 MINNEAPOLIS -- Indians second baseman Jason Kipnis wants to return to the lineup as soon as possible. Tribe manager Terry Francona knows it is more important to be smart with an injury than give in to a player's desire to get back on the field.
On Saturday, Francona kept Kipnis out of the starting lineup for the second straight game due to soreness in the second baseman's right hamstring. Kipnis has not been ruled out for a start in Sunday's game in Minnesota, but Cleveland is being careful with his comeback.
"He's trying," Francona said on Saturday. 'I just don't want to take his willingness to want to play and hurt him. That's not fair."
Kipnis was held out of the lineup on Wednesday in Houston due to the issue and then was forced to exit Thursday's game against the Astros early because of the injury. The second baseman said that, if it were midseason, he would likely spend more time resting the injury. Right now, Kipnis wants to return swiftly given the Tribe's frantic push for the postseason.
"We're getting there," Kipnis said. "It's one of those things that, if it was in the middle of the season, you'd have the luxury of taking off a couple days and really resting up and making sure it's gone, because the hamstring is not something that just goes away or that you can kind of really mess with.
"But, this late in the season, and where we are [down] in the standings and everything like that, we can't afford that luxury. So I'm trying to get it to where it's good enough to get in the game and hopefully help this team."
Kipnis, who has hit .242 with six home runs and 41 RBIs through 125 games this season, was scheduled to take batting practice on the field prior to Saturday's game at Target Field. The second baseman hoped to at least be available off the bench as a pinch-hitter.
Quote to note
"It will be a special moment when I look back at it at the end of the year, when I kind of reflect on what's happened. Right now, our goal is to get into the playoffs."
-- Indians outfielder Michael Brantley, on becoming the ninth player in team history to have 20 homers and 20 stolen bases in one season
Smoke signals
• Francona has spent a lot of time in recent days thinking over possible scenarios for Monday's continuation of the club's Aug. 31 suspended game with the Royals. Francona said he will devise a pitching plan for the 10th inning after seeing how the bullpen is used on Saturday and Sunday in Minnesota.
"I've almost been consumed with it," Francona said with a laugh. "What we'll try to do is not over-complicate it, but some of it will depend on usage the next couple days and then we'll go from there."
• In the seventh inning of Friday's 5-4 loss to the Twins, Francona turned to right-hander Zach McAllister to face Aaron Hicks with two outs, runners on the corners and Cleveland clinging to a 4-3 lead. McAllister, who is a starting pitcher by trade, induced a flyout to escape what was a crucial jam at the time.
"We were trying to bridge the gap," Francona said. "You try not to get into a bind where you go to the guys we've been using a lot and then get into a tie game. We thought it was a good matchup. And I think sometimes when he comes out of the bullpen, that fastball plays up. He understands that."
• Heading into Saturday's game, the Indians pitching staff was closing in on a single-season club record for strikeouts. Cleveland had 1,362 strikeouts, which was just shy of the team's record of 1,379, which was set by last season's pitching staff.
Jordan Bastian is a reporter for MLB.com. Read his blog, Major League Bastian, and follow him on Twitter @MLBastian. This story was not subject to the approval of Major League Baseball or its clubs.