Wrist forces Tex to exit; Beltran to consider surgery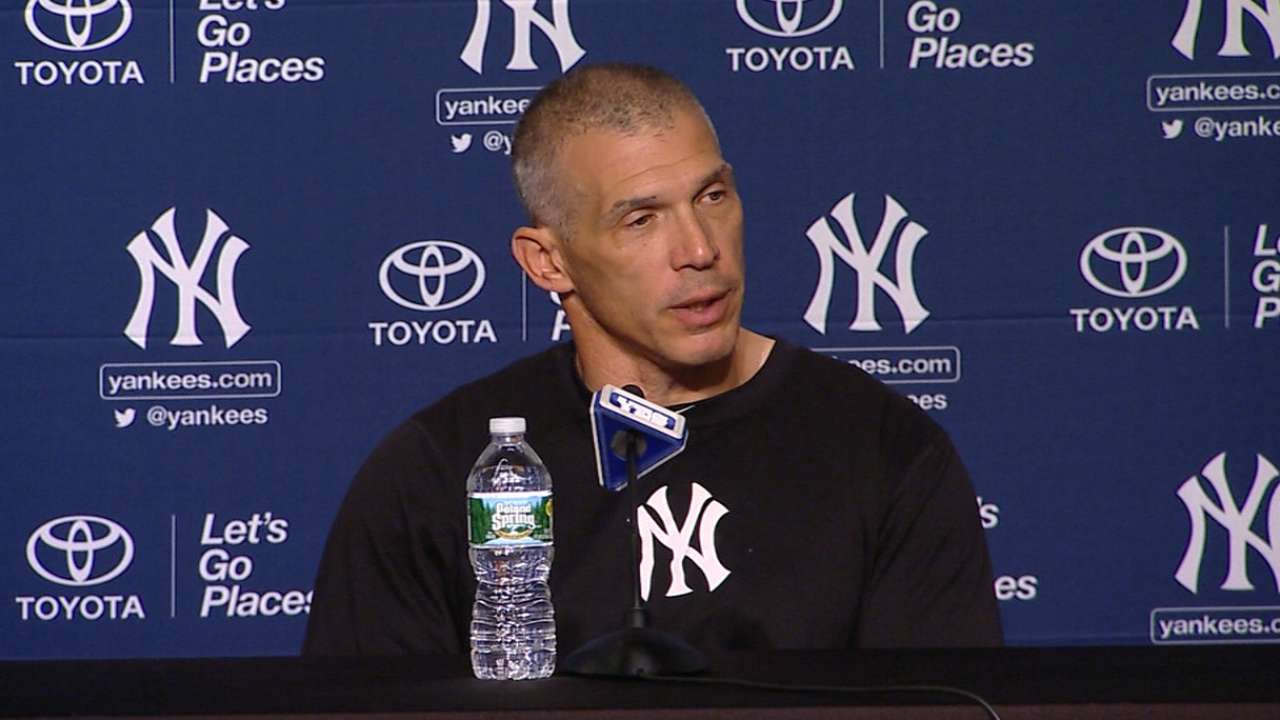 NEW YORK -- Mark Teixeira and Carlos Beltran have been dealing with nagging injuries throughout the season, and Saturday evening they both experienced more frustrating setbacks.
Teixeira was removed from Saturday's 6-3 loss to the Blue Jays in the fifth inning with a sore right wrist and Beltran, dealing with a bone spur in his right elbow since May, was in too much pain to provide any offensive punch off the bench.
Teixeira struck out swinging in two at-bats against Toronto right-hander Marcus Stroman before Brendan Ryan -- who took over at first base in the top of the sixth -- pinch-hit for him in the fifth. Manager Joe Girardi saw his switch-hitter wince on the second strikeout, body language that was enough for the skipper to remove him from the game.
"He's been really battling for a little bit of time here and different times through the course of the season," said Girardi. "When I saw him wince like I did, I just said it's going to be tough to have an at-bat."
Teixeira, who will see his hand surgeon Sunday, has been battling soreness in his surgically repaired right wrist for the majority of the season, most prominently on the Yankees' recent road trip to Baltimore and St. Petersburg. But the first baseman doesn't want to call it quits for the season.
"No, I'm going to play through anything," said Teixeira, who will consider getting his third cortisone shot of the year. "As long as we're in it, I'm playing. Today, Joe obviously didn't like what he saw so he got me out of there. You want to be out there every game you can. Especially when you're hanging on to some hope."
"It's tendinitis," he added. "We've talked about it a couple of times this year. It flares up every now and then, you get it taken care of and it's just bad timing right now."
It's been more of a perfect storm injury-wise in September for the Yankees, who have already seen Martin Prado end his season and Jacoby Ellsbury feel uncertain about his. After Saturday, they will likely be adding Beltran permanently to their list of injured players.
"It's possible," Girardi said when asked if Beltran may be shut down. "He's just dealing with that same problem over and over and it's something that he's battled all season, too. He's had some shots, he's had treatment now for a couple days here and there and just continues to try and fight through it."
Beltran will consult with a doctor Saturday night and may finally consider having season-ending surgery.
"It's what I've been dealing with," Beltran said. "They said to me today that it was just better for me to just go on with the surgery. I tried to play, it just continued to bother me -- forearm's tight -- it's the same thing."
"I haven't decided anything but I'm going to talk to the doctor and see what we come up with."
‪Jake Kring-Schreifels is an associate reporter for MLB.com. This story was not subject to the approval of Major League Baseball or its clubs.