MLB.com Columnist
Richard Justice
Pitched battle goes to man with most weapons
Scherzer masterfully puts full arsenal on display to confound Royals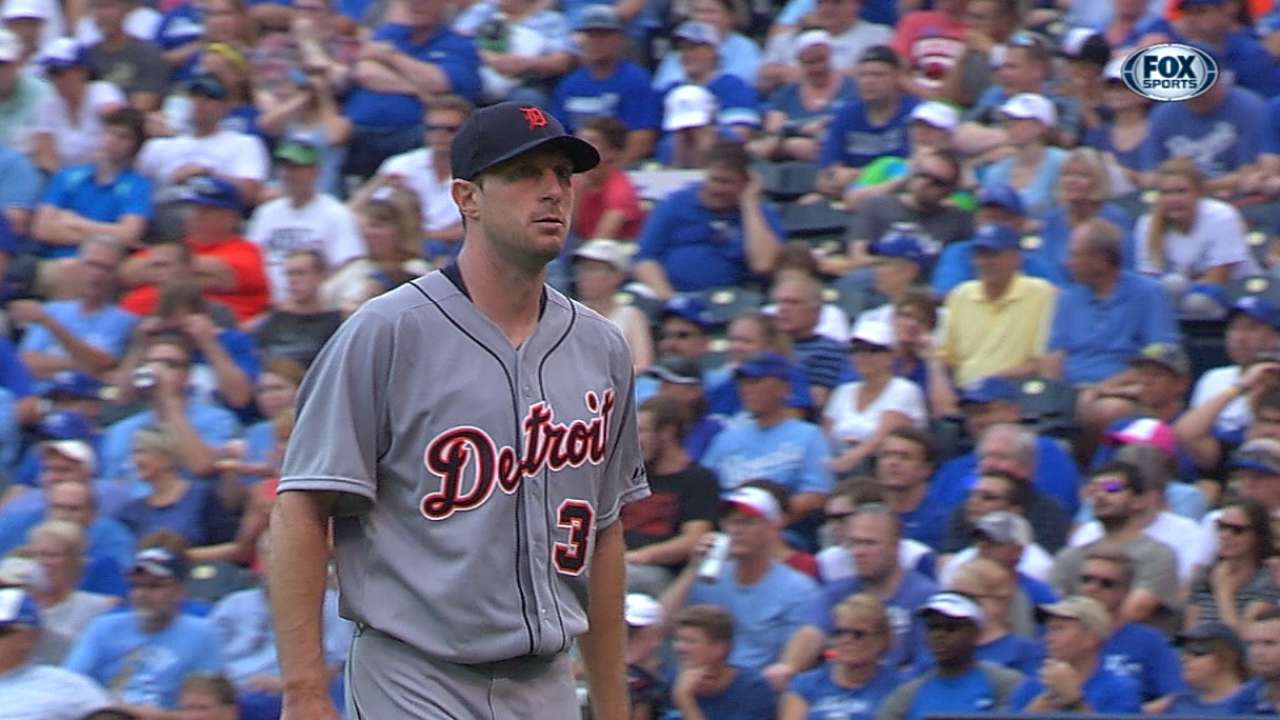 This was Max Scherzer at his best. And at his best, there are very few better. That's still the bottom line for the Detroit Tigers.
When you list the reasons the Tigers could play deep into October, it begins with a core group of guys -- Miguel Cabrera, Justin Verlander, etc. -- who are comfortable on baseball's biggest stage.
First, Detroit has to get to October, and at times in this strange season, that hasn't seemed like a sure thing. Now as the season winds down, this team that has seemed so vulnerable at times has found another gear.
That's what teams like this do. These are the teams that have been down this road before, teams that understand September and October baseball is different from April and May baseball.
In the second game of a three-game series that will go a long way toward deciding the American League Central, the Tigers beat the Royals for a second straight day, this time by 3-2 on Saturday afternoon in front of a big, noisy crowd of 37,074 at Kauffman Stadium.
With the victory, Detroit leads the AL Central by 2 1/2 games with eight to play, making Sunday afternoon's series finale almost a must-win game for Kansas City.
The Royals will look back at Saturday's game and see it as contest of missed opportunities. They went 2-for-11 with runners in scoring position and left 10 runners on base, including eight in scoring position.
In other words, they were one lousy hit away from winning, and losses like this, losses filled with missed opportunities, can linger in the hearts and minds. Kansas City will especially regret catcher Salvador Perez allowing himself to get doubled off third base in the bottom of the sixth inning of a 1-1 tie.
(Hats off to the Tigers for catching his mistake and hats off as well to the umpiring crew for reversing the original call to get it right.) Detroit strung the winning rally together in the top of the very next inning, with manager Brad Ausmus calling on pinch-hitter Tyler Collins, who lined a James Shields changeup off his ankles and into center field to score the go-ahead run.
It was an afternoon of great theater, stretch-run baseball at its best. It finally ended when Tigers closer Joe Nathan got Raul Ibanez to ground out with both the tying and go-ahead runs in scoring position in the bottom of the ninth.
When the Royals have some time to reflect on it, they will see that it was more than just a string of missed opportunities. In the end, it was about one of baseball's best pitchers giving his team just what it needed.
In these first two games, Verlander and Scherzer have allowed Kansas City two earned runs in 14 1/3 innings. If this is an October preview, Detroit has a great chance to win the championship that has eluded the club the past three years.
Back to Scherzer. To see him now is to barely recognize the guy who threw over 70 percent fastballs when he first broke into the big leagues with the D-backs in 2008. That's not the Scherzer that Kansas City saw Saturday afternoon.
This one is the complete package. Scherzer was already throwing a very nice changeup and slider when he developed a first-rate curveball last season, and even though his fastball is still regularly in the 95-mph range, he only throws it a little over half the time.
Scherzer prides himself on his last pitch being his fastest of the day. In the early innings on Saturday, he mixed the offspeed stuff around the fastball. For instance, in the bottom of the first inning, Scherzer struck out Alex Gordon on a changeup/fastball combination.
An inning later, Scherzer finished off Eric Hosmer on a fastball/curveball/changeup sequence. His best battle came in the bottom of the fifth when Mike Moustakas and Scherzer had a 12-pitch faceoff. Scherzer emptied the tank, throwing him everything in his arsenal, finally getting him to ground out on a 94-mph fastball.
But late in the game, having showed the Royals everything he had, Scherzer simply went to the hard stuff. He threw 13 pitches to his final three hitters in the seventh -- 12 of them fastballs, all clocked from 93 to 95 mph.
The Tigers again cautioned that these were not statement games, and that's probably how they see it. When a team is on the verge of its fourth straight postseason appearance and when the larger goal -- a World Series -- has been out of reach, it's about showing up and taking care of business every single day.
They're doing exactly that again and moving relentlessly toward the postseason again. In other words, taking care of business. Strip everything else away, and that's surely how the Tigers see this weekend.
Richard Justice is a columnist for MLB.com. Read his blog, Justice4U. This story was not subject to the approval of Major League Baseball or its clubs.