Zunino continues to pile up extra-base hits
He's first Mariners catcher to collect 20 homers, 20 doubles in same season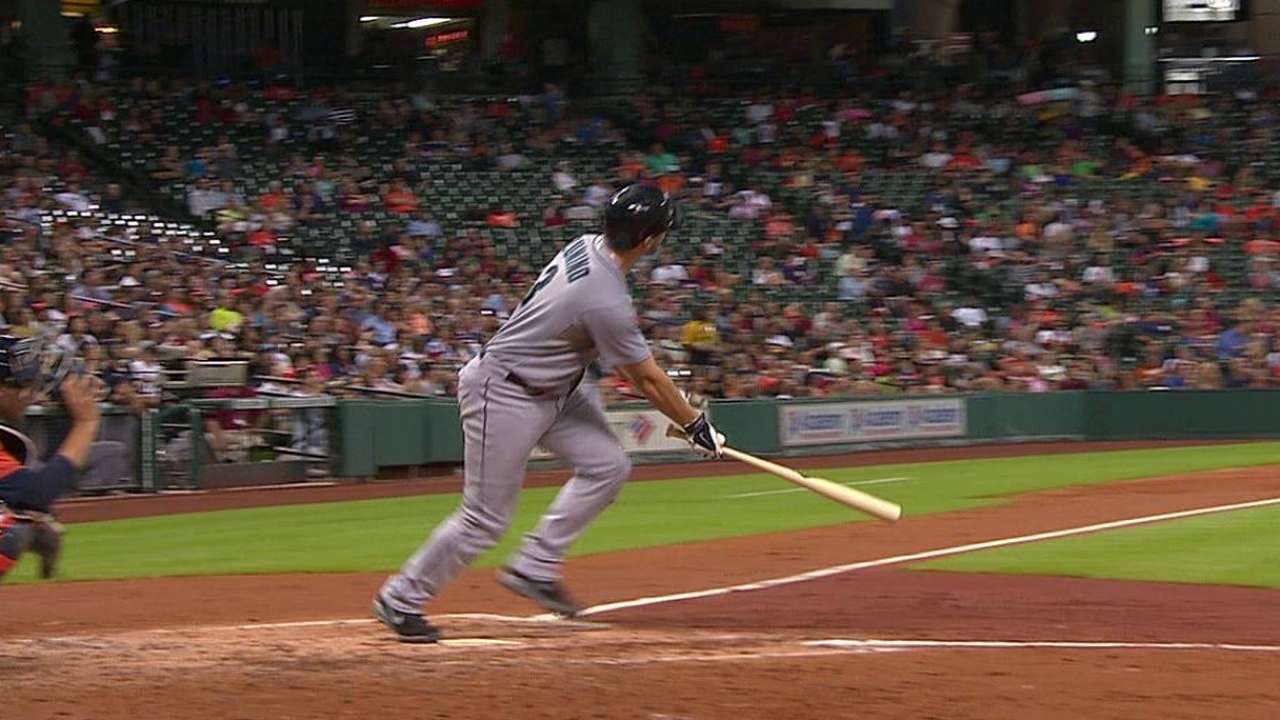 HOUSTON -- When Mike Zunino hustled into second base with a double in the seventh inning of Friday's 10-5 victory over the Astros, it gave him 20 doubles for the season to go along with 21 home runs.
Zunino thus became the first Mariners catcher with 20 homers and 20 doubles in the same season. And at 23 years and 178 days old, he's the fifth-youngest catcher in Major League history to hit that 20-20 club.
The group he joins is impressive: Brian McCann and Hall of Famers Gary Carter and Johnny Bench (twice) managed that feat at a younger age, though all hit well above Zunino's .199 average (entering Saturday) when they did.
Though Zunino isn't the swiftest runner, he's a heads-up player and took a worthwhile risk by getting to second in the seventh on what easily could have been a routine single.
"When the lead is four or five runs, you want to tack on," he said. "You never know. It was far enough in the gap, knowing the guy had to run to the opposite side, there's always a chance to stretch an extra-base hit."
Zunino, who hit his 21st home run earlier in the game, has become an extra-base machine. Of his 82 hits, 43 have gone for extra bases, including two triples.
"I'm just focused on driving balls into the gap and that usually comes with that," he said. "I'm trying to stay in those gaps. Usually there are a lot of extra-base hits to be found there."
As for his "speed" on the doubles and triples this year that have helped him become such an extra-base machine, Zunino just laughed.
"I may need an oil change here soon," he said.
Greg Johns is a reporter for MLB.com. Follow him on Twitter @GregJohnsMLB as well as his Mariners Musings blog. This story was not subject to the approval of Major League Baseball or its clubs.