Ankle not ailing, Ackley feels he's 'turned the corner'
Left fielder swats two of Seattle's four homers in Friday's blowout win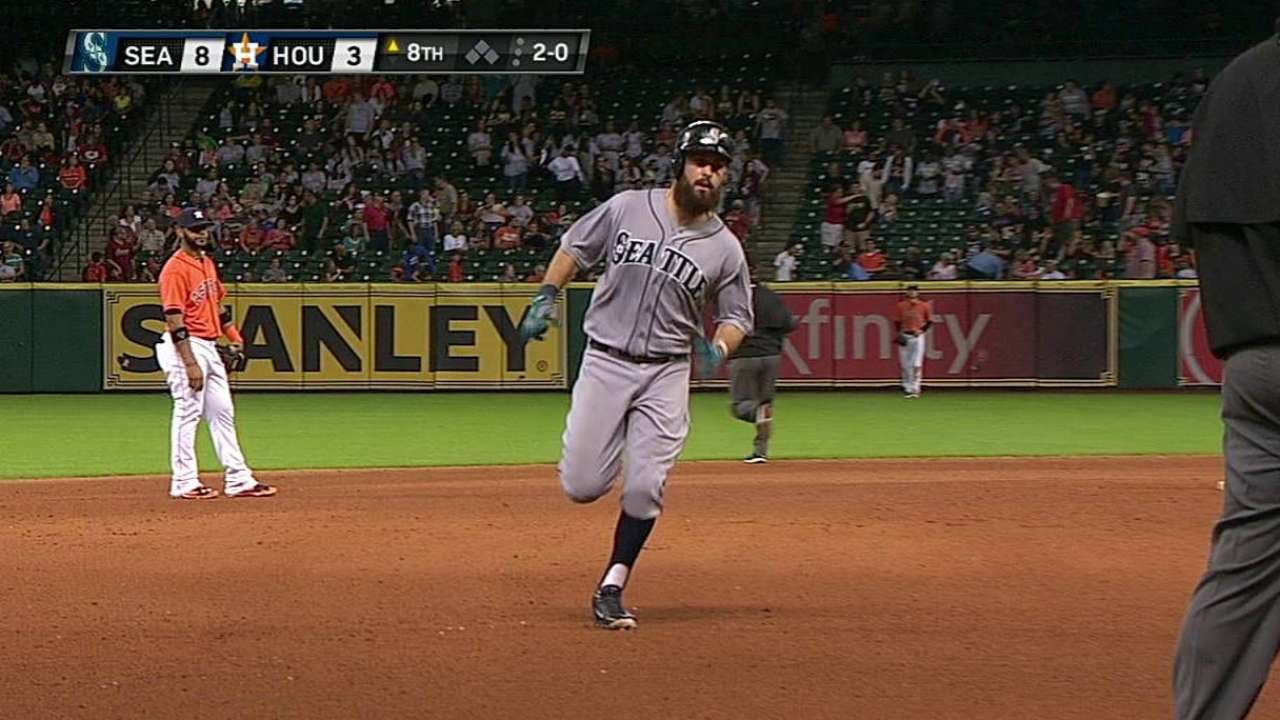 HOUSTON -- As the Mariners close in on clinching their first postseason berth in 13 years, Dustin Ackley is feeling healthy again. And that's a good thing for a Seattle club that needs every offensive weapon available to supplement its outstanding pitching.
Ackley missed six games earlier in the month with a sore left ankle, and that came after struggling for about a week as the pain kept him from planting his back foot and driving the ball.
But the 27-year-old left fielder is close to full go, as evidenced by a pair of home runs in Friday's 10-5 victory over the Astros at Minute Maid Park. Ackley said the past three days are the first time in a while he hasn't had to favor his ankle.
"Just going on and off the field, going after balls in the gaps, running the bases or whatever, it's nice to not have to worry about it," he said. "It feels really great and I'm just hoping that continues the rest of the year."
Manager Lloyd McClendon is being careful, however, knowing Ackley needed surgery on bone spurs in the same ankle two years ago and is still favoring that foot to some degree. So McClendon didn't have Ackley in Saturday's lineup against tough Astros lefty Dallas Keuchel, choosing to get Corey Hart's right-handed bat in as the designated hitter and moving Logan Morrison to left field.
"Nobody sees the big picture but the manager," McClendon said. "You have to realize we travel on a plane and that usually cause problems in itself when you've got a bum ankle or something. And it was a quick turnaround and he was limping a little bit [Friday] night. It concerned me a little. I really want him for [Sunday's game against right-hander Collin McHugh] and he doesn't hit this guy very well at all [0-for-7 vs. Keuchel]. So it's a chance to get him off his ankle. And we do have that turf [in Toronto at the end of the trip] and that scares the heck out of me."
Ackley feels he's "turned the corner" with his ankle and says it's only sore in the mornings now when he first gets going. But he understands McClendon's decision-making process.
"We had a meeting a couple weeks ago when he said, 'If you're not in the lineup, don't let that be a surprise to you,'" Ackley said. "We've got a lot of guys here that can play in big situations and Keuchel can be tough on lefties. But he can be tough on righties, too. So I'm just going to be ready whenever my name is called."
His opposite-field homer in the third inning Friday was a positive sign, but Ackley took even more from an eighth-inning shot he yanked out to right field.
"Being able to pull the ball, that was something when it was hurting pretty bad that I wasn't able to do," he said. "I wasn't able to drive and really rotate off my backside, which is something you've got to be able to do. You can't just go up there and not rotate. That's pretty much the name of the game as far as hitting goes. To be able to do that consistently now and not have to worry about it, it's a lot more comforting than before."
Greg Johns is a reporter for MLB.com. Follow him on Twitter @GregJohnsMLB as well as his Mariners Musings blog. This story was not subject to the approval of Major League Baseball or its clubs.