Perkins relieved arm injury won't require surgery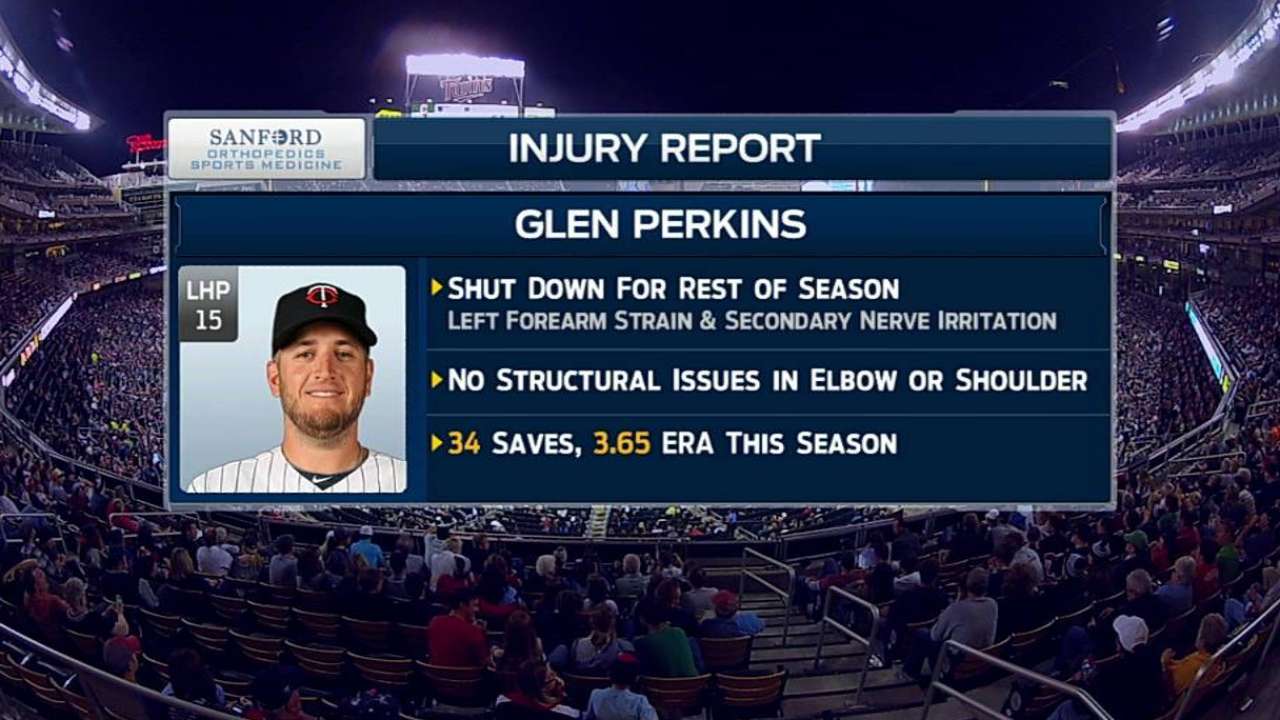 MINNEAPOLIS -- Twins closer Glen Perkins reflected Saturday about suffering his season-ending forearm strain, saying it was a relief that it's only a minor injury and won't require surgery.
The two-time All-Star underwent MRI exams on his shoulder, elbow and forearm on Thursday and Friday and was officially diagnosed with a strained right forearm and nerve irritation in his forearm. He said the plan is to rest his forearm before starting a rehab program once he returns from a family vacation on Oct. 7.
Perkins said he didn't fear needing surgery, but was happy to hear it wasn't a serious injury and that he'll be ready to go in time for next season.
"I didn't expect anything major," Perkins said. "I was still able to go and throw the ball with fairly good velocity. The movement wasn't there and that was the bigger concern. But if I were out there throwing 85 mph, I would've maybe expected surgery. It was more about not being able to finish pitches."
Perkins said he's been dealing with forearm issues since the 2011 season and has missed time with it over the last four seasons, including missing a full week with the injury in '11. He said it's something he'll have to monitor going forward and needs to be more honest with team trainers if it pops up again.
He said he only felt discomfort while throwing a slider in his last outing on Tuesday, but that his forearm starting bothering him in late August and he tried to pitch through it.
"It's something we'll have to get on aggressively from the start rather than hoping a day here or a day there will help," he said. "It's a condition that's manageable. Just have to do a better job managing it. That starts with me not trying to be a tough guy and going out there and pitching through it. It's a lesson learned in that respect."
Rhett Bollinger is a reporter for MLB.com. Read his blog, Bollinger Beat, and follow him on Twitter @RhettBollinger. This story was not subject to the approval of Major League Baseball or its clubs.